It's holiday time for Kakaal, a matka operator from Mumbai. What choice does he have? The demonetisation drive has forced him to shut shop, at least for now.
"Paana ghoomana hai, ya single? Open ya close," asks the man known to more than half my friend circle as Kakaal, with the same nonchalance you'd expect from the person behind the counter at McDonald's asking if you want the Maharaja Mac meal or just the burger, instead of asking just how you want to blow away your month's savings on random numbers pulled out of the universe's arse.
Kakaal has been christened thus due to his spitting resemblance to the Bollywood villain Shakaal, played by Kulbhushan Kharbanda in the 1980's hit Shaan and the honorary title of "Kaka" has been bestowed upon him. Most of my friends are matka regulars, having learnt the art from their fathers or uncles. They know very well that the slightly sinister, clad-in-white-but-doing-all-black Kakaal is the go-to guy when you have a bit of extra cash lying around. But I'm a noob in this desperate world of using random numbers to earn a few quick bucks.
I've put my money on sports, horses, Trump, and a bunch of other stuff, the outcomes of which can easily be predicted by an analysis of historical data and some good old stats. But matka has as much logic to it as a prayer to God. The paana or trio of numbers is scrawled on a piece of paper and the outcome decided by numbers pulled at random from a ubiquitous pot – the matka. Some dens also deal cards to pick numbers. Here, blind luck is the name of the game, and I'm Ravindra Jadeja.
After losing my paltry three grand in less than three minutes, I hightail it out of this market of morons and forget about Kaka until November 8 comes calling, and a friend with close to ₹2 lakh in hard cash apparates in the wee hours of dawn.  "Kakaal," he whispers like an addict deprived of smack. "I need Kakaal."
What started off as a bunch of cotton merchants betting on the closing numbers of old Bombay Cotton Exchange, has today evolved into the murky world of modern matka that runs hand in glove with the hawala market. The daily volume of cash that flows through the seedy lanes of Mumbai, courtesy matka operations, is astronomical. For starters, there are 12 different bazaars or matka operators – Time Bazaar, Diamond Bazaar, Milan Daily, Kalyan, Milan Night, Main Mumbai Day, Mumbai Night, and Malamal, to name a few. Bettors put anything from a few hundred rupees to a couple of lakhs to the odd crore at stake. For the Kalyan matka, betting begins as early as 5 am and goes on until 1.30 pm. After this, the first digit or open number is declared at 3 pm; the second digit or close number is declared usually after 6 pm. Every matka has a different routine and it's time out on Sundays and public holidays.
Kaka and other such local operators accept bets on different matkas and disburse the winnings, usually after deducting a fat commission. Making money off of other people's gambling addictions is a cakewalk.   
Demonetisation has some strange bedfellows. Kaka is also, for some reason, not being the douche he usually is.
It has been three months since my first and last visit to Kakaal's betting lair. It stands unsuspiciously, on an ordinary street in central Mumbai behind an ordinary door. You won't even notice it, if no one points out. Moreover, Kakaal's tailor shop that leads to the tiny room acts as the perfect camouflage.  
The first smell that hits you when you walk into the grubby-looking room is that of the money. That unmistakable scent of crisp currency, like the sweet scent of sex just before you get down to it. It's heady and strong. But that day, when I walk in, I know something is amiss. That distinct smell is absent. Instead, what hits me is the musty smell of a wet dog intermingling with the aroma of freshly made biryani.
Kaka looks at us from the corner of his eye, skeptically, and asks us to fuck off. "Number nahin lagega ab. Purane paise se toh nahi," he says in his loud, boorish voice and with a smirk on his face.
But when we tell him the reason of our visit, the smirk is replaced by the old, familiar look of avarice. He pulls out a worn-out pocket diary, flips through a few pages, and reads out a string of ten numbers, in two blocks of five, repeating each block twice. When you deal with paanas and blocks of numbers every day, it helps to be clear and precise. I'm pretty sure Kakaal's got an entire wall back home decorated with the "Matka, Employee of the Month" awards.  
While we're there, chai is delivered to the boss, who is sitting in the middle of the room on a wooden chair, as if holding a durbar, and his minions. My friend and I get offered some too. As our chai pe charcha begins, Kakaal tells us how Modiji made him a lakhpati for a day, his voice brimming with sarcasm. On the night of November 8, hours after the historic demonetisation, he made a neat ₹1 lakh in commissions. That was his swansong. The day after, his earnings slumped to a measly ₹3000. He tells me this like a jilted lover, the pain visible in his otherwise shrewd eyes. But that's not enough to garner sympathy. Even on Kaka's worst day at work, he makes more than me.  
But the ₹3000 is a death sentence and Kaka's obituary had already been written on that fateful November night. He's expected to pay everyone from the cops, to the excise department to the local heavy hitters, just to stay in business. He's paying mainly for protection, considering the copious amounts of cash he usually deals with on a daily basis.
Kaka is pushing 60. Usually a man of few words, today he's a bit chatty. He tells me about his five daughters all of whom are married off into affluent families. Now that he hasn't got much to do, he takes out his phone and shows me pictures. He owns and operates a travel company and two shops in Kalbadevi, but he started it all from where we're standing right now, a run-of-the-mill tailor's shop that's now become his adda.  
I ask why he runs a matka, despite his flourishing businesses. The answer is obvious. All the money he makes, needs to be funnelled somewhere, and he's got the perfect set-up. "Abhi black se white jaana hi padega. Pehle pehle thodi takleef hogi, uske baad dekh lenge," he confesses.
The idea of Kaka going straight is a new one. Demonetisation has some strange bedfellows. Kaka is also, for some reason, not being the douche he usually is. Modiji has helped him transition from a douchebag bookie to a Gandhian moralist. Taking a sip of chai, he sagely advises,  "Yeh jua, matka, aur jugaar ka chakkar chhodo, tumhara abhi wakt hai. Saving karo." With those words of wisdom, he escorts us to the door, and tells us to call the number, he'd pass on to me later that day.
The next afternoon, I watch as a hawala operator gingerly converts ₹2 lakh in cold, old, hard cash into a huge pile of crisp 100-rupee stacks. After deducting 12 per cent, half is neatly packed into innocuous boxes that look like they are delivered by Amazon. The other half would be wired to my friend's account over the next few days. Crisis averted.
***
I run into Kaka earlier this week on my way to work. Dressed in his trademark whites, wife and baggage in tow, he hails a cab and gets in just as my Uber arrives. I wave and do the kidhar motion with my hand. He yells out chutti and speeds away.
I pass the tailor's shop and it's being refitted. A flex signboard announces, "Opening soon: Vira Textiles, Prop. Dhanji Govardhandas Vira." I smile. For Dhanji Govardhandas Vira aka Kakaal aka Kaka, the journey from black to white has begun.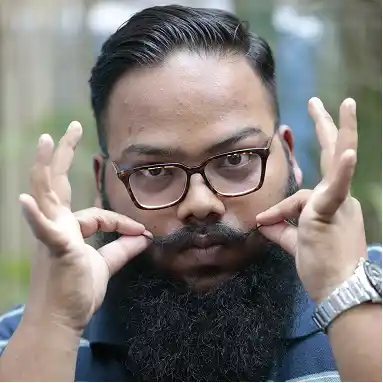 Damian loves playing videogames. If all the bounties he collected slaying zombies were tangible, he wouldn't need to write such bios. Seriously though, Damian used to be a cook who wrote, now he's just a writer who cooks.