Pimple-popping is part of a whole subculture, something much larger than I could have ever imagined.
There is an eight-minute video on the internet that you don't want to watch. It is "the world's longest and biggest video of the biggest zit" being popped by a guy named Michael Contes.
My 23-year-old friend Muneera continued to coax me to play it. "Come on, don't you think it's fun? Just watch it na, there's so much pus in there. All of it comes out. It literally oozes over his skin."
With commendable patience, I tried to explain that not everyone has a fascination for watching infected body fluids ooze out of people's skin.  Young Muneera disagreed.
"Everyone loves popping their pimples. I obviously hate it when I get one; my pimples irritatingly pop up on the forehead right before a date. But I kinda love it too, because I get to pop it! And I'm not one of those gentle poppers — I continue until the blood and everything else seeps out, until I get that final sense of relief. Watching these videos is like that; it's like popping a pimple minus the pain and the marks on my face."
I was about to make a snide remark and carry on with my life, when I glanced at the screen. The video had over one million views. Over one million people had felt that eight minutes of their life could be dedicated to watching someone else's enormous pimple getting rubbed, prepped, and popped. Clearly, there was something more to this fetish.
Some nauseating research revealed that pimple-popping is part of a whole subculture, something much larger than I could have ever imagined. There's a popping subreddit dedicated to the strange habit. Even more shocking, there are entire websites dedicated to popping pimples, like the famous PopThatZits.com, which carries the proud distinction of being the original pimple-popping hub since 2006. There are also, believe it or not, actual television awards for the best pimple pops. And of course, several YouTube best-of collections in categories like "Longest Pops", "Most Pus-Filled, Biggest Blackheads", and simply "Top 5 Most Disgusting Pops" dedicated to this "art".
Pimple-popping aficionados fondly have a list of evergreen hits such as Operation Kill George, which has been viewed over 17 million times. Many of the pimples and cysts starring in these videos have names too such as Mrs Gold and Mama Squishy. That's not all. The pimples are divided into categories: hard pops and soft pops.
It gets weirder.
Realising that there was some sort of market for such content, she decided to start a YouTube channel dedicated to pimple-popping.
All these people are NOT a bunch of lonely losers uploading videos of their own pimples erupting at home. Some of the most popular videos are of medical procedures performed and uploaded by doctors with surgical instruments that could easily double up as torture tools. These videos feature everything from pimples and cysts, ingrown hairs, impacted earwax, to boils and zits of astonishing sizes and holding capacities. They are accompanied by colourful graphic text, dramatic or soothing music, and the doctor's commentary or that of horrified family members.
Probably the most famous pimple-popping doctor on the internet is the California-based Sandra Lee. Dr Lee, popularly known as Dr Pimple Popper, has said that she once posted a video of a pimple- pop on Instagram and noticed a sudden spike in views with people tagging their friends. Realising that there was some sort of market for such content, she decided to start a YouTube channel dedicated to pimple-popping. She is now considered a specialist in all kinds of skin extractions.
Hail America, yes, but not so fast.
Our very own Dr Vikram Yadav, a Delhi-based doctor, is called the King of Comedones. (I know it sounds funny but don't Google it, a comedone is just an obscenely large blackhead). Dr Yadav says he posts these videos to "give back" to the community, because when he was studying to be a doctor, he found videos of procedures to be pretty helpful.
I was just about to yell  "helpful to who?" when Muneera said that she found these videos therapeutic and soothing, and even used them as a form of stress relief on hectic days. Her obsession with pimple-popping brought much horror to her family, so she watched the videos secretly in her room, taking the kind of care teenagers do when watching porn so as to avoid awkward conversations with others in the house.
I was disgusted with Muneera, but I did a good job covering it up.  But when I read up more on this bizarre phenomenon, I realised there is science involved. Experts believe that humans have evolved to experience disgust toward objects that are likely to make us sick, and that watching these videos appeals to that instinct and provides the same kind of rush that people experience when riding rollercoasters. All the thrill with none of the danger. Dr Lee, who has tried to understand why people love her videos so much, said that some viewers reported having an autonomous sensory meridian response (ASMR) to them similar to the way your brain pleasurably responds to soothing noises. Doctors even believe that prescribing pimple videos can help cure other disorders like dermatillomania, a mental condition, which causes those suffering from it to obsessively pick at their own skin until they cause physical damage.
So I tried to watch the video. For the sake of Muneera and the sake of human understanding. The video began playing. A man began squeezing in earnest the pimple on his chest. Something shifted inside my gut. I shut the window. Pimple porn was…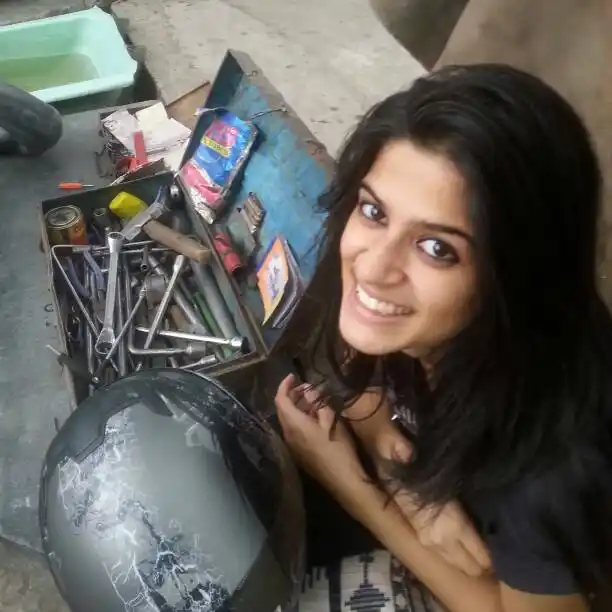 Sharanya Gopinathan is a Bangalore-based feminist writer with an avid interest in politics, revolution, society, and social media. She's on a mission to change the world, one Facebook post at a time.