Social media is only following Rule 34 of the internet – if something exists online, a porn version of it must exist too. Social media's Rule 34 avatar is sexual media. And LinkedIn's Red Light District is only a by-product of this.
On the spectrum of social media platforms at our disposal today, LinkedIn is probably the stodgiest of them all. Most people who sign up for LinkedIn remember they have an account only because of the volume of spam mail the site sends it users. That is, until this weekend.
A report published in The Times of India detailed the existence of an online red light district on LinkedIn, where prostitution, escort services, and massages were advertised and sold. Enterprising, social-media-savvy sex workers were sending the cheery template LinkedIn message – "Hi, I'd like to add you to my professional network on LinkedIn" – to folks scanning for executive-level tech and media jobs. LinkedIn, the staid, dull social network for professionals, now had a dual personality as a suggestive, exciting sexual network for the world's oldest profession and the idea fascinated us. How had sex managed to reach LinkedIn?
But seriously, the retooling of what is the online equivalent of an awkward office mixer to a marketplace for sexual favours shouldn't surprise anyone. It's only human nature. From the eerily authentic-looking sex robots of 2018, all the way back to the Dancing Girl sculpture of the pre-Vedic Indus Valley Civilisation, we've always found ways to sneak sex into art, technology, and media. The invention of photography gave birth to the nude shot. It wasn't long after people started making movies that they started shooting erotic films. Alexander Graham Bell invented the telephone, but also gave every person born after his invention the gift of phone sex. And in today's times, porn is to the internet what water is to the human body – essential to existence.
Given the internet's ability to connect people from across the world, it was bound to turn into a parade of private parts being flashed in pursuit of pleasure. Tinder, Grindr, Happn, all the names in the explosion of dating apps are actually newcomers to the business of facilitating consensual genital-smashing via the power of the internet. Social networks like LinkedIn have been serving that purpose ever since their creation. Even the furore over the Indian red light district is not new. Articles about such districts operating on LinkedIn in different parts of the world have been making headlines since 2013.
Social media also serves as an outlet for people to virtually indulge in what is probably humanity's greatest shared obsession – sex.
The LinkedIn red light districts function as classifieds, connecting sellers with interested buyers. The positioning of the website as a place for professionals lends it a veneer of polish, elevating it above the seedy Craigslist personal ads that are the start of all the best internet horror stories. But beyond sites like LinkedIn and Craigslist that actually facilitate meetups, social media also serves as an outlet for people to virtually indulge in what is probably humanity's greatest shared obsession – sex.
For starters, there's Reddit. Informally known as "the front page of the internet", Reddit is home to a sprawling array of subreddits (groups devoted to a single shared interest) that are devoted to hosting user-generated content of a sexual nature. Apart from curated galleries of porn GIFs and clips, Redditors also go down the classifieds route by seeking out like-minded partners through a post, usually accompanied by a sexy photo.
Speaking of sexy photos, they're probably the reason Snapchat CEO Evan Spiegel owns a luxury home today. The self-deleting-photo sharing app seems like it was tailor-made for sending sexts. Naturally, the prospect of sharing your junk with everyone else got the world excited, and the app was a smash hit. The fact that the images and clips are temporary, and thus uncensored, has made Snapchat the online platform of choice today for adult entertainers, porn stars, and cam girls to engage with their fans. Twitter functions in much the same way, except its tighter restrictions means it's usually a teaser of what's available on Snapchat.
Working around a social network's restrictions on adult content is an evolving art. Its finest example can be seen on Instagram, which is far stricter regarding its obscenity guidelines, probably because it's owned by Facebook, the most family-friendly network of them all. First, there was the #FreeTheNipple movement, which managed to stir up conversation about how nudity can be empowering despite failing its mission to get Instagram to review its content standards. Not to be foiled by this censorship, the Instagrammers of the world started an ongoing game of tag with the app's moderators. The mods keep banning hashtags being used for adult content and taking offensive photos down, while users keep coming up with new hashtags to keep their online smut archives searchable and accessible.
It's clear that the people trying to keep the internet free of sex are fighting a losing battle. Not even Facebook, the sanskari social media titan, can claim to have successfully kept pornographic content off its platform. While Facebook is swift to delete offensive pages once they're reported, the site was powerless to stop a child-pornography scandal erupting in the US in January this year. In a manner typical of Facebook's signature brand of keyboard activism, the site's users ended up sharing sex clips featuring a 15-year-old girl in a bid to bring perpetrators to justice.
Given the glut of accidental child pornographers, actual porn stars, nudism advocates, and online escorts, it's clear that social media is only following Rule 34 of the internet – if something exists online, a porn version of it must exist too. Social media's Rule 34 avatar is sexual media. The LinkedIn red light districts will hardly be the last innovation in virtual sex. AI robots and VR experiences are already making sure of that.
Until they're here though, remember to clear your browser history.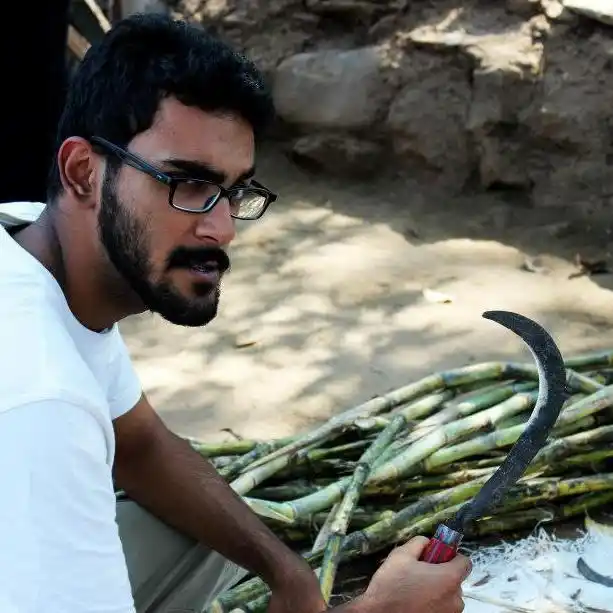 Dushyant Shekhawat really likes his mustache. He grew it himself. You can find him on Twitter at @SeriousDushyant.