From the cool kid Spotify to the try-hard JioSaavn, we've done a character study of the most-popular music streaming apps out there, so that you can decide which one will strike the right chord.
Unless you're the kind of person who spends their time looking for the latest version of "songs.pk" to illegally download mp3s, chances are you've stumbled on one of dozens of music streaming apps launching in India every few months.
With the average Indian spending nearly 20 hours a week listening to music, both global and domestic companies have been scrambling to capture a share of our wallets. And in this chaos, we've managed to squeeze the best deals even out of the likes of Apple Music and Spotify, the former being forced into cutting its subscription fee, and the latter forced to give Indians more freebies than anywhere else in the world.
Now, given all these options, we have a new problem — one of plenty. We're left grappling with the more serious question: Which of these music apps is going to give me my daily fix of both Jagjit Singh and Beyoncé? Maybe this will help.
Spotify — The Cool Kid 
In typical cool-kid fashion, Spotify entered the party fashionably late. But, in this case, the delay was justified considering it followed a strict BYOB (Bring Your Own Beats) rule, and signed deals with all major music labels in India before its launch.
Spotify's delay was justified considering it followed a strict BYOB (Bring Your Own Beats) rule.
Now, it's transformed into that guy at the party who has the ideal Bollywood song for every occasion, and owns an Android phone, but still enjoys decent design. Cool Kid Spotify does have a tendency to take up a lot of space — both in your phones and at the bar — in which case, you could opt for Spotify Lite, which manages to retain almost all the features of the old app in about 10 MB.
Regardless of whether you're friends with the cool kid or not, everyone gets an invite to the birthday party — all Spotify users, premium or otherwise, get complete access to the app's 50 million-strong library of songs and podcasts, along with a recommendation engine that helps you discover the newest Honey Singh track almost instantly.
And if you don't really care about any of the above, you can at least get a "Spotify Wrapped" at the end of the year, which shares your top tracks to Instagram, a feature that every cool kid worth their air pods cares about!
JioSaavn — The Try-Hard
Formed as a merger between Saavn, one of the earliest players in the streaming market, and Jio, everyone's favourite corporation, JioSaavn is often dubbed as the Indian Spotify, if only by Jio users. In the short period since its launch, it's gained a reputation for being a try-hard: kinda good at everything, but not really great at anything.
While the app does a fairly decent job keeping up with Cool Kid Spotify with its artist radios, a desktop version, and a decent library, neither the user interface nor the recommendation engine is quite as smooth as its Swedish pen pal.
When it comes to the price too, JioSaavn may initially seem like the cheapest option with a ₹399 a year plan, but when compared to Spotify or YouTube Music's family plans, it's actually slightly more expensive. Still, it saves you the trouble of convincing your other middle-class friends from pretending to be a part of your family.
And while Jio users are still probably waiting for this article to load on their top of the pack Jio handsets, they are at least compensated with a three-month ad-free subscription to the app. Still, the app has nothing unique to offer against its global or domestic competitors, so I recommend you make a new WhatsApp group with all your friends and dosti ko rishtedaari me badal do.
Gaana is the only app that allows you to pick between 10 regional languages.
 YouTube Music — Sharma ji ka Music App
YouTube Music, or as I like to think of it, Sharma ji ka music app, has consistently been at the top of the music streaming game.
Known for recommending songs with the same accuracy that Sharma ji ka beta answers teachers questions, YouTube Music boasts of a slick user interface and the ability to play both music videos and songs on the same screen. In addition to the standard library of mainstream music that every app offers, YouTube Music also offers the thousands of remixes and covers that are uploaded to YouTube every minute as individual tracks. Is there anything that Sharma ji's app can't do?
There's really nothing to complain about — a YouTube music premium subscription will cost you the industry-standard ₹99 per month. There's also value in opting for a YouTube premium subscription at ₹129, which gives you ad-free YouTube experience.
 Gaana — The Self-Made App
"Bas bajna chahiye gaana" — if you sang that jingle instead of reading it, you may want to spend less time in front of the TV. But jokes apart, this brand recall is pretty much the main reason for Gaana's — or as I like to call it, the self-made app's — success.
Gaana is the first Indian music app to hit 100 million subscribers, to introduce an AI-led "For You" recommendation page, and include music videos on its platform. While the homepage design does have scope for improvement, Gaana is also the only app that allows you to pick between 10 regional languages.
So now you see why this app reminds me of Abhishek Bachchan's Gurukant Desai from Guru — despite all odds, it's come out of nowhere, and managed to throw in a great mix of above-average features in a cutthroat world.
Now that you have all this information at your disposal, picking your music app should be as easy as Baba Sehgal's hairstylist's job. Whatever you do, make your decision quick, because TikTok is entering the streaming market soon, and you don't want that to be your first.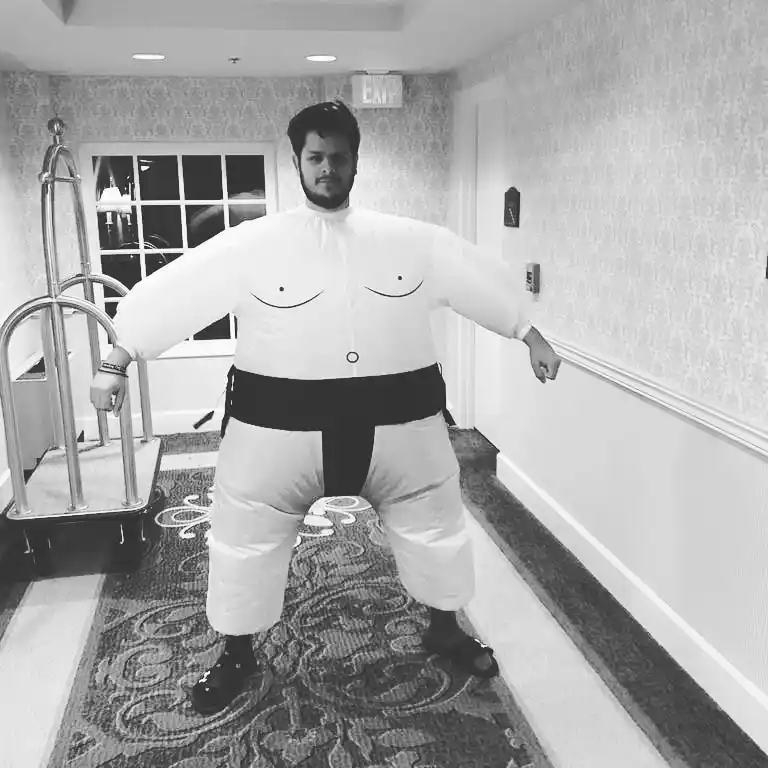 Gurkaran has watched way too many tech videos on YouTube and is now ready to share his opinions. When he is not working his full-time corporate job or writing for fun, he can be found scavenging the internet for facts about watermelons.