With a performance that will go down in history in the World Cup final against New Zealand, England's Ben Stokes infused ecstasy and euphoria befitting the occasion. The World Cup belonged to England. The World Cup belonged to Ben Stokes. And late last night, Stokes ascended to the cricketing pantheon.
With the exception of a closely fought thriller between South Africa and West Indies in 2003, World Cup openers have largely remained dull, one-sided affairs. Seldom do they make the moments worth reminiscing. The 2019 opener at The Oval between hosts England and South Africa was pretty much heading the same way. About midway into the second innings, the result looked a foregone conclusion. It only remained to be seen whether South Africa minimised their losses.
With six wickets down and the target still nowhere in sight, South Africa all-rounder Andile Phehlukwayo slog swept a ball temptingly tossed up by England's Adil Rashid. A sweet sound off the bat immediately followed. Phehlukwayo seemed to have found the right balance between elevation and distance and the ball was heading for a certain boundary, perhaps even a maximum.
Running horizontally toward the ball's direction was Ben Stokes, England's most colourful cricketer of the current lot. Stokes entices reactions only on the extremes. There is no moderate way to rate Stokes. You either are in awe of him or you cannot stand his presence. Former England captain Nasser Hussain often raves about his ability to "make things happen". That is exactly what Stokes was doing here. Making a moment of madness happen out of a match that was heading toward a pretty uninteresting, abject end.
As the ball was travelling above his head, Stokes timed his jump to perfection with his right arm stretching over and above in the hope of being able to pluck the ball against ridiculously low odds. For that one moment, everyone was left spellbound. Perhaps even Stokes himself. But as soon as he turned around and raised his hand up claiming the catch, the collective reaction of everyone watching was that of complete bewilderment. It took everyone another moment to process what just happened. It had to sink in. The appreciation only followed later.
But soon, the appreciation transformed into unadulterated joy of being witness to a spectacle. In a seemingly lifeless contest thus far, Stokes had infused ecstasy and euphoria befitting the occasion. The World Cup had arrived. The World Cup was kicking. And the world better acknowledged that Ben Stokes was in charge of it. Earlier in the match, Stokes had steadily compiled a serene 89 guiding his team to a competitive total on a pitch not the easiest to bat on. Apart from taking an absolute blinder, Stokes would go on to effect a run out and cap his dream day at work off with two wickets against his name.
The value of Stokes lies in the confidence his captains have showed in his ability to turn games around. In Test cricket in particular, he has been second to none.
It's only fitting then, after his show-stealing exploits in the first game of the tournament that the final would also prove to be another stage for Stokes to display his heroics. Chasing New Zealand's target of 241, it was Stokes who took England to the finish line with a score of 84 not out. He took them to the finish line, but he couldn't get them over it, as the regulation overs of the World Cup final ended in an astounding but deserved tie.
But the day belonged to Stokes. He was chosen, along with Jos Buttler to bat for England in the deciding Super Over. Once again, the scores were tied, putting both teams at parity. But England won on the finest of margins – the number of boundaries hit – and wouldn't have pulled level if not for a deflected overthrow from the New Zealand fielders that went for four. The man whose bat the ball deflected off of? Stokes.
It is not very long ago that Stokes' place in England's One Day side was about to come under scanner. Runs had steadily dried up. His contribution with the ball was not setting the world on fire either. However, just in time for the big event, his bat started doing the talking in the series against Pakistan.
But more importantly, recognising Stokes as a vital cog in this unit goes on to highlight that coach Trevor Bayliss and captain Eoin Morgan understand the importance of mavericks. Stokes is not the neatest accumulator of runs series after series. He is never going to be that. But England want players who in the big moments put their hand up and rise to the occasion. And that is precisely why Stokes has been a fulcrum in England's ODI cricket metamorphosis post the 2015 World Cup debacle.
All-rounders are often a conveniently defined category of players. Taking a basic glance at ICC player rankings of all-rounders across formats, one can only find a handful names who genuinely make the case to be regarded as one. That is the problem in lending the tag to anyone who statistically qualifies. All-rounders in reality are only those who are adept at changing the course of the game with either skill. It is not a very quantifiable aspect. A lot of intangibles are involved in defining an archetypal all-rounder. But Stokes truly is one, much like his iconic predecessors Ian Botham and Andrew Flintoff.
The value of Stokes lies in the confidence his captains have showed in his ability to turn games around. In Test cricket in particular, he has been second to none. His journey in the shorter formats however has been less remarkable. But in this super explosive English batting juggernaut, Stokes brings in some semblance. Which is odd since he is himself perfectly capable of batting like the Roys, the Bairstows, and the Buttlers of the world. One example of this is his swashbuckling counter-attack against Australia during the Champions Trophy in 2017. His audacious stroke play even forced Virat Kohli to stand up and take notice.
But on most days, Stokes focuses on laying platform for Jos Buttler and the lower order to pounce on. It helps that he is an accomplished Test batsman with a very solid defence. His bowling in shorter formats is less effective with the white ball not swinging as much as the red cherry. But not until very long ago, he was a handy asset at the death with his immaculately placed wide yorkers. With a little more rhythm and form, there is no reason to see him unable to revive that.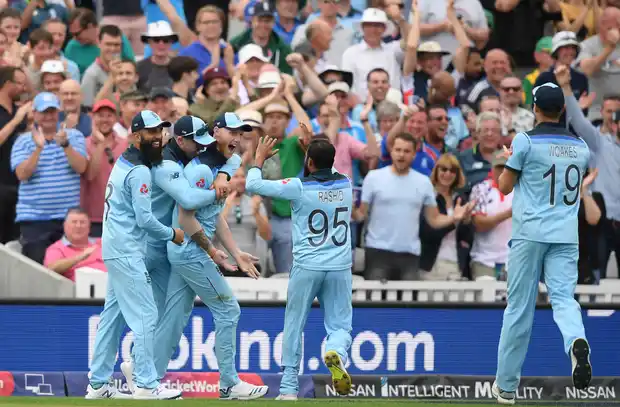 Stokes once came agonisingly close to the glory of winning an ICC trophy in 2016.

Photo by Alex Davidson/Getty Images
The biggest luxury Stokes offers to his captains is his presence allows the team to pick an additional batsman or a bowler depending on the conditions. With him in the side, England have often had seven batting and six bowling options, which allows them to pick a very long tail and two spinners in all formats. And this is a key element in England becoming the most enviable limited overs team in the last few years.
About a couple of years back, Stokes hit the lowest point of his life facing time away from cricket for his involvement in an ugly public brawl. This meant he missed the bus to play the Ashes. It was a huge setback for everyone as it unsettled the team balance. Ever since his comeback, Stokes has showed more mettle in his game. He is more solid than spectacular. He has showed more grit than normal.
But the grand occasion of the World Cup has proved that the man for the big stages was back to his extravagant best. This is the Stokes the world fell for. This is the Stokes who literally flew sideways to grab a catch out of thin air at Trent Bridge in 2015 leaving Stuart Broad transfixed. This is the Stokes who set the IPL ablaze in his debut season two years back. This is the Stokes everyone loves to hate.
Stokes once came agonisingly close to the glory of winning an ICC trophy in 2016. Bowling the final over the World T20, he conceded four consecutive sixes to West Indies' Carlos Brathwaite and lay on the ground shattered. Yesterday, he found redemption. And history will not forget.
Parth believes he's working on solving philosophical mysteries of the universe. He aims to achieve this by incessantly surfing through Internet memes.