By interceding with booing fans on Steve Smith's behalf, Virat Kohli proved he's not just a no-nonsense Dilli boy with a never-ending reserve of expletives, but also a benevolent sportsman.
Indian cricket has long produced Rahul Dravids and MS Dhonis — stalwarts of the game who believed in never showing a shred of emotion on-field. Sourav Ganguly — with his famous jersey-waving antics from the Lord's balcony — was an exception. But there has probably never been a player in Indian colours as animated on the field as Virat Kohli. When his players misfield, you will see the cameras pan to Kohli, looking visibly flustered. Reading his lips for BCs and MCs has been the drinking game of choice for many an alcoholic, and there's hardly a celebration that doesn't involve belligerent gesturing and borderline-boorish name-calling. Say what you will about his personality, but there's never a dull moment with the Indian skipper on the pitch.
In yesterday's match against Australia, Kohli played a captain's innings with a blistering 82 off 77. But what stole the show was his act of tremendous gamesmanship. While Kohli was on the pitch, the raucous crowd comprising mainly Indian fans began jeering at Steve Smith; some even called him a cheater while he was fielding near the boundary earlier. That's when the Indian skipper stepped in, encouraging fans to applaud the Australian instead of booing him. He later even apologised to Smith. "I just felt for him and I told him sorry on behalf of the crowd because I have seen that happen in a few earlier games as well. In my opinion that's not acceptable," he told reporters after the match.
There's a lot Virat Kohli has going for him. Not only is King Kohli one of the most marketable athletes in the world, the 30-year-old has become a shining beacon of hope for Indian fans who thought the post-Sachin phase of Indian cricket would be a wasteland. But perhaps Kohli's most unique trait is his infectious and aggressive will to win both on and off the field. His competitive streak, while criticised in the past, has become his USP today and adds to his aura of being a no-nonsense Dilli boy who rose to the top of the cricketing world with grit and determination. However, yesterday's gesture highlights a different aspect of this maverick batsman's personality: his benevolent sportsmanship.
For context, fans have been especially harsh on Steve Smith and David Warner for their involvement in the Sandpapergate, a ball-tampering scandal that rocked Australian cricket in March 2018. The controversy lead Cricket Australia to ban the then-Aussie captain and his cohort from all international and domestic games for a year. The two have served their punishment, but cricket fans aren't exactly a forgiving bunch as we witnessed yesterday.
The right-handed batsman has never shied away from emoting himself on or off the field – we've seen him blowing kisses to his wife after scoring a ton and celebrating in abandon at Yuvraj Singh's wedding.
Kohli could have turned a deaf ear and carried on with his game. But the Indian captain's move to take on the jeering crowd and encourage them to cheer for his opposite number instead of deriding him is a lionhearted one. And with his graciousness, he has won a billion hearts all over again.
The right-handed batsman has never shied away from emoting himself on or off the field – we've seen him blowing kisses to his wife after scoring a ton and celebrating in abandon at Yuvraj Singh's wedding. Some might remember Indian bowler, R Ashwin's recent mankading controversy during the IPL 2019. It received widespread criticism from players and fans alike. Among those most jilted by the spinner's unprofessionalism was Kohli. The RCB captain's celebration was especially spirited as he took the catch that dismissed Ashwin and eagle-eyed viewers even caught him lipping the words, "Mankad karega, b******d."
Clearly, Kohli is not the one to take unsportsmanlike behaviour lying down. The Indian captain is a man full of passion and we love him even more for it.
On Sunday, India beat the Aussies comfortably by 36 runs, but for fans like me, the main takeaway was the extraordinary display of Kohli's empathy.  
That's why he remains not only one of the best batsmen of our time, but perhaps also the most unapologetically expressive players to have ever pulled on the Indian jersey. When Kohli feels an emotion on the field, the whole country knows about it. And such is his magnetism, we feel every emotion with him.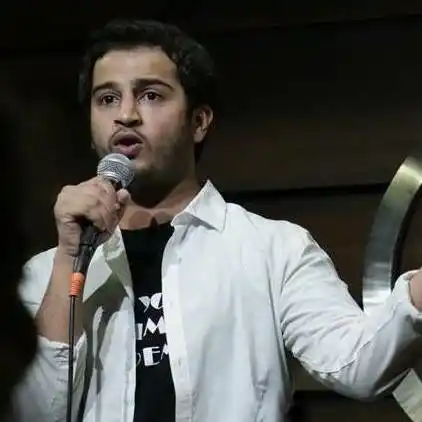 Masking anxiety with humour. Living with his dog, cat, and mediocrity. Creating content aur life se kaafi discontent. Tweeting as @juvenile_jack.