Long before Narsingh Yadav, there was Monika Devi. The heartbreaking story of a weightlifter caught in a doping scandal hours before her flight to Beijing for the 2008 Olympics.
 O
n the evening of August 8, 2008, Laishram Monika Devi lay down on her hotel bed, just a few hours before getting on to a flight to Beijing. Even though her synapses were wired for what lay ahead, she calmed herself down and closed her eyes.
It had been a rough year. In April that year, the weightlifter had sealed a quota for India (in the 69-kilos category) after a good show at the Asian Championships in Japan. Once home, her participation was challenged by another weightlifter, Shailaja Pujari. A selection trial followed where Shailaja triumphed, but after allegations of bribery against an official and other irregularities, another trial was conducted where Monika came out on top. The debate was finally sealed – the brawny Manipuri was to be the only woman to represent India in the weightlifting event at the Beijing Olympics in 2008.
Just hours before her departure for Beijing, it was to be a quick snooze. The dreams that Monika dreamed were probably the sweetest. She was hours away from taking her place in the biggest platform in world sport, the culmination of every athlete and every sportspersons lifelong endeavour.
And then, in the silent hotel room, the phone rang. The call was from a teammate in her contingent. The trembling voice at the other end asked her to put on the television. She grabbed the remote and switched on the TV to catch the screaming headline: "Laishram Monika Devi tested positive for a banned substance"
Monika stared at the flashing screen in the dark room, knowing with a sinking certainty that she wouldn't be getting on that flight after all.
***
There are eerie parallels between the trajectories of Monika Devi and Narsingh Yadav's stories. They both fought for their berth in the Olympic team (Monika against Shailja and Narsingh against double Olympic medallist Sushil Kumar), both tested positive for banned substances, both their Olympic dreams were dashed days before departure, and most of all, both of them have no idea what hit them.  
An alarming 687 athletes have been banned for doping-related offences since January 1, 2009, an average of 100 athletes every year, according to the National Anti-Doping Agency records, with track and field athletes (266) forming the bulk of doping offenders, followed by weightlifters (169). In 2014, India ranked third in the world's doping offenders' list, behind Russia and Italy. Is Indian sport really a cesspool of doping offenders?
While Narsingh's fate is not known yet, Monika was banned for a couple of years. It took her time to come back from that darkness, but she slowly picked up the pieces.
There is, unfortunately, no black-and-white answer. There are no absolutes in the murky world of sports doping. International athletes are subjected to random testing during or ahead of a competition, but the system is far from foolproof. There's no blanket ban on dietary supplements, but there have been cases of athletes consuming nutrients that contain prohibited substances that are not declared by manufacturers. But the World Anti-Doping Agency, which monitors doping, refuses to cut them any slack. The onus is on the athletes to pick their diet.
Monika to date has no idea what she ate or what dietary supplement she took.
It was only a few days before that terrible August evening, when the media made a meal of her, that Monika had gone to take the dope test, with Beijing on her mind, with a spring in her step. She was at her peak – her body fit, her arms ripped, ready to take on the Olympics, and then, in a flash, it was all over.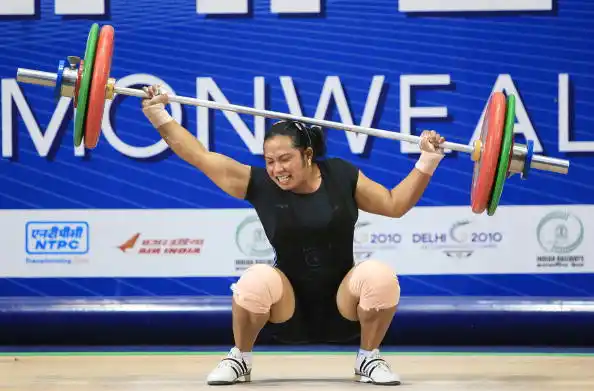 Monika made her comeback at the New Delhi Commonwealth Games in 2010, where she bagged a bronze.
K Asif/India Today Group/Getty Images
The aftermath of that evening is a blur to Monika, as she speaks to me from her home near Imphal. After the doping controversy, a bandh was declared in Imphal, as angry sportspersons attempted to storm the home of chief minister, Okram Ibobi Singh, demanding justice for Monika. They were met with teargas shells and batons, and nothing came of the effort. But the fact that her people fought for her is something that Monika still holds dear.
"They stood by me, all the Manipuris, united, because they believed in me. I can never forget it," says Monika, her gruff voice quivering at the memory of her fall from grace. From visions of glory, she was now left in a daze, unsure of what to do next. Life as she knew it, had come to a grinding halt. Weightlifting was the last thing on her mind.
Once back home to her tiny village on the outskirts of Imphal, she was lost. "I couldn't go to the gym, couldn't bear the thought of training. Depression set in. It took me three months just to come to terms with it. Inquiry after inquiry followed, phone calls, press conferences with taunting questions, and some more testing. I would never have pulled through it without my family," she adds.
"Why would I take to doping after working so hard, why would any athlete," Monika still asks. A heartbroken Narsingh poses the same question, as he sees his world fall apart.   
While Narsingh's fate is not known yet, Monika was banned for a couple of years. It took her time to come back from that darkness, but she slowly picked up the pieces. The love for the sport kept her going.
Monika made her comeback at the New Delhi Commonwealth Games in 2010 in a higher weight category (75 kg) where she bagged a bronze. The crawl back to the Olympics will be a slow and torturous one. While she's back to training, she has no coach. The only funding she banks on is her paltry salary and the support she gets as a Central Reserve Police Force officer, and the prize money she picks up at competitions. But the dream of getting to the world stage refuses to die.
"I'm still the best in my weight category, and believe I can make it to next Olympics in 2020," she says, after a gym session. If not Beijing, then Tokyo, she hopes.
There is always hope, there are always dreams. But there are also nightmares and Monika prays that she's at least put those behind her.

Shail Desai is a Mumbai-based journalist. He finds his kicks and his peace when in the mountains, and awaits the next excuse to get there.