Last night, Sunil Chhetri and his men who won 3-0, forced Mumbai to keep aside its cynicism and invest in the other boys in blue. It taught Mumbaikars that any sport is a two-way game: It thrives on its determined players as much as on its spirited supporters.
Around 10 pm last night, two minutes into injury time – just when the inevitability of India's win was threatening to overpower the continued mindfulness of the packed stadium – came Sunil Chhetri's brace. The skipper, after being passed the ball by Balwant Singh, ran clear and nimbly chipped the Kenyan keeper. His legs revelled in their youthful fervour as the ball unflinchingly hit the goal.
India were now 3-0.
Almost instinctively, the rains announced their premature arrival, as did the thunderous chants from every corner of the Mumbai Football Arena, the venue for the pivotal India vs Kenya match. Unperturbed, Chhetri ran past the fence and toward the animated crowd that was yelling, clapping, waving, and smiling in unscripted unison. To celebrate. He looked us in the eye, spread his arms open à la Shah Rukh Khan, as if to say, "Look, I did this for you. I kept my promise." Looking back at Chhetri, it was impossible to not remember the viral video where he pleaded with Mumbaikars to come watch the Indian national team play. "To everyone who is not a football fan, please come and watch us for two reasons. No. 1 – it's the best game in the world and No. 2 – we play for our country. We will make sure that once you come to watch us, you will not return the same person back home."
The message was clear: If Chhetri's first goal was for the game, then his second one was for every Mumbaikar who heeded his earnest call and arrived in hordes to make the memory of his 100th match indelible.
Sunil Chhetri forced us to set aside our cynicism for a change, and invest in the other boys in blue.
On their part, the crowd accepted this offering and retaliated by yelling their hearts out. Screams of "Sunil Chettri! Sunil Chhetri!" reverberated from the stands and were accompanied by the Vikings Clap, overpowering the thunder and lightning engulfing the rest of the city. My neighbour in the overpopulated general stand, a 40-year-old homemaker, matched the enthusiasm of her 10-year-old sons by jumping up and down and yelling the skipper's name.
Another youngster in the front egged on the crowds to join the festivities by providing the oft-relied chant-starter, "Jeetega bhai jeetega…" These words, thoughts, screams, and sounds soon fused into a crowdsourced background score that would come to define this night and its electric atmosphere for weeks to come. If the celebration for Chhetri's first goal was muted, then the revelry for the second one was unprecedented.
Initially, the match, marred by the rain and waterlogged ground replete with puddles was coloured by a goalless first half. That changed in the 68th minute when Chhetri coolly converted a penalty kick to notch up his 60th international goal, causing several ripples: It put India ahead in the game. It commemorated his 100th cap. It spoke of Chhetri's inimitable form. It continued his record of scoring against 17 countries when facing them for the first time. But, most importantly, it cemented Chhetri's place among the greats – he's now third on the list of most international goals scored by active players, trailing Cristiano Ronaldo (81) and Lionel Messi (64).
Yet it was Chettri's 61st goal that most of us who witnessed last night's game won't be able to forget. For it was less goal and more gesture; a brief, sharp rallying call for continued support. It gave the crowds a new lease on life in the dying minutes, just like how Chettri's impassioned plea a day earlier, guaranteed sold-out tickets in less than 24 hours.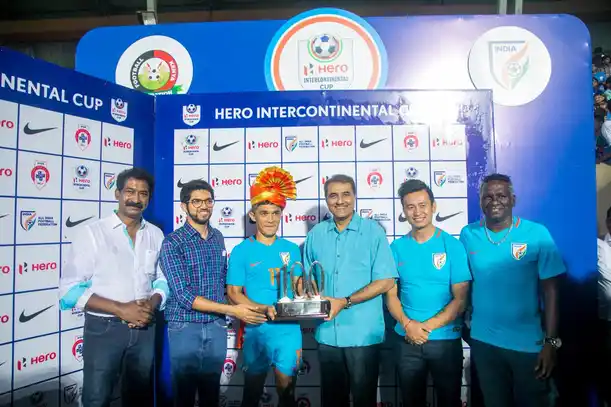 If nothing else, Chhetri taught Mumbai that any sport is a two-way game: It thrives on its determined players as much as on its spirited supporters.

Image credit: Twitter
After Chettri's second goal and the ensuing celebrations, it was hard to not be moved; to not shout in support of Chettri's men until you were hoarse, in the company of 8,890 spectators, including stalwarts like Bhaichung Bhutia and IM Vijayan. What Chettri's viral video achieved for football, his goal did for the apathy of Mumbai. It forced us to brave the rains, traffic jams, and overcrowded metros to show up in Andheri. It forced us to set aside our cynicism for a change, and invest in the other boys in blue.
Before yesterday, it wouldn't have been wrong to write off the near-empty stands in the previous match between India and Taipei down to the fact that Mumbai isn't inherently a city that loved football. That the crown rested with Bengaluru, Kolkata, or even the North East. But after last night, its crowds are proof that a city's sporting interest should be gauged only by the choices they make.
The enormity of this situation was to hit us a little after full-time, when adjudged the winners, Chhetri and his men took a victory lap all across the field. Proudly led by the skipper, the players walked, waving, smiling, and riling the crowd up to join their hands together for the Vikings Clap. The skipper on the other hand, stood in front of every stand with folded hands – in gratitude, happiness, and optimism.
If nothing else, Chhetri taught Mumbai that any sport is a two-way game: It thrives on its determined players as much as on its spirited supporters. Irrespective of what coach Stephen Constantine believes, Chhetri ensured that it didn't matter whether you were a fan of football or not. But after last night, you certainly became a supporter. For Chhetri managed the unthinkable – wake up the residents of the city that never sleeps.

When not obsessing over TV shows, planning unaffordable vacations, or stuffing her face with french fries, Poulomi likes believing that some day her sense of humour will be darker than her under-eye circles.