Sunil Chhetri has been providing fans with magical moments throughout his career, it's just that we haven't been around to witness them. He's more than a "Goal Machine" and "Captain Fantastic", he is the man who has inspired an indifferent crowd to finally pay attention to Indian football.
The greatest tragedy in Indian football is that everyone in the country has heard of Sunil Chhetri, but very few have actually seen him play. Today, his reputation has grown beyond that of the man to whom Bhaichung Bhutia passed the torch. He's now a legend in his own right, despite spending most of his career out of the spotlight.
"Abuse us, criticise us but please come and watch us play," Chhetri pleaded with folded hands through a video message on Twitter during the Intercontinental Cup, a couple of months ago. It is a moment that will be etched in the memory of football fans for a long time. The plea struck a raw nerve and there was a tsunami of support on social media, from cricketers to news anchors to Bollywood celebrities. Fans flocked to the stadium: With the size of the crowd finally matching his prodigious talents, Sunil Chhetri did what Sunil Chhetri does best, scoring goals and capping off the night with an audacious chip.
That night, Chhetri gave football neophytes a thrilling taste of what it was like to be at a football game. This wasn't your niche Indian football follower from West Bengal and Kerala who has always worshipped men who perform magic with their feet. Chhetri's pitch had hit the mainstream, converting fans who watched European leagues and international tournaments but couldn't be bothered about Indian football. Anybody present at the Andheri Sports Arena on that rainy Monday night will never forget that moment – everything from the build-up, to the match, the goals, to the post-match celebration was electric.
But Sunil Chhetri has been providing these magical moments throughout his career. It is just that we haven't been around to witness them.
The baby-faced assassin is India's most capped player and has scored more goals for the country than anyone else, finding the back of the net 64 times in 101 games. Given that India doesn't feature in big tournaments frequently and plays very few international games in a calendar year, it is an astounding record. In just the past three years as captain, he has led India's surge in the FIFA football rankings from 173 to 96, a leap of 77 places. If Chhetri were a cricketer, he'd already enjoy a demi-god status and a temple would already have been built in his name by now.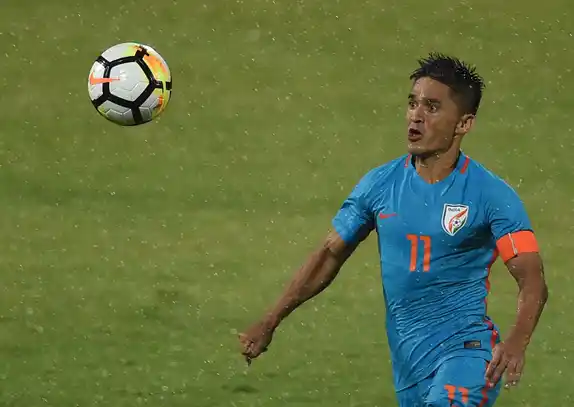 When it comes to his footballing legacy, the media has given Chhetri the apt title of "Goal Machine".
Image credit: PUNIT PARANJPE/AFP/Getty Images
But Chhetri is acutely aware of the shadow cast by the gentleman's game in India. While the BCCI was pumping big money into leagues and infrastructure, he watched football clubs and promising careers fizzle out because of financial troubles. When practice games featuring Virat Kohli and MS Dhoni were attracting packed crowds and viewership, he was thrashing opponents in nearly empty stadiums. The only way he could make it to the front page of the sports section in newspapers and magazines was if there wasn't a cricket series going on. Even football leagues and tournaments have to be promoted by cricketers to catch eyeballs, such is the state of the beautiful game in our country.
While the game of cricket has been spoilt by the luxury of glamour and money, footballers by and large live simple and modest lives. Chhetri himself could've been a cricketer, but financial conditions in the family didn't permit it, so he settled for the humble sport of football, which only required a ball and a pair of shoes that he could sew himself in the initial years, when money was tight.
Chhetri has come a long way since then, ageing like fine wine. He is spearheading the attack for India at an age when players settle down in midfield or take up coaching roles. He looks physically strong, and is still putting in a shift from the wide areas like a 20-year-old trapped in a 34-year-old's body.
However, even heroes aren't immortal, and it seems unlikely that Chhetri will still be playing when India eventually qualifies for the FIFA World Cup. But teams don't qualify overnight; it is a process that takes many years, and Chhetri's decade-and-a-half contribution to the sport has been priceless, something he is too humble to acknowledge.
When it comes to his footballing legacy, the media has given Chhetri the apt title of "Goal Machine". Fans lovingly refer to him as "Captain Fantastic". But Chhetri is more than just his exploits on the field. He will also be remembered as the man who inspired an indifferent crowd to finally pay attention to Indian football. How long that spell will last is yet to be seen, but Sunil Chhetri has made his mark in history.

Hardik is a Mumbaikar in his 20s. That could be his age, weight or waist size. Life is miserable, he likes to look at the lighter side of it.