Shahid Afridi is famous for two things – faking retirement and always doing the unexpected. For uniting past and present players of Team India on Twitter, he is a natural choice for Person of the Week.
There are two golden rules in cricket. One, never take your eyes off the ball. Two, keep your nose out of politics. If Imran Khan's political career or Sachin Tendulkar's Rajya Sabha attendance record are any indication, the two rarely mix well. None of that seemed to affect Shahid Afridi this week, as he stirred up a hornet's nest when he decided to tweet about the delicate political situation in Kashmir. Afridi is famous for two things – faking retirement and always doing the unexpected, so despite stiff competition from the only Tiger to be brought down by a blackbuck, he is a natural choice for Person of the Week.
On Twitter, Afridi called for UN intervention in "India-occupied Kashmir" to stop the "killing of innocents". This single tweet had the power to unite the Indian cricketing fraternity faster than the lure of a fat IPL contract. Leading the charge was Gautam Gambhir, another cricketer who refuses to acknowledge that politics and the sport are strange bedfellows. Seeing as how Gambhir legitimately believes beating Pakistan in a cricket match is revenge for 26/11, it's not surprising he was the first to call Afridi out. In his response, he called Afridi retarded, taunted him about the dubious U-19 status he enjoyed in his early playing years, and worked in a cricket metaphor as well, proving Gautam Gambhir is much more versatile on Twitter than he ever was at the crease.
Once the floodgates were opened, other players followed suit. Virat Kohli, Shikhar Dhawan, and Ishant Sharma chimed in with their personal brand of jingoism, all to the same basic tune of "East or West, India is the best!" Even the World Cup-winning legend Kapil Dev was moved to comment, asking "Who is Shahid Afridi?" which led everyone under the age of 18 to ask, "Who is Kapil Dev?"
Boom Boom Afridi has never been one to back down from a fight.
Where elephants go to die and the true reason behind Afridi's sudden Twitter outburst, we'll never really know. After all, unlike some Pakistani players like Javed Miandad, he's never been vehemently anti-India in his views before this. Afridi even courted scandal in his home country by posing for a photo with a fan waving an Indian flag, which is the Pakistani equivalent of Virat Kohli posing with a medium-rare steak. Perhaps he was bored after his latest retirement, and grew jealous of how Steve Smith and David Warner made ball-tampering seem much more sophisticated than he did when he was caught nibbling on the ball like it was a delicious tangdi kebab. Whatever the real reason might have been, he certainly managed to grab the spotlight with his comments online.
Boom Boom Afridi has never been one to back down from a fight. So when Team India sent its online hit squad after him, did he meekly surrender? With the same fire that propelled him to hit centuries in thirty-forty balls, he snapped back in an interview where he said he prefers the Pakistan Super League to IPL, and he wouldn't even play in the IPL if he were invited by any of the teams. Sigh. When will you folks learn? In an online fight, never ever say anything that will later become a meme.
With his high-profile cover of the classic "You can't fire me, I quit," he proved that you can take the Pathan out of the fight, but you can't take the fight out of the Pathan. It takes a truly special cricketer to make headlines a day before the IPL begins when he isn't even playing in the tournament. A retired sportsman struggling to hold on to relevance cannot afford to be meek. For that reason, Shahid Afridi is our Person of the Week. Bring your balls and your ballas, because at this party, there is no Line of Control  between sports and politics.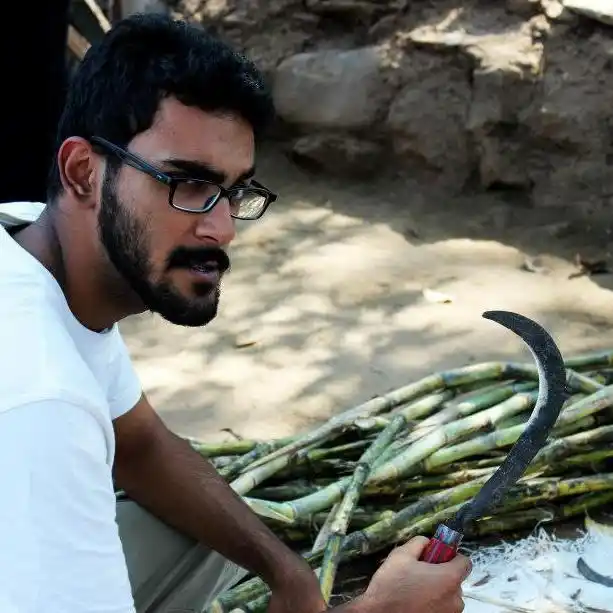 Dushyant Shekhawat really likes his mustache. He grew it himself. You can find him on Twitter at @SeriousDushyant.