About five years ago, a boy rewarded with a meal of manchow soup in the khau gully behind Churchgate station, began a journey that ended yesterday: with a scintillating hundred on debut in a Test match against West Indies.
Rush hour commuters stormed through the narrow khau gully, just off Churchgate, only a few choosing to break their march for a quick bite. Amid the hustle sat a little boy, savouring manchow soup and fried rice, doused in chilly chicken gravy. His white uniform was caked in dirt, as was his tanned face. But nothing could take this moment away from him.
Prithvi Shaw had earned the sumptuous desi Chinese fare after registering yet another ton for his school. It's a story from five years ago – the start of a journey that has today ended in a century on debut for the Indian Test side.
Earlier in the day, he had stepped out to take guard for Rizvi Springfield, a powerhouse of school cricket from Bandra. The mercury reached 34 degrees Celsius in the shade of the gulmohar trees that marked the boundary of Cross Maidan. Out in the middle, it was even hotter as Prithvi took guard to open the innings.
The oversized helmet stood out, making the teen look like a befuddled astronaut who had lost his way. The pads seemed to run up to his waist. But when the ball was delivered, nothing seemed to matter, as he dispatched deliveries bowled by boys both, elder and taller than him to the boundary with ease.
There was a lot at stake for Prithvi to perform, besides the Chinese meal on offer. Breathing down his neck, lower down the order, was a duo as talented as him in Sarfaraz Khan and Arman Jaffer, who, like him, wouldn't let a single opportunity to score runs slip by. All three would go on to play for India's U-19 side at some point of their career. Yet there was something special about the little guy on top of the innings.
Nobody could get close for the next hour or so, as he sat in silence, tears streaming down his cheeks, though hardly making a sound.
Though diminutive in appearance, Prithvi displayed a calm demeanour while opening the innings, unfazed while taking on the new ball. The drives were played with as much confidence as the flicks; the running between the wickets hardly hindered by the oversized pads.
When the runs came, it was almost taken for granted, given his consistency. It was only after an early departure from the middle, that all hell broke loose. There was tension in the air as Prithvi sat an arm's length from anyone dotting the perimeter. Nobody could get close for the next hour or so, as he sat in silence, tears streaming down his cheeks, though hardly making a sound. This was dejection that stemmed from an insatiable hunger to be among the runs each time he stepped out. At the same time, each century from the previous innings was forgotten in a jiffy, looking forward to the next job, rather than resting on laurels. On Thursday too, he spent some time at the crease in contemplation, after tamely returning a catch to Devendra Bishoo that ended his scintillating innings, before recalling that he had, after all, got a hundred.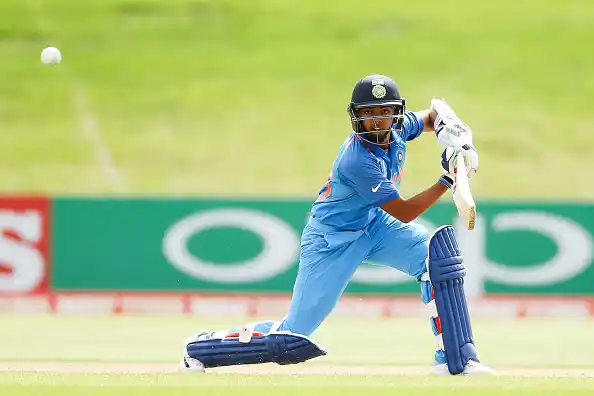 Not much has changed since that day, as Prithvi stepped out yet again on a blazing morning, this time to take on the West Indies.

Image Credits: Getty Images
Most cub reporters had it easy at the start of the four-day, inter school Harris Shield games, for the headline usually presented itself by lunchtime when Prithvi had a good day. For him, nothing was more important than spending time in the middle. On one afternoon in November 2013, he batted for over two days to score 546 runs and enter the record books. This time, there were hordes of cameras at the fence, hungry to get their bite from the then 13-year-old, and Prithvi stayed up way past his bedtime while addressing the repetitive queries from pestering journalists.
It took just one question at the end of the day to realise that this was, after all, just a kid, eager to make it back home in time to catch his favourite show, Tarak Mehta ka Ooltah Chashmah. It was just one of those rare moments when he spoke of a world outside of cricket. For even as a toddler, the only toys he remembered playing with was a bat, while smacking plastic balls bowled by bigger boys all over the place.
For Prithvi, his father Pankaj was his world, who had tended to his every whim while growing up. It was perhaps the only one who could snap him out of the sulk on a torrid day, an ace cook who could dish out his favourite meal of aloo ki sabzi and chapati for a hearty breakfast on the first train out of Virar, and the one whom he hated the most, each time, he was asked to turn off the telly and hit the bed for an early start the following morning. At times, Pankaj was harsh on his son to instil discipline; at the same time, Prithvi knew that his father was the one person who had his back at all times.
There were times that incentives worked like magic for Prithvi. During one game at the state level, he was promised a phone by Pankaj, should he score a hundred against Madhya Pradesh. It took all of 45 minutes for him to raise the bat and doff his hat, mostly for his father who looked on bewildered. It was no different when the mates sat across the table, chomping on the Chinese meal in silence after a hard day's play. Once the meal was devoured, Prithvi would pass out on his father's lap, oblivious to the heady odour of sweat on the packed fast train to Virar.
Not much has changed since that day, as Prithvi stepped out yet again on a blazing morning, this time to take on the West Indies. By the end of the day, his century had handed Indian cricket a glimmer of hope and was a hearty reminder of what little men were capable of doing to the new ball atop the innings.
If Prithvi had his way at dinner, rest assured, the Chinese fare was a delectable affair last evening

Shail Desai is a Mumbai-based journalist. He finds his kicks and his peace when in the mountains, and awaits the next excuse to get there.