With Egypt unlikely to advance further than the group stage, Mo Salah's World Cup campaign will come to an end on Monday, leaving millions of fans heartbroken. As a pick-me-up, here are three silver linings we can find in this result.
By the time Mo Salah whipped his penalty kick past Russian goalkeeper Igor Akinfeev, he was already playing for a lost cause. Stepping onto the pitch for his first game of the tournament, having missed Egypt's opening game through injury, there was a lot riding on his barely recovered shoulders. But the hosts could not be denied, and Russia produced a dominant team effort to beat Egypt 3-1, a result that nearly cements the victor's advancement and the loser's elimination.
But that's just bad news – lemme tell you the real bad news. With Egypt unlikely to advance further than the group stage, Salah's World Cup campaign will come to an end on Monday, and the immensely popular striker will bow out of the tournament. After a dream season that saw him reach the Champions League final with Liverpool and valiantly lead his nation through the World Cup qualifiers, Salah will have to swallow this bitter defeat and accept his fate.
Yet, who doesn't love Mo Salah? Cheer up, here are three silver linings in this result.
Back With the Best
There's no "I" in football, and a player is only as good as the rest of his team. On Tuesday, Egypt couldn't unlock Salah's full potential against Russia, as the Pharaohs lacked control of the midfield, rendering them unable to supply him with enough balls in the final third. An unfortunate own-goal by Ahmed Fathi early in the second half would add to their woes. Meanwhile, in his avatar as a goal machine for Liverpool, Salah was surrounded by fellow international stars like Roberto Firmino and Sadio Mane who acted as catalysts for his scoring prowess. After Monday's game against Saudi Arabia, Salah can look forward to returning to the company of his talented Liverpool teammates, and football's most huggable manager, Jürgen Klopp.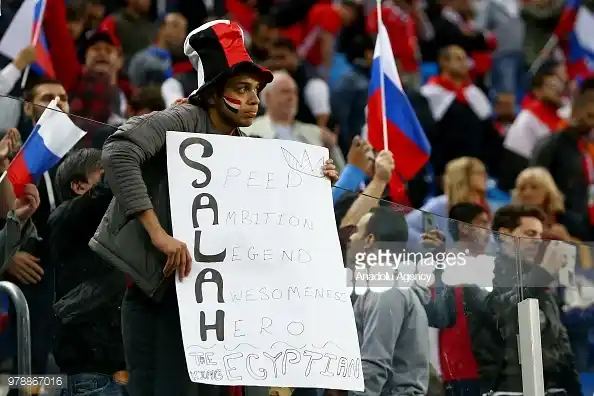 The Egyptian fans in the audience lit up like thousands of sparklers when Salah first appeared on the screen

Image Credits: Gokhan Balci/Anadolu Agency/Getty Images
No Harm, No Foul
Coming into the game, Salah's shoulder was a bigger concern for Egypt than the Nile drying up overnight. After a collision with big, bad Real Madrid defender Sergio Ramos left him injured in the build-up to the World Cup, there were very real concerns about how the bump would affect his form. It hasn't been ideal – he missed Egypt's first game against Uruguay (0-1) after all – but yesterday Salah proved he was fit enough to go the distance, playing the full 90 minutes and even scoring a consolation goal for his side. He bore the brunt of Russian veteran Yuri Zhirkov doggedly marking him through the game, and even survived a harsh challenge by the defender Zobnin. Perhaps the urgency of yesterday's fixture forced Salah to take the field before his shoulder fully healed, as evidenced in the traces of tentativeness he showed when making and resisting challenges, but he made it through unscathed. When you're as talismanic for your team's fortunes as Mo Salah, your match-readiness is paramount, so this will be a relief for him and Egypt. And for Liverpool, of course.
Whole Lotta Love
Mo Salah is one of those rare footballers who gets love from even rival supporters. Something about the contrast between his humble demeanour and jaw-dropping talent makes him instantly endearing, even to first-time watchers of the game. From his own fans, he gets love like a family member. The Egyptian fans in the audience, a vocal and colourful minority in the St Petersburg stadium, lit up like thousands of sparklers when Salah first appeared on the screen, standing in the tunnel before the game. He has beaten Islamophobia in post-Brexit UK, winning adulation with his turnouts for Liverpool. Hours prior to Egypt's loss to Uruguay, a handful of Brazilian fans serenaded Salah with a birthday chant, and minutes after the match, the Uruguayan, Edinson Cavani admitted he made a beeline for Mohamed Salah's shirt, because his children are huge fans of the Liverpool star.
Mo Salah has risen above the political divisions in his homeland, as Egyptians made their faith in him all too clear by casting votes in his name during an election for which he wasn't even running. Even after the referee blew the final whistle, and Salah made the long walk back to dressing room in defeat, the Egyptian faithful cheered for him. Egypt might be going home, but Salahmania is still running wild.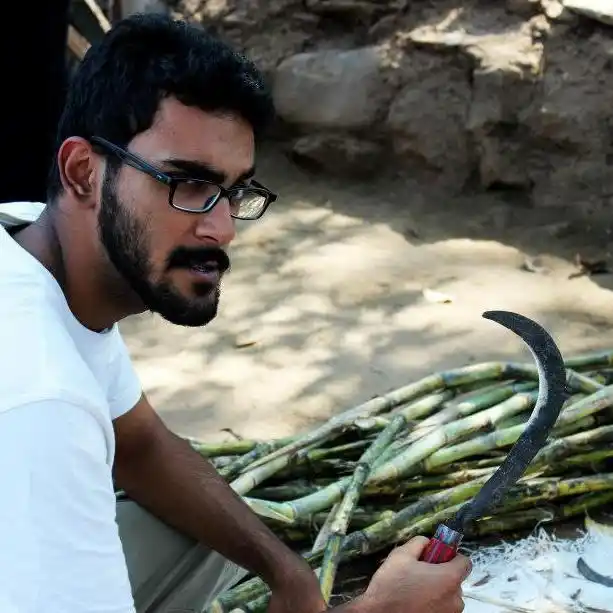 Dushyant Shekhawat really likes his mustache. He grew it himself. You can find him on Twitter at @SeriousDushyant.