India's ace pistol shooter Heena Sidhu has won silver at the Commonwealth Games, and standing strong by her side is a proud husband who doubles up as her coach.
It was a torpid day in June 2012 when Heena Sidhu received a call that changed her life. She had been picked to compete in the 10-metre air-pistol event at the London Olympics. Her first reaction: a fist pump and a lunge in the air. But her thrill soon turned to panic when she realised that the Games were only four months away. She was picked to compete in the world's biggest sporting event ahead of Rajyavardhan Singh Rathore, who had won silver at the 2004 Athens Olympics, and she was far from prepared.
As Heena, then a feisty 21-year-old, came to grips with the momentous news, she scrambled to get herself prepared, to figure out a stable training regime, get a team in place and find adequate funding. Temperament is everything for a shooter and even more important in the run-up to the Olympics. She knew she had to get the preparation course set and fast.
But fate, taking the form of good old Cupid, had other plans.
Heena had begun an intense training regimen under veteran Ukrainian coach, Anatoli Poddubny, when she met Ronak Pandit. She knew of him from the pistol shooter circuit – a Commonwealth Games gold medallist and an Asian Games silver medallist (both in 2006), a sportsperson of immense repute.
Ronak was 28, but wiser beyond his years. He hadn't made the Olympic cut, but his sportsmanship was commendable. He gave her his full support and began to take interest in her training. As the pressure of the Olympics started mounting, Heena increasingly turned to Ronak. He began, almost unofficially, to coach her and push her toward her goal, standing by her every day as she took shaky aims, staggered by the weight of a nation's expectations on her shoulders. Ronak steadied her and against the backdrop of firing shots and fraught nerves, they fell in love.
When it was time to fly to London, she couldn't imagine going without him. Ronak finally flew to London but since he wasn't her accredited coach, he could only cheer her from the general stands. When she trained ahead of match day, he wasn't permitted to step inside the shooting range. But the minute she was done, Ronak would be by her side and together, they'd go over the video footage of her training, discussing the session, and planning the next one. It was their version of sweet nothings.
Heena finished 12th in pistol in qualifiers in London (only the top eight make it to the final), which came as a bit of a shocker. After promising scores of 97 and 95 in the second and third series, she was placed fourth on the scoreboard in the preliminary round. With only five shots to go, she looked good for a place on the podium. But she cracked under pressure, shot five straight 9s and missed out on the final.
Heena lost her moment to shine at the Olympics, but she found something else – a partner and coach for life.
A year after the Olympics, they tied the knot.
Heena Sidhu heads to Rio in impeccable form, after bagging a gold medal at the Asian Air Gun Championships and Asian Shooting Championships in Kuwait in September and November last year.
Indranil Mukherjee/Getty staff
Ronak's decision to give up shooting and devote himself to Heena's career came as a shock to not only his family of professional shooters (his father Ashok is a multiple-time Commonwealth Games champion), but also the sports fraternity at large. After all, Ronak was only in his 20s, and a pair where the husband doubled up as a coach and the wife picked up the pistol was unheard of. The last time the sporting circles in India had witnessed something similar was in the case of Robert and Anju Bobby George. Triple jumper Robert was instrumental in shaping the career of his long jumper wife Anju. Like Robert and Anju, Heena and Ronak's love story also set tongues wagging.
"If you do well, it's expected; but in case you do not deliver, it comes down to us not being serious about the sport. People talk and think crap, so there's always this kind of unsaid burden," Ronak said, shrugging off the empty talk.
Ronak doesn't care about the world. His eye is on the metal. He'd set this goal in 2012, days after their return from London. After his 13-year stint as a professional shooter, he packed up his ammunition and turned his undivided attention to Heena's career. Since, she has not fired a single shot, which he hasn't observed, studied, and documented.
They've spent the last six years on the road either training in Pune, or competing at various tournaments around the world. With a full-time technical coach in her husband, and a team comprising a physical fitness trainer, sports scientist, and physiotherapist, Heena started building her game along with that her confidence after their marriage in February 2013. And the results followed.
With three shooters withdrawing from the 10-metre air pistol competition, she was invited to compete at the ISSF World Cup Final in Munich in November that year, where she returned with gold – India's first in the pistol event – and beat top shooters in the category. The following year, she was crowned World No 1.
And now once again, after a disappointing show at the Rio Olympics, she has made a comeback. Heena finished on top of the podium at the ISSF World Cup along with Jitu Rai in the 10m air pistol mixed team event in October. And now, she has done India proud once again at the ongoing Commonwealth Games.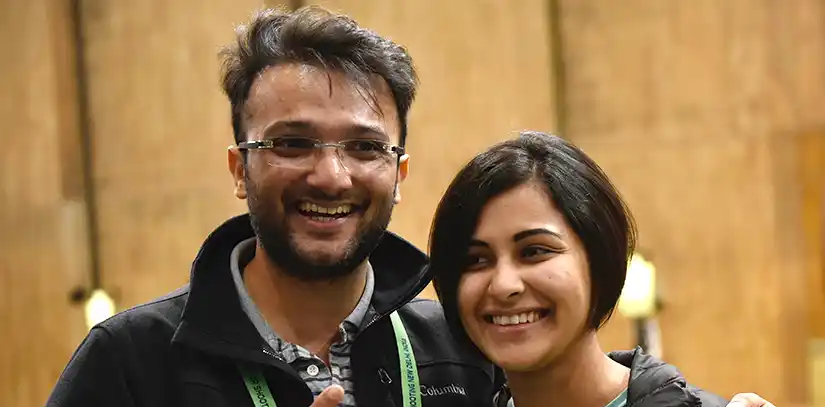 After a 13-year stint as a professional shooter, Ronak Pandit packed up his ammunition and turned his undivided attention to Heena's career.
Hindustan Times/Getty
The highs and lows are all part of the game. And their marriage has been shaped by this relentless stress. "I think it's tougher to train your wife because a lot of things are taken for granted – both ways. There are different approaches to tackling a problem, different attitudes and given her ability to bring about the slightest improvement is a big task and requires a lot of work," Ronak said. Like most marriages, arguments are a frequent feature, though for wholly different reasons. They don't debate on what show to watch on television, or what colours to paint their walls. They fight over technique, timing, training, and strategy.
If you ask Ronak about missing his days inside the shooting circuit he grins – showing absolutely no sign of regret or the smugness of sacrifice. He was simply better at coaching, he says, and he had more experience in managing the requirements of a shooter and the training because of an academy he set up in 2008.
For Heena, Ronak's full-time presence has been nothing short of life-changing. "It's like a part of me is sitting behind the line and observing my technique. Because we have such similar personalities, I know that when he gives me instructions, it is as close as it gets to how I would tackle the problem."
After Rio, Heena and Ronak knew the days ahead are going to be tough. But now that she has won gold, the nation will cheer. But the person who will cheer the loudest will always be Ronak.

Shail Desai is a Mumbai-based journalist. He finds his kicks and his peace when in the mountains, and awaits the next excuse to get there.