English football and its fandom echoes the ethos of Indian cricket. We're like two step-brothers separated by format, whether it is in taking pride in bashing modest teams or treating matches with neighbour countries as a patriotism test.
Nick Hornby writes in Fever Pitch that "complaining about boring football is a little like complaining about the sad ending of King Lear: it misses the point somehow." It is a typically English view of the game. Exempt of consideration for beauty and its purpose in the realm of adrenaline and sweat. English football has since time immemorial, pined for the former, while dismissing the significance of the latter. As if perpetually desiring French Chardonnay, only to be served a hard-worn cognac that kind of does the job; the eventuality of one justifying the inaccessibility of the other.
In more ways than one, English football and its fandom echoes the ethos of Indian cricket. We're like two step-brothers separated by format.
The English football team have always been touted as perennial underachievers. Not poor, or downright abysmal, but underachievers. Their golden generation which included the likes David Beckham, Paul Scholes, Frank Lampard, Steven Gerrard, and Michael Owen among others, not only failed to win a major football tournament, but hardly put up a proper challenge like Belgium have this year. Yet the hype around these players was persistent, almost nauseating. A fleet of superheroes, manufactured at the fans' end of the spectrum – as most cults are. The Indian cricket team's golden generation of Sourav Ganguly, VVS Laxman, Sachin Tendulkar, and Rahul Dravid, didn't perform too differently either. While underperformance in sport can only ever be a probability, the way it is analysed, celebrated or worst, hyped, definitely isn't.
On the day England beat Sweden in the World Cup at a canter, some English fans broke into an IKEA store (a Sweden-based company) to express not just joy, but the brutishness of English identity. It wasn't football they celebrated, it was one country beating the other, as if at war. A perverse brand of patriotism that appears stubborn only in victory, with humility as collateral damage. Even before the World Cup began, the English media was plotting its way to the final, discounting teams based not on footballing nous, but a preamble of masturbatory eventualities. Nothing is truer of the Indian cricket fan and its media, when it comes to taking pride in bashing modest teams.
Almost every other pitch that hosts a cricket match these days feels like a patch of earth borrowed from India.
Football has changed over the years, with Spain and Germany developing identities that the English can only envy. Their exits only underline the impermanence of every evolutionary cycle, the need to re-evaluate. English football has on the other hand won pretty much every battle off the field – the one fought across desks and sofa chairs. The Premier League is the most watched league, the richest, and easily the most publicised. The football, especially that played by English footballers, though, remains painfully regressive, stuck in a time loop of pasteurised athleticism that ghost-writes the idea of a clean and persuasive style. We find it hard to separate Manchester United from England.
Style, here is the keyword. Something English football has rarely known. Yes, there have been the likes of the nimble-footed Paul Gascoigne, but he was an exception more than he was likely to become the rule. None of England's most decorated footballers, with the exception of one or two, have succeeded in football leagues outside England or have even been wanted by other clubs. Much like most Indian cricketers whose struggles on foreign pitches is a recurring déjà vu.
Then there is the politics. Oh how the English football fan and the Indian cricket fan, love the political context. Beat Scotland or beat Pakistan, there is needle with the neighbour on so many levels. Consequently, celebrating a duel of mediocrities, like India and Pakistan carried out in the shadow of a dominant Australia for more than a decade, becomes the norm. As much as English football and Indian cricket have been triumphant off the pitch, cornering the opponents into economic submission, they have thrived only while others have faltered. India did not have a prayer against the Australia of old, which is why that Border-Gavaskar trophy remains special to the most organic fan.
The solution to these problems has been straightforward. Help everyone descend to your level, if you cannot rise to theirs. Almost every other pitch that hosts a cricket match these days feels like a patch of earth borrowed from India. The fast bowler will nearly disappear in the years to come, and that would be great news for Indian fans because we have never produced a decent one. Pitches are increasingly batsmen-friendly, the laziest task of all in cricket. Similarly, were English football come to be justified by any form of success, it would become a horrifyingly anti-football model many might try to emulate.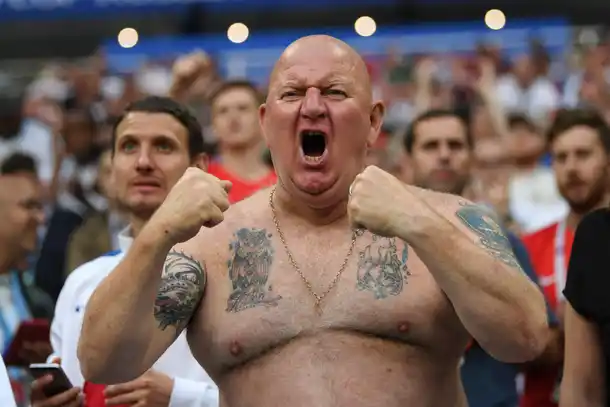 In more ways than one, English football and its fandom echoes the ethos of Indian cricket. We're like two step-brothers separated by format.

Image credit: Getty Images
In the ongoing World Cup, 80 per cent of England's goals have come from set pieces, their best players have been their defenders, and the most eye-catching moments they have contributed have been the saves by their goalkeeper. But the hype around the team has been peerless, to the point that ludicrous life-lessoning has abounded in the wake of their semi-final bow. Never has fervency for an almost-thing, that definitely isn't, been so aggressive, marked by absurd anthems like "Football's Coming Home".
England's exit from the World Cup is a lesson in itself, but it's unlikely the likes of Indian cricketing enthusiasts will learn anything from it. More than anything else, the lack of respect England had for teams around them, those built on shrewd budgets, countries that have risen through wars and turmoil, that English football lacks. Something even the Croatia captain Luka Modric pointed to after their victory over England. English football has always wanted to build a narrative of victimhood of pretend-suffering that makes their mediocrity salvageable through poetry. But in truth, they understand nothing of poetry, have never produced any on the field, and are unlikely to do so in the future, should their self-worth continue to be gilded by egotism.
An England victory last night, would have been a footballing disaster, the triumph of capitalism, of misplaced, humourless nationalism, of hype and mispronounced ideals, of a life-depriving brand of football, of the machine over the artist.
Good riddance then. It won't be coming home.
Manik Sharma writes on Arts and Culture.
He tweets at @Manik1Sharma