A few months ago, after a series of consecutive Arsenal losses, I hesitantly shifted to the #WengerOut side. After all the club was bigger than the manager, right? But as I heard about his decision to step down, I felt a vacuum. I realised, for me, Arsene and Arsenal, had become one.
At 2.24 pm on Friday, a friend, who is a Liverpool fan, pinged me.
"#WengerOut. Finally"
My initial reaction was, "This is a hoax." So, quite nonchalantly, I googled Arsene Wenger. As the results page opened up, my heart sank. I knew this day would come. But that it would be so sudden, and so strange I did not know. A great wave of sadness swept over me. As I am sure it swept over millions of Arsenal fans. It was strange, this sense of palpable loss over a  man I had never seen in person. A man I had only known through the TV screen. Through press conferences. Through match reports and opinion pieces. Why did I care about a Frenchman in London who had quit his job after 22 years? The answer is that football defies rationality. It makes gods out of some men. And villains out of others. Le Professor, during his final months at Arsenal, was somewhere in between the two. Now that his tenure was over, students of the game everywhere were sombre.
But why this sadness?
What made Arsene Wenger so great?
Three titles and seven FA cups are the tangibles. So is the London Colney training ground and the Emirates Stadium built under his supervision. Not to mention the little fact that he revolutionised English football – on and off the field. But if you read through the tributes pouring in from across the footballing world, you'll realise that people respect Wenger because of the kind of man he is. In almost every tribute two words appear again and again: "father" and "gentleman".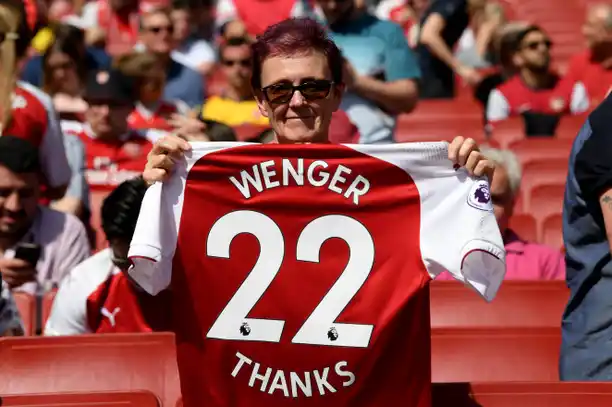 A fan poses with an Arsenal shirt, displaying text to thank Arsene Wenger, Manager of Arsenal during the Premier League match between Arsenal and West Ham United at Emirates Stadium on April 22, 2018 in London, England.

Photo by Shaun Botterill/Getty Images
Arsene is one of the few managers in modern football who has continuously nurtured young talent and made them world-class players. Henry, Fabregas, RVP, Bellerin, Chambers, Alex Oxlade Chamberlain, Holding, Nasri, Wilshere, Ramsey, Gibbs, Walcott, Maitland Niles – the list is endless. For all of these players, Arsene has been a footballing father. A man who helped them take their first steps in the world of fast-moving feet.

And it is not just the players. Silver-haired, kind, and graceful, the Frenchman is a father figure to even his supporters. How important Arsene has been in the life of Arsenal supporters is best answered by a fan's comment on Arseblog.

Under Wenger's reign there have been many players who have been ravaged by career-threatening injuries. Injuries which would have seen any other manager sell the player and buy a replacement. But Wenger stuck with his players. No wonder then that Abou Diaby said in his tribute, that Arsene was the shining light in his darkest days. He stuck by Aaron Ramsey when he broke his leg. He did not give up on Van Persie season after season. He stood tall by the side of Mertesacker when he was injured. If I was going to the front in war, I would love to take Monsieur Wenger with me.
The last mighty oak in the forest of loyal, traditional managers has fallen.
Bob Wilson, the former Arsenal goalkeeper and goalkeeping coach, recounts an encounter off the field. They were training with the team in Austria. A short while before that Bob had, tragically, lost his 31-year-old daughter Anna to cancer. Tearing up, he remembers how Arsene had sat next to him in the bus and spoken about Anna and the human spirit. Arsene was not just a footballing man, he was  a man in the truest and most exemplary sense of the word.
***
In the last few years of his reign at Arsenal, Wenger increasingly came under attack from all quarters. The Gooners were divided into #WengerIn and #WengerOut. Teams around him were splurging hundreds of millions of dollars on players. While he still looked to save every penny of Arsenal's money as it was his own. Under these trying circumstances, Wenger exhibited courage, as defined by Hemingway. He was always graceful no matter how much pressure was thrust upon him. Graceful always apart from when he was struggling to zip up his jacket on the sidelines. Oh! Arsene, how we are going to miss you and your antics.

For the longest time, I was in the #WengerIn camp, but a few months ago, after a series of consecutive losses I had had it enough. I hesitantly shifted to the #WengerOut side. Not a vocal member, but a silent supporter. After all the club was bigger than the manager, right?
But as I heard about his decision to step down after the season, I felt a vacuum. I realised for me Arsene and Arsenal, had become one. They were synonyms, two rhyming notes, twins joined at the hip. Did I like him or not? Did I want him to stay or not? Another Arseblog comment summed up the dilemma perfectly.

I always suspected Arsene to be a bit of a leftist. Whether it was his insistence on equal wages for players, his hesitation to spend money, his romantic view of the beautiful game, the colour of our kits, the way he revolutionised the game, his still obvious French accent, it all pointed toward a man who would in the end be devoured by the rampant capitalism which is spreading through the beautiful game like a plague. The last mighty oak in the forest of loyal, traditional managers has fallen.

Eduardo Galeano, writing about managers in his seminal work, Soccer in the Sun and Shadow, says: "The machinery of spectacle grinds up everything in its path, nothing lasts very long, and the manager is as disposable as any other product of consumer society. Today the crowd screams, "Never die!" and next Sunday they invite him to kill himself. The manager believes soccer is a science and the field a laboratory, but the genius of Einstein and the subtlety of Freud is not enough for the owners and the fans. They want a miracle worker like Our Lady of Lourdes, with the stamina of Gandhi."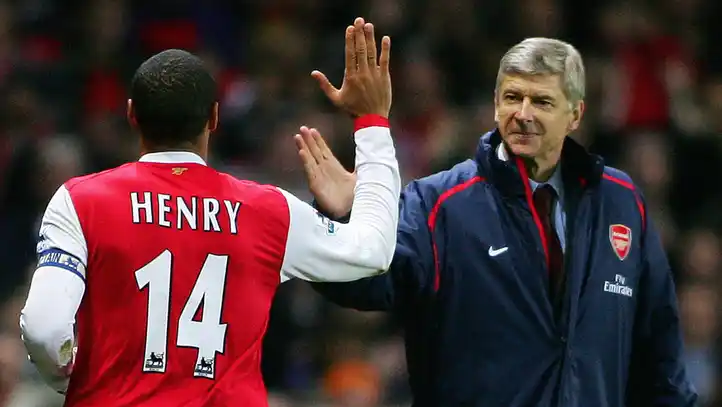 Thierry Henry celebrates with countryman manager Arsene Wenger after scoring from a penalty shot during their Premiership match against Charlton at home to Arsenal, 02 January 2006.

CARL DE SOUZA/AFP/Getty Images
Arsene Wenger battled this machine successfully for 22 years, and has retired in the end with his head held high and ten trophies under his arms. More than that he has given us memories of beautiful goals, flicks and turns, and oohhs and ahhhs. And for those memories we thank you Professor. Merci Arsene. Merci.

Karan Mujoo is a writer currently living in New Delhi.