Why exactly are we sneering at the video of Akash Ambani clapping when he sees his bride Shloka? Aren't we all desperate to create "perfect moments" at our own weddings? Haven't we all rehearsed to put up a performance in happiness?
If you're planning on getting married in the near future, I'd strongly advise you steer clear of the latest Amazon Prime offering, Made in Heaven. In terms of quality, it's a new benchmark for Indian web series, but it's also an extended, nine-part polemic against the hypocrisy of Indian weddings. During the course of an extremely binge-worthy first season, Made in Heaven shows us that the glitzy, glamorous façade of the Big Fat Wedding is exactly that – an empty display.
At the last wedding I attended, the festivities were spread out over five separate functions on five different evenings. Literally hundreds of people attended, and thousands of Instagram stories were updated. For the guests, all those affairs were part of an indistinguishable blur of free drinks and buffet tables, a no-strings-attached night of fun. But the bride was frustrated and exhausted, confiding in her friends that she couldn't wait for the ordeal to end. And who could blame her? Months of crash dieting to look good for the big day, innumerable pujas and ceremonies to sit through, and having to put on a smiling face for people you've never met could do that to the best of us. But even so, you wouldn't be able to tell by looking at the wedding photos. Just like Made in Heaven, it was an experience that made me think about hollow happiness on display at Indian weddings.
Every family has a collection of wedding albums and videos at their home. These are treasured possessions, emblems of how sorted the family is in terms of social standing. Except, not really. At my house, visiting relatives are sat down in the living room and without fail, are treated to a viewing of my sister's wedding film held at a palace in Rajasthan, where they make all the right noises and provide the obligatory responses of "dulhan kitni sundar lag rahi hai," "kitna shandaar mahal hai," and so on. They don't know about the hectic chaos that took place beyond the camera frame, the guests who stole towels from the hotel, the fact that the wedding preparations triggered my aunt's slip-disc, or about the years it took to pay off the personal loan that financed the whole do. And frankly, that's just the way my folks would have it.
Weddings, especially in India, are all about showing off for the occasion, not the marriage to follow. This was probably always the case, but with Instagram giving us an inside view of opulent happiness the hype has increased. Is there any better example than the double bill of the Isha Ambani-Anand Piramal and Akash Ambani-Shloka Mehta weddings we've seen over the past few months? The two affairs were media circuses first, and weddings second. The guest lists were a parade of celebrities of every walk of life, from Hardik Pandya to Hillary Clinton, and the entertainers' bill was a collection of Grammy winners like Beyoncé, Coldplay, and Adam Levine. The other sundry celebrity weddings of the last couple of years – #DeepVeer, #NickYanka, #Virushka – were also headline-grabbers, albeit on a smaller scale than the Ambani weddings. Naturally, we lapped those up.
How exactly do you "recreate happiness"? How can your moment of joy match that of some actor couple?
Whether it's an ordinary, middle-class Indian family or the richest one in the country, everyone wants their family's wedding to be the talk of town. Turning what used to be a private ceremony into a buzzworthy affair is now de rigueur – the wedding planning industry that serves as the backdrop for Made in Heaven is proof. Now even "spontaneous" proposals are filmed by a professional camera crew and wedding hashtags like #AkkuStoleTheShlo from the Ambani wedding haunt us. I've attended a wedding where the hashtag was mandatorily enforced on guests, who had to check in to the sangeet with an appropriately tagged selfie. Not interested in mugging for social media, I slipped into the background of another selfie, and skipped having to put on a performance, a personal nightmare.
While on the subject of nightmare fuel, the viral video of Akash Ambani watching Shloka make her entrance at the ceremony is essential viewing. The poor boy is trying to convey the feeling of being swept off his feet by his beautiful bride, while the cameraman zooms in on his face like he's giving a reaction shot on an Ekta Kapoor TV serial. Cue a garbled flurry of expressions that looks like someone replaced his face with a random emoji generator. This was wedding-specific performative happiness at its worst.
In India, we take our social cues from the rich and famous. So when every celebrity wedding is a festival of manufactured happiness, it's a display toward which we naturally gravitate. A friend's girlfriend sent him a picture from the DeepVeer wedding demanding that they recreate it. But how exactly do you "recreate happiness"? How can your moment of joy match that of some actor couple?
Maybe the answer lies in the fact that as Indians, we have always believed in the performance of emotions – especially grief. If you don't wail and beat your chest at a funeral, are you even sad enough? Today the same seems to apply to our happiness as well. If you don't appear shocked when you see your bride for the first time and clap ecstatically like Akash Ambani did or if you don't shed a that solitary tear like Nick Jonas, you are clearly not ready for your happily ever after.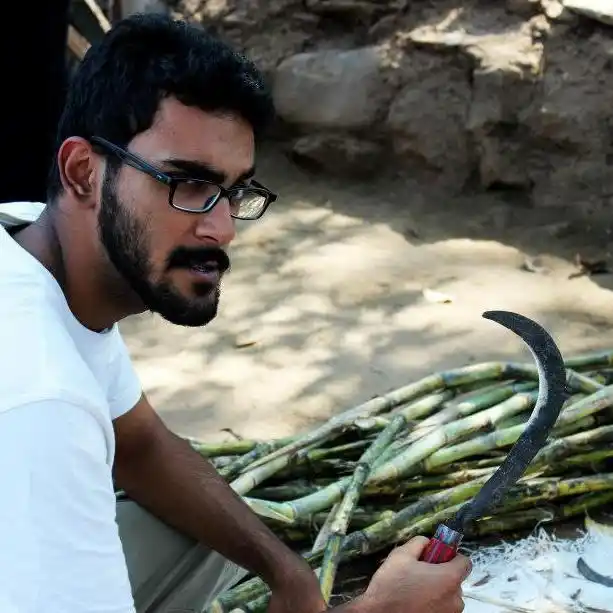 Dushyant Shekhawat really likes his mustache. He grew it himself. You can find him on Twitter at @SeriousDushyant.