Several urban professionals are thinking about "workcations" in sunny Goa, or the cool slopes of Himachal Pradesh. Who doesn't want to escape the dreary sameness of your home city while being able to meet work obligations? Here's why that's a terrible idea – for other people.
Before 2020 came along and turned the world upside down, the staycation was the urban working professional's Holy Grail. With busy schedules and an always-on work culture, staying close to home base while also finding a way to unwind was the smart option. But like so many other things in a post-Covid world, the staycation's importance has been upended as most employees have had to adapt to work from home scenarios. Now, it's the workcation that most of us are looking for – a trip to a destination that allows you to meet work obligations while also escaping the dreary sameness of your home city.
It's true that one can have too much of a good thing, and while working from home was greeted as sweet liberation from hellish commutes, grinding office small talk, and restrictive workplace firewalls, what once felt like a welcome diversion has, over time, started to feel more like house arrest.
An article on Livemint about employee burnout while working from home quotes clinical psychologist Sonali Gupta, who says, "Boundaries between work-time and personal time are very blurred right now… there is no end to the workday. At the same time, certain things are more fatiguing — say you were at an office, you could just walk up to a colleague to have a work chat but now it's find a convenient time to set up a call, put it in your calendar. Also, there's a chance of miscommunication, especially on text and email. All this adds to fatigue and anxiety."
Should you be packing your bags?
As the pandemic persists, packing up your laptop for pastures new starts to gain a nearly irresistible appeal. It doesn't help that as lockdown measures have started to be relaxed, the tourism industry is making its best effort to entice customers to travel once again. Just try going on Instagram.
Hotels have started welcoming guests back and AirBnB accommodations are advertising their availability, with destinations like Goa and hill stations in north India looking to revive their main source of revenue – tourists with money to spend. And since the pandemic and ensuing lockdown deprived Indian travellers of their two most-cherished holidays – the summer vacation and the monsoon road trip – the temptation to jet off for a hard-earned workcation is difficult to resist. Especially when you know your favourite spots will likely be far less crowded than the last time you visited.
Local communities have even greater claim to these destinations than holidaymakers looking for a change of scenery.
Though spots like Goa and Himachal exist merely as getaways in the minds of city-dwellers, it bears noting that these places aren't just tourist traps. Local communities have even greater claim to these destinations than holidaymakers looking for a change of scenery. Against the backdrop of the coronavirus pandemic, questions arise over how safe travel really is to these locales. And not just for the travellers, but also the locals, who always have to deal with the aftermath of any tourist's visit.
Soon after Himachal resumed the business of tourism, images of litter callously discarded by tourists in its pristine mountain landscapes began to do the rounds of social media. A Times of India report from 23 September states "residents of Manali and Kasol have been worried as several tourists have been flouting COVID-19 safety norms by roaming without wearing masks or face shields. One of the local shopkeepers told the news website that the situation may go out of control due to the absence of strict control and watch by the government authorities." The report also mentions that workers from the tourism sector want the state government to re-impose the requirement of a COVID-19 negative report to enter the state, and that the police should be stricter in levying fines and taking action against those violating safety guidelines in public places.
In Goa, a tiny state with a largely rural healthcare system, there are fears being voiced over travellers bringing with them a resurgence of Covid cases, in a state that is not the best-equipped to handle it. Local residents and Goans in other parts of the country have spent most of September decrying the state government's decision to reopen the state to tourists. Photos of both visitors and staff at tourist hotspots interacting without face masks have been shared. Though tourism is Goa's lifeblood, locals are requesting that the government look at alternate means of supporting shack and hotel owners, rather than recklessly reopening the state to travellers. However, this hasn't stopped visitors from India's large metros from heading to Goa as soon as the travel restrictions were lifted.
Why it's best to stay put
Covid-19 has been established as a traveller's disease, and even one positive case from the city slipping through safeguards and making it to the beaches or valleys could spell trouble for the locals. The most important question for urban professionals considering a vacation, then, is whether your indulgence is worth disturbing a recovering healthcare system, in both your planned destination as well as your own city when you return.
Taking personal responsibility becomes a very flimsy shield against the argument that workcations are, at this point, ill-advised.
Even if you diligently wear a mask and gloves for the entirety of your trip, you won't be the only traveller there, and not everyone will be as fastidious. The travellers will interact with the workers from the hospitality industry, who will in turn interact with the locals, and all those guidelines about breaking the chain of transmission will be thrown out the window. There is no guarantee that everyone along that chain will be observing the requisite safety measures. In fact, it's almost certain that there will be lapses along the way. So, taking personal responsibility becomes a very flimsy shield against the argument that workcations are, at this point, ill-advised.
After a year of being indoors, the fear of Covid transmission has receded in many people's minds, and much like we witnessed when India first started logging Covid cases, when most thought quarantine was a 21-day experiment, people are once again viewing it as an excuse to get out of the city. However, what was true then is just as true now. It's not a holiday, it's a pandemic. And a staycation – at home – is still a better option than a workcation.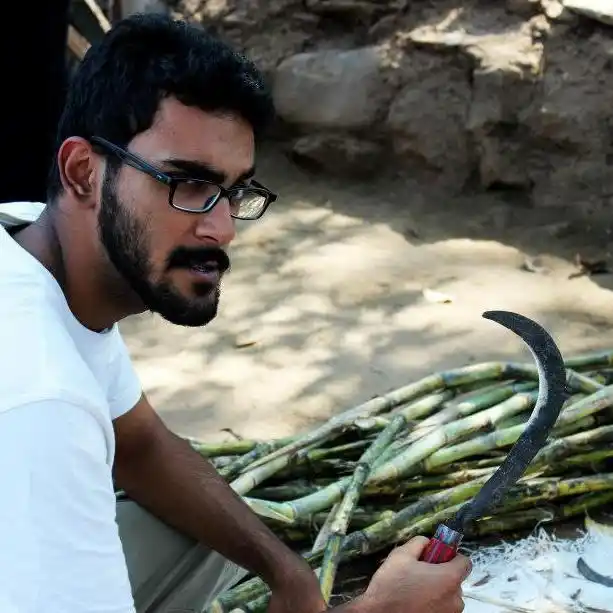 Dushyant Shekhawat really likes his mustache. He grew it himself. You can find him on Twitter at @SeriousDushyant.