The Punjabi dream is to fly high, far away from the problems that plague the state. Most of Punjab wants to be in "Umreeka" and they are shouting it out from the rooftops.
Regulars on National Highway 1 will often boastfully tell noob roadsters that they don't need signs to know their whereabouts. If they peer out and see multiple hoardings claiming the best paronthe in town, they know they are definitely near Haryana's dhaba town Murthal. And if they happen to see aeroplanes seemingly stranded on rooftops, they know that they've entered Punjab.
Two hours out of Patiala, you will find yourself in a town that may convince you that the aeroplane is its own invention. It isn't.
Welcome to the Doaba region of Punjab. Flaunted over the roofs of palatial houses and farmhouses are gigantic water tanks, many of them inexplicably shaped like aeroplanes. Some are huge water tanks masquerading as Virgin Atlantic flights, some humbler creations in plastic, while some preside over the skyline in proud pairs. The reason: They're the local stamp of the NRI household.
As soon as a family member takes that Trans-Atlantic flight (Canada, Australia, the US, and the UK are the obvious and popular choices), the family props an aeroplane on its roof to announce their "arrival" to the world. In these parts of the world, an aeroplane is so much more than a metaphor for prosperity. It is a symbol of hope, a fervent prayer. The Doaba region has an estimated six million of its people settled abroad and the remaining live in the hope of joining them. With immigration barriers going up, and more and more youths falling prey to the drug menace in the state, many parents have pinned their hopes on these concrete planes giving wings to their children's dreams.
Talhan, where a rather rotund British Airways model presides over the entry gate of the town, has taken the metaphor of the aeroplane as a prayer, rather literally. The main gurudwara in Talhan has acquired a modest reputation of being a granter of visas. Here not only does the aeroplane sit atop the gurudwara, but a fleet of miniatures can also be found in the sanctum sanctorum. These planes are offerings left by thousands of devotees who flock to the Shaheed Baba Nihal Singh Gurdwara and pray for their dreams of a wealthy, jet-setting life to come true.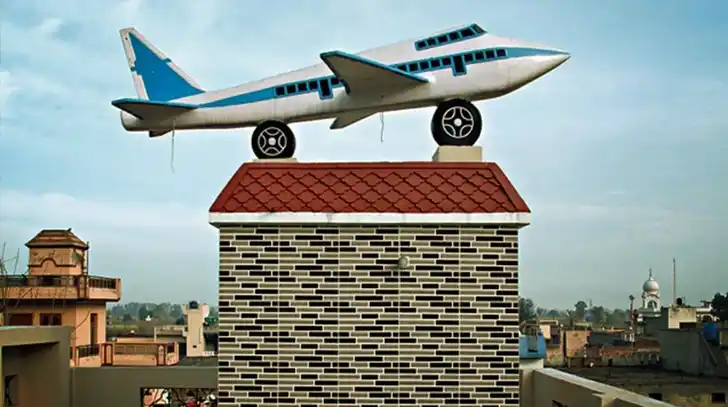 In Punjab, an aeroplane is so much more than metaphor for prosperity. It is a symbol of hope, a fervent prayer.

Julien Privé/ Flickr
If an object has made it to the sanctum sanctorum, it is only natural that a roaring trade and business will come up around it. For Harpreet Singh, who peddles these aerial wares in plastic and metal models that start from a modest ₹1,000 and go to a ferocious ₹15,000, these planes are not only a business, but are also the sign of his own achievement and a motif for the future. On his rooftop, is a water tank of an Air Australia Airbus. "Mera beta wahan permanent hai aur yahan se woh aur logon ko bhi le gaya hai," he beams with pride, as he sits surrounded by aeroplanes of various sizes. The dreams in Harpreet Singh's eyes are bigger – he plans to add a second Airbus to his rooftop when his younger son gets that golden ticket. He sees nothing outlandish in the idea of two planes sitting on his roof. In fact, it's a vision that makes him very happy.
Harpreet Singh does not remember when a plane on the rooftop became such an integral part of the Punjabi dream. Neither does he understand the curiosity it elicits in uninitiated passers-by like this reporter or the laughs from more educated visitors.
"Punjabi ka toh hamesha se sapna hai yeh," he says, pointing to the roofs around him – all of them have aeroplanes of various sizes propped up, proudly. This part of Punjab wants to be in America and they make no bones about it.
Before the land-bound state became the Rice Bowl of India, it was known as an exporter of cheap muscle. Some of the first Indians to land in the United States of America were Punjabi labourers who were put to work to build rails and roads in California. By 1912, they had built their first gurudwara, in Stockton City, North California.
"Umreeka" is still the most requested destination at Harpreet Singh's outlet, others being London, New York, and Toronto. All his customers want that golden ticket and then they will follow that age-old migration plan, arrive on a tourist visa, and simply not leave. It is surprisingly effective: Nearly half the illegal immigrants in both the European Union and the US first arrived on a legal non-immigrant visa, which they then overstayed.
At least 100,000 Punjabis are currently in prisons around the world for illegal immigration, and the undocumented flight out of Punjab is so common that the state's Department of Information and Public Relations declared that it had "no figures whatsoever" on the number of Punjabis living abroad.
Meanwhile, planes keep going up on rooftops across the state. As you move further north to Moga, Amritsar, and Gurdaspur, the splendid sight continues – the horizon is dotted by farms and houses, many with aeroplanes proudly perched atop.
The sight is rarer in bigger cities. Houses on the tony Rajbaha Road of Patiala or Le Corbusier's planned city remain aeroplane-free despite a slew of NRIs affiliated to these residences. The inhabitants of these posh houses like Suneeljeet Baxi turn their nose up at the likes of Harpreet Singh. "You will not find this in Patiala, it is the pindus who like these things, " he says, claiming urbane sophistication for his hometown, unsullied by the totems of illegal immigration.
Baxi and his crowd of urban Punjabis revel in other insignia of prosperity: the golden apple emblazoned on the phone, interlocked Cs on a handbag, and a leaping feline perched on the car. They refuse to be clubbed with the desperate farmers who will risk prison for a shot at a better life and prefer to slot themselves with the rich kids of Instagram who too holiday in the Hamptons like their international peers. Where in Harpreet Singh's eyes there was joy, on Baxi's face there was only derision.
Baxi and the rest of elite Punjab may look down upon the tacky and guileless way in which the villagers chase their dreams of foreign land, but the pindus don't care. They may not know what the interlocked Cs stand for and may look in amusement at a car with a feline on its bonnet, but planes they understand. Planes – the shiny, beautiful models – are the literal and metaphorical carriers of their dreams. Why would anyone, Harpreet Singh wonders, buy a handbag when, at the same price, they can buy a ticket on a plane?
Handbags are alright, but planes? Planes are everything.
Kripa Krishnan is a Delhi girl living in Mumbai, she is a hunter-gatherer of information and has spent the past decade justifying her love of both Germaine Greer and misogynistic rap.