The student protest at TISS is out of character for Mumbai's colleges. The sloganeering, picketing, and kurta-clad protesters seem transplanted from JNU or Delhi University, hotbeds of student protest culture in India.
The atmosphere around the Tata Institute of Social Sciences campus this Monday was far more sullen than normal. Usually, the university grounds are bustling with liberated minds, dressed in the gender-neutral uniform of block-printed kurtas. But today, a nimbus of despair surrounded the gates of TISS, with protesters seated on the floor, agitating against the school authorities.
It's a scene that's common to Jawaharlal Nehru University or Delhi University, hotbeds of student protest culture. But you'd be hard pressed to find a gathering of young men and women make common cause, in a city as politically apathetic as Mumbai.  
Since February 21, the institute's administration and students have been locked in an impasse. All four campuses across the country have shut down to protest the administration's decision to withdraw a fee waiver meant for SC, ST, and OBC students. There was a feeling of unrest unlike anything I've ever experienced during my college days, and I'd gone there to see Mumbai's typically chill college crowd put up a bonafide protest.
For years, Mumbai's campuses have been devoid of any politicking, after student elections were banned. Prior to the early '90s, the financial capital had a robust political culture, like any other university in the country. That ended with the 1989 murder of a young man named Owen D'Souza, district president of National Students Union of India. According to reports, D'Souza had 64 stab wounds on his body and his fingers had been chopped off, allegedly by his political rivals (although charges were dropped a few decades later). Once the ban was enforced, students were not permitted to use posters, pamphlets, and banners. Even though the Maharashtra University Act, 2015 was implemented exactly a year ago, according to which student bodies can hold elections, it has all but spelled death for Mumbai's political culture.  
"As I sipped from the paper cup, I saw another one crumpled up and thrown on the floor. "INJUS-TISS" was scrawled across it in permanent marker."
Not at TISS, however. A bit of that old spirit that must have existed in the late eighties, was in evidence at the campus.
Even in the presence of heavy police bandobast, the students chanted; slogans like "Awaaz Do, Hum Ek Hai" rend the air. They brandished handmade posters and burnt notices sent by the Institute, and did anything they could to get their displeasure across in a non-violent but attention-grabbing manner. The angriest I remember being in college was when they raised the price of the dosa in the canteen.
In the milling crowd outside the campus, among the angry, impassioned protesters, my colleague and I stood out like sore thumbs. As we walked closer, we noticed the gate which had handmade posters that displayed slogans in a plethora of Indian languages to show the diversity of students that studied at TISS. These sat next to portraits of leaders and reformers like Ambedkar, Ayyankali, and Bishnu Prasad Rabha, icons for the ideals these students subscribed to. The gate was a monument to their angst and frustration, and by the looks of it, it isn't going anywhere anytime soon.
There was a distinctly Gandhian flavour of non-violent non-cooperation to this protest. The group I was with came to a stop by a circle of protesters engaged in a discussion. There was a protocol in place. The leader at the centre was using a microphone, sending her words echoing through the crowd. "Our agenda is not to hamper the functioning of the admin. It is to ensure that they function better."
Suggestions came in quick from the gathered protesters. Some offered ways to hold video conferences with students from other campuses. Apart from, Geeta, the girl with the microphone, students from the crowd also came forth to speak, proving this was truly a movement by students who had been driven up the wall.  
Away from the heart of the action, and toward the fringes of the gathered students, I saw another side to the protests. Among the bushes on campus, I saw the vulnerability behind the protesters' stoic facades. A few of them were answering phone calls from worried parents, while others kept mentioning how tired they were. A few were seated in their shanties staring into the abyss, uncertain of how the rest of their days were to unfurl.
Some of the students offered me a cup of tea, maybe because they thought I was one of them. I sat next to Ajmal, a student with strong opinions about the downside of  privatisation, and the hardships that their families would experience if the protest's demands went unmet. As I sipped from the paper cup, I saw another one crumpled up and thrown on the floor. "INJUS-TISS" was scrawled across it in permanent marker.
Later, I got a chance to speak to Gouminlal, a student leader. I saw firsthand the shanties that students banned from sleeping in their own hostel rooms were being forced to sleep in, while Lal spoke about the wrongdoings of the government, the shortcoming of TISS, and the UGC issue. It had been a long week, but they were ready to continue protesting for as long as they possibly could. He also went on to say that their teachers and professors were supporting them. For Lal and his fellow students, it's important to stand their ground and keep fighting. The only thing they have to rely on in their struggle is each other.
My alma mater, the cushy SoBo college Jai Hind, never saw anything like what was happening at TISS that day. Nor would the institutes my friends went to – the similarly laidback Mithibai or St Xaviers or KC. Having shorts banned from the dress code doesn't tend to incite that kind of passion.
As the evening grew darker, and the voices became hoarser, the protesters began distributing cups of tea, biscuits, and chips, since nobody had a hot meal waiting for them in the dining hall. It was a rough night, but they would make it through.
Today marks the eighth day of the protests taking place at TISS. The progress of this protest has resulted in mere negotiations and more notices from the institute. It seems less likely that all of their demands will be met. As for Gouminlal, Geeta, and their comrades, there is no way out but through.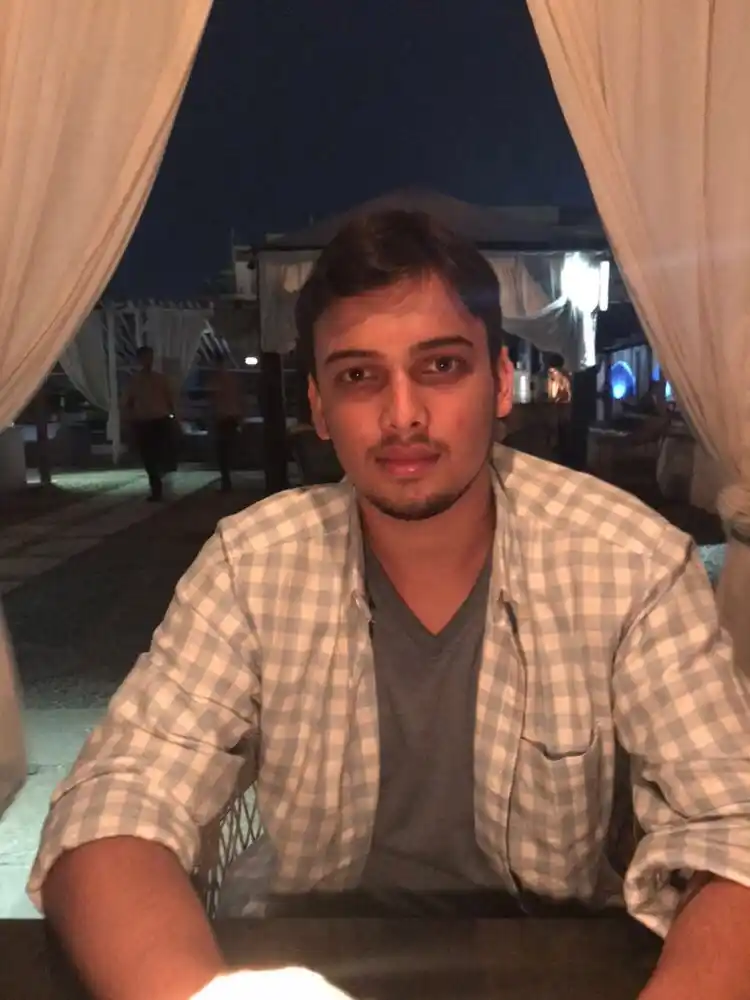 Nihal likes to believe that darkness is more beautiful than frightening. He likes to be called Bambi, a nickname, his friends gave him.