At the Gau Vigyan Parishad in Pune, there were cow protectors and cow sevaks. They told us that gomutra is better than shampoo and that it can control diabetes.
This past Sunday, over 200 people outside the liberal Twitter/Facebook bubble came together at Pune's ISKCON Temple on Katraj road to celebrate the magnificence of gau mata. The temple, whose enormous buildings and lush gardens stand amidst the backdrop of the Western Ghats, looked especially pretty under the July post-rain haze with cool gusts spaced out by the minute, providing a sanguine vibe to this Gau Vigyan Parishad.
The crowd consisted mostly of old men wearing kurta pyjamas, but had its fair share of kids rocking gigantic beige teekas that covered the entirety of their tiny temples. The enthusiastic youngsters were running around the stalls set up to promote desi gau-related products: ghee, milk powder, gomutra, essence of gomutra, and all other things gau. A massive screen to the left of the stage was set up for presentations, allowing speakers with official titles like "Cow Protector", "Director, Gau Seva", "Director, Go-char Vikas Board" to come on stage and enthral the eager crowds, who were armed with their smartphones and teekas, ready to go viral.
Then the lectures began, and they came with some of the most mind-blowing claims that put modern science to shame. It began with BJP's Maharashtra spokesperson Shweta Shalini stating with utmost confidence, "Gobar mein Lakshmi hai," and that the massive droughts in Maharashtra are actually not related to farmers, but to cow-rearing talent and communications. She then exited the stage to chants of "Bharat Mata Ki Jai!" just like every other purveyor of alternative facts at this festival of misinformation.
"NASA is wrong. Ram Setu exists. How can our history, which is obviously not mythology, not be real when we have Ayodhya, Vrindhavan, etc?" said one.
"Bharat Mata Ki Jai," the crowd roared.
"I put undigested grain particles from cow faeces through three rounds of gomutra, which helped get eight diabetic people off insulin in 20 days," said another.
"Bharat Mata Ki Jai," the crowd roared back.
"We should not have caesareans; pregnant mothers using cow products do not need such surgeries. We should bathe with gomutra and not shampoo. It's lovely," another added. Bharat Mata Ki Jai. Vande Gou Mataram.
As I tried to wrap my head around this new scientific information, my thought cataloguing was interrupted by another thunderous round of applause, as BJP Union Minister Subramanian Swamy walked on stage. This wasn't appreciation for "BJP legitimising the fringe." This was active encouragement, as Swamy started his day by handing out awards to those who have spent their life protecting and serving the cow.
A former Harvard professor and formerly pals with the Gandhis, Swamy disses his own party members on Twitter, follows a hard Hindutva policy to Jaitley's and Modi's publicly softer public stances, and is now famous for not mincing his words while serving as the BJP's hitman. His speech was sounded off with a shankh, a traditional battle cry before Hindu empires went to war. "To reinforce the cow's place, these conferences are important," he says, while adding, "there should be death penalty for those who murder cows."
But no worries here, facts are secondary to emotion in our post-truth reality.
As a speaker, he's uncharismatic, with a style that's more stand-up comic than the ferocious rabble-rousing rhetoric of Amit Shah. Swamy is cognisant of his abilities though, as he subtly sets up shade toward Muslims and liberal elites, then stops and waits for the eager crowd to respond to his not very subtle jibes.
"Many drugs in the US are made from urine collected from public and prison toilets, yet westernised Indians make fun of gomutra," he said, as the crowd went wild. "Even Mahatma Gandhi, jo bhi super secular the, was against beef eating," he added as everyone sneered at the mention of the word "secular".
"Our government has greatly reduced subsidies on cow meat export, which has reduced beef export," he said, even though India became the world's largest beef exporter under Modi in 2016. But no worries here, facts are secondary to emotion in our post-truth reality.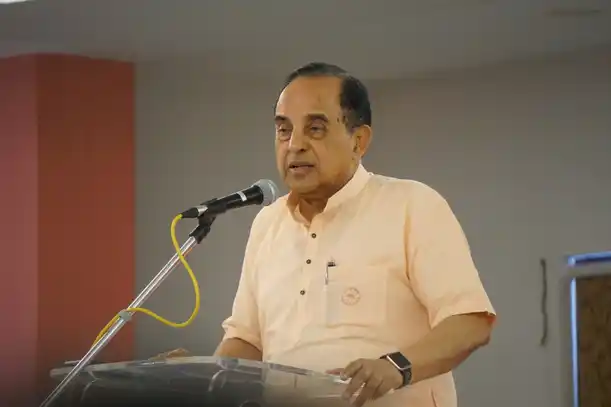 Swamy disses his own party members on Twitter, follows a hard Hindutva policy to Jaitley's and Modi's publicly softer public stances.

Naimish Keswani

Speaker after speaker hit the stage like rock stars, and in crisp, shuddh Hindi, told us about the spirituality of a cow; which, according to them, is the story of India's glorious past, and which should be the story of India's glorious future. "We were a great nation because of how our ancestors treated the gau mata. Problems began when we started ignoring that duty," said one speaker. The real funny bit is, that technically, India was never really conquered until we banned eating beef.
Throughout his speech, Swamy never once referred to Muslims and Christians as "Indians", inducing a feeling of profound otherness with ample references to "woh log". Just as he was about to get into a discussion of the gastronomic habits of "woh log" in Arab countries, the light in the hall went off like signal from a higher God. It flickered a couple of times on his righteous face before coming back on full strength, leading to a standing ovation and more Bharat Mata Ki Jai.
But the best part was still to come. The grand finale of the event was a presentation on a cow app. Thunderous applause here. Humbly called Cow Connect, the app is dedicated to providing information to cow enthusiasts. The oddly named "Find a Cow" feature does not actually find a cow, but lets you search through various breeds of cows, which is similar to another feature in the app called Breed Info which gives yet more information on the cow. The idea that we'd lived so many years without this kind of top quality information on our bovine friends came as a shock to me. India finally had the one thing that has been holding us back all these years – Cow Connect.
These people showed a dedication to gau mata more than we librandus show to our actual mata. When was the last time you went to pray for her early Sunday morning in a temple far away?
This ideological rigidity and commitment sits opposite to the supple laziness of librandus, who prefer reading think pieces on commitment rather than actually showing commitment. If the battle for what finally prevails as the truth of our times will be fought on the number of asses that fill these Sunday morning seats, the librandus, it would seem, have already lost.
So let's raise our gomutra glasses and drink to dedication. The zealots will inherit Earth.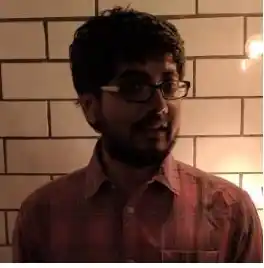 Lover of baby animals, Arsene Wenger, Damien Rice, Peggy Olsen and overly long podcasts. Tweets at @parthsarora.
Confused about most stuff. Writes things.