The past year has shown that students are playing the role of a great opposition. They've been facing the threat of violence head-on with nothing more than copies of the Constitution, slogans, poetry, and a kind of patriotism that makes the world sit up and take notice.
In January, JNU students were attacked by masked goons with rods, hammers, and sticks. Aishe Ghosh, the JNU Students' Union president  suffered serious injuries to her head and close to 20 students had to be taken to the AIIMS trauma centre for treatment. Even professors weren't spared. A report in The Wire pointed out how the police meekly stood by and watched as these armed men and women beat up students and damaged university property. The streetlights outside the JNU premises remained switched off while this attack continued and were turned on only once the vandals had safely exited the campus. Instead of catching the perpetrators, the Delhi Police lodged an FIR against Ghosh and 19 others for attacking security guards and vandalising a server room even as the Hindu Raksha Dal went on air to claim responsibility for the attack. But that hasn't stopped Ghosh from continuing her fight.The Delhi Police's reluctance to step in during the JNU attacks were a far cry from the "promptness" they displayed back in December 15 at Jamia Millia Islamia where they took to lathi-charging unarmed students protesting CAA-NRC, barging into university libraries and hostels and firing teargas shells and even bullets. At Aligarh Muslim University, where the students staged peaceful anti-CAA protests, the situation was no different: At least 60 students were injured in the police crackdown. By now, the police forces have made it a habit to fail India's student protesters, who have been raising their voices against discriminatory laws and policies. But are they the only ones?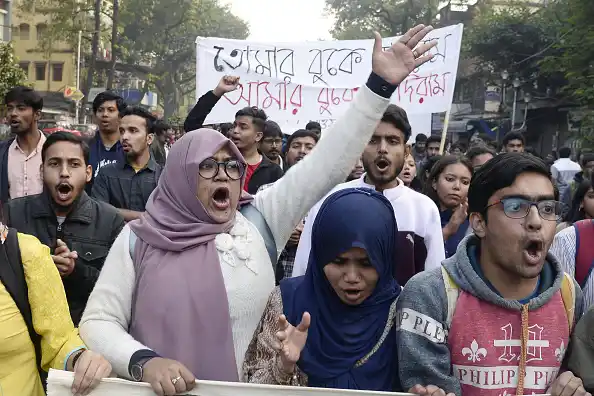 Student hold banner and shout slogans during a rally to protest against violence at Jawaharlal Nehru University or JNU.

Ved Prakash/Pacific Press/LightRocket via Getty Images
The response to these attacks on campuses by a section of the media and politicians followed a similar pattern of undermining students. A viral social media post showed how Zee News falsely reported that Aishe Ghosh, the injured JNUSU president, was an ABVP student. External Affairs Minister S Jaishankar, a JNU alumni, responded by saying, "I can certainly tell you, when I studied in JNU, we didn't see any tukde tukde gang there." Union Minister Smriti Irani told reporters, "I've said it earlier and reiterating it now that educational institutions should not be made rajneeti ka akhada (battlefield for politics) as it affects the life and progress of our students."
There is a way India has started perceiving students and their politics. Either people dismiss student protests as "Yeh toh hamesha protest karte rehte hai" or brand protesters as "anti-nationals" for exercising their fundamental right to dissent. For most, politics and education appear to be mutually exclusive and a student engaging in politics is simply an act of recklessness that must be reprimanded. It's this very mentality that dictates that students should concern themselves with nothing beyond their textbooks and exam scores. But then whom should we leave the politics to? Men and women with criminal records and biases?
If the events of the last few months have proved anything, it's that the courage to students to speak the truth is what makes the high and mighty uneasy.
As children, we're repeatedly told that our education is going to help us become responsible citizens and yet when the time comes for us to rise to the occasion and express our concerns about the state of affairs, we are silenced or treated as children who don't know any better. As a student of Jadavpur University (another well known hub of "anti-national activities"), I've seen my fair share of student protests and basked in the afterglow of their courage. I've also had my fair share of dealing with ignorant family and friends who remain convinced that student politics are a direct hindrance to education. 
Every single time my university has been attacked, either by media's misinformation or political goons, I have had calls from concerned relatives asking me, not whether my friends and I are safe, but whether we participated in any protests. At almost every social gathering I have been to in the past three years, countless people have reduced student politics to a punchline, asking if we even have classes in our university, or whether we "sit all day and protest about something or the other".
If the events of the last few months have proved anything, it's that the courage to students to speak the truth is what makes the high and mighty uneasy. Those in power have undermined students and their brand of politics, whenever they have tried to resist authoritarianism.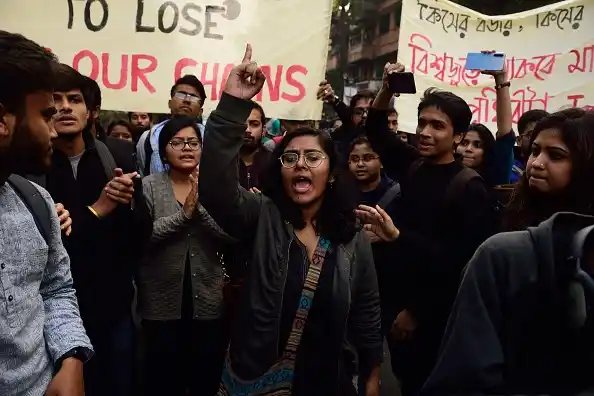 Students of different colleges and universities, artists and activists are joined a rally in Kolkata, India on January 7, 2020 to protest against NRC, CAA, NPR and the attack on the students of Jawaharlala Nehru University (JNU) by members of Akhil Bharatiya Vidhyatri Parishad (AVBP) on the night of 5th January.

Sumit Sanyal/Anadolu Agency via Getty Images
Yet what India seems to be forgetting is that history is witness to the fact that students have always been the first ones to raise their voices against regimes that abuse their power and clamp down on the voiceless. In 1942, it was students who first participated in the Quit India Movement and the JP Movement against Indira Gandhi has its roots in the students' Navnirman Movement in Gujarat. During the Jim Crow era in America, four African-American students decided to stage a sit-in protest at a lunch counter in Greensboro in February 1960 and refused to leave. Within three days, they were joined by 300 others. In the next two months, it was these rising numbers of students who formed the Student Nonviolent Coordinating Committee. In 1964, it was the movement that grew out of these student protests that eventually contributed to the passing of the Civil Rights Act, outlawing racial segregation in public spaces. In fact, one needn't even go all the way back in time to realise the importance of student protests. In 2019 alone, it was the students who have been the backbone of the anti-government movements in Hong Kong, Chile, Sudan, Indonesia, Catalonia, and Lebanon. And the "Person of Year" was undoubtedly 16-year-old Greta Thunberg, who started the "school strike for the climate" and mobilised one of the world's biggest movements against climate change.
Even the anti-CAA protests that gripped the nation's conscience earlier in the year, have in a sense risen out of the unwavering dedication of students. It was after the Jamia crackdown that the stir spread to campuses across the country. But attempts to curb this dissent reinforce one crucial thing – that today, students are the government's greatest opposition. They have been facing, resisting, and surviving the threat of violence head-on with nothing more than copies of the Constitution, slogans, poetry, music, and the kind of patriotism that makes the world sit up and take notice. It's time we listen to what they have to say.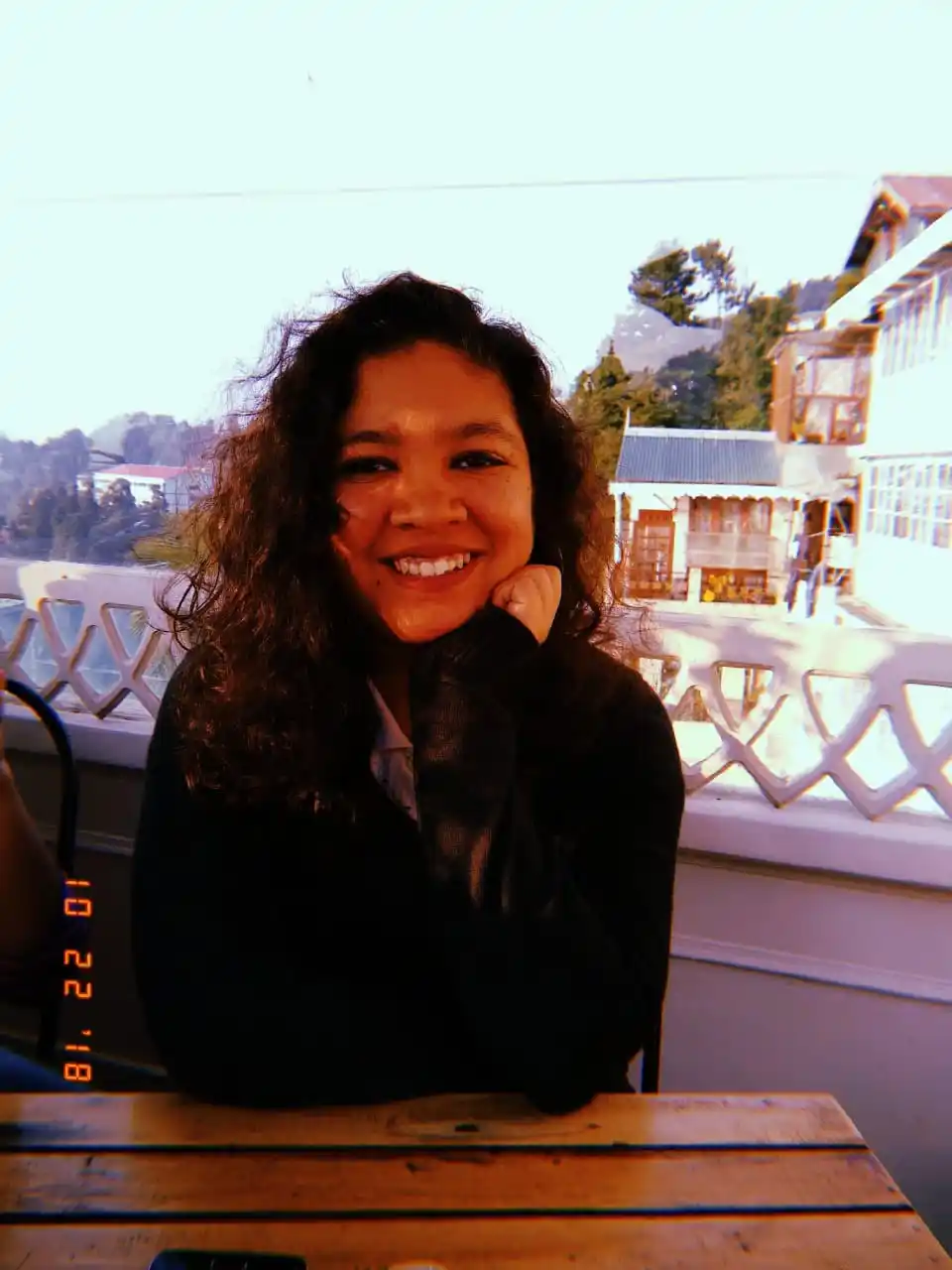 When Sanjukta is not clicking pictures of flowers or looking for the crunchiest leaves to step on, she writes about the things that matter to her. She enjoys spending her time by overthinking, planning her workout routine but never actually doing it, and pretending to understand jazz music.