What does a speed dating event in Gurgaon look like? Full of dudes wearing ganjis and trying to impress women with grade-school card tricks.
If Eros, the Greek God of love, had turned up at Nando's in Gurgaon's Cyberhub this Saturday, the absurdity of the scene unfolding would've left him lovesick.
In front of us were ten tables set up in an unshapely circle, hosting men in their late to early twenties, chatting up women about the same age. Suddenly, a person with a name tag appeared, holding a phone showing eight minutes on the clock, and asked the girls to move to the next table. Before the shuffling though, the men and the women took the piece of paper provided by the phone-wielding gentleman to rate their experience: A simple yay or nay. They then shifted tables and sat down for another eight minutes of courtship, wondering if it would result in a happily ever after.
Welcome to the world of speed dating – where love is fast and dumping not-so-furious.
As all things love-related in this country, the event was not without its share of bittersweet tragicomedy. Within the first few minutes, the organisers had to chuck out a 35-year-old man going through a divorce. And then there was the combined smell of hope and disappointment in the air.
I sat down to figure out this game of musical-chair love with one of the hosts, named (I am not making this up), Lovejeet Kaur. Maybe it is a testament to the way we think of Gurgaon as a provincial outpost of Delhi, but there was a surprising sense of decorum in the room. "The participants know what they signed up and paid ₹4,000 for," Kaur told me. "Because both parties know what they're in for, there are no misgivings about 'agendas' or the awkwardness of a normal courtship."
But we were, after all, in Gurgaon where observing men and women fail spectacularly at courtship is a cruel – but massively entertaining – sport. After about three rounds, one dude pulled out a deck of cards to really break the ice at an event designed to break the ice. His attempt at mindless trickery too didn't fly with the girls: One later told me, "He showed me three cards, none of which were mine. Then he kept trying to say that I'd forgotten which one was mine. Those were the longest eight minutes today."
Speed dating, I learnt, is a bit like house-hunting, where the most important aspect is location.
Eight minutes is indeed a long time. According to a Stanford study, it takes less than four minutes to forge a meaningful relationship – one that goes beyond looks and motivation and is as elusive as the snow leopard. But female participants in the study reported lower rates of "clicking" than men, with the study suggesting the women are more selective and, in this particular setting, more powerful.
I am not certain the women in Gurgaon were feeling particularly powerful or lucky. PM is a thirty-something sociology professor looking for an interesting partner, but only found frivolous, uninteresting blokes. "I asked all of them if they read and most said no," she told me. "One said he has read The Secret. One said he reads people, and one said he read books in college. Everyone has to read in college!"
As PM narrated this tragic tale of uncouth philistinism, the host came over and reminded her that she'd missed one dude. She stood up, turned to look at him and saw that he was wearing a ganji. To a speed dating event. She turned back and I swear I saw a tear roll down her cheek.
Of the four women who divulged their scorecard to me, three had given all ten men hard naiyyos. Their problems ranged from, "They liked the sound of their voice too much" to all of them tried to engage in conversation about role models and "hobbis".
This extensive guide to speed dating presents where our bros went wrong. The eight minutes, it argues, should be used to set up a rapport or something common to latch onto rather than build an extensive database of information. Chemistry is your heaviest weaponry, lack of which will make you history.
I presumed that the folks would have brushed up a little before turning up at the event. The men, unsurprisingly, believed that their experience was starkly different. One of the younger ones I spoke to, a 26-year-old engineer, claimed that he didn't "really connect" with any girl, but had loved being there and had put down three yayys out of seven. Another dude – who I later found out had opened the conversation with, "Your name is so wonderful, you are also wonderful" – had put down five yayys. And the youngest of the lot, a kid in his mid-20s from a business family, told me, "I was just overwhelmed. I've seen a lot today. I am wiser now."
Speed dating, I learnt, is a bit like house-hunting, where the most important aspect is location. Another one of the organisers, Vijay, a software engineer by day and love guru by night, started this service after he got dumped by his girlfriend in February this year (still not making this up). He let slip that similar events in Mumbai and Bangalore had attracted nearly 50 people, some of whom went on actual dates. Sadly for the folks in Gurgaon, the picture wasn't so rosy.
I came away feeling a bit sad for the participants. It isn't as if dating is the easiest thing in a city like Delhi, even though we have a variety of well-meaning (but weird-sounding) apps at our disposal, like Tinder, OKCupid, and Hinge. We've already forgotten the ancient art of meeting people, of buying a stranger at a bar a loaded glass of Glenn 18. Snark as much as you will at your conventional parents for their arranged marriages, at least they didn't have to go through dudes in their thirties rocking ganjis in the middle of the day. That's a pleasure exclusively reserved for people like us, forging our own paths in life and enterprise, us readers of thinkpieces and flag-bearers of modern love, who lie broken in the asphalt of Gurgaon's roads.
Yet, I suppose you can find a tiny smidgen of happiness even in this. Whether or not we can find love in eight minutes, at least we get to come back and tell the story of a guy who tried to impress us with a grade-school card trick. Modern love is far from satisfying – but it is also far from humourless.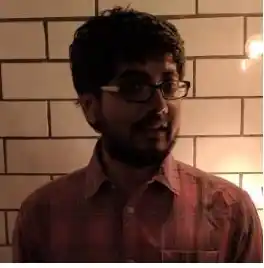 Lover of baby animals, Arsene Wenger, Damien Rice, Peggy Olsen and overly long podcasts. Tweets at @parthsarora.
Confused about most stuff. Writes things.