In the barren sexual playground of the Dilli male, Palika Bazaar was the only oasis. But in the age of high-speed internet, the "seedie" business has completely pivoted.
The mid-2000s were simpler times. I was a mere teenager; a small bottle of coke would set you back by only ₹5. And for sexy time, you watched a guy pull the covers down a naked girl for ten full minutes. The soundtrack to the whole affair was the whirring "treeeee-tik-tik-tik" of the glacial dial-up internet connection. More often than not, this resulted in many young 'uns like me, screaming "refresh" at the computer just as the bumpy bits were about to begin. Ask any Indian teenager the definition of "coitus interruptus" and they will tell you a personal tale with tearful eyes.
In this barren landscape, there was only one oasis: The circuitous lanes of Palika Bazaar, whose location and content were both underground. This central Delhi market occupied a substantial corner in every Dilli male's heart. This is where dudes – weak, weary, and hot under the collar – stumbled around shops, employing secret handshakes, and buying "seedies". This dramatically changed how we got off. Suddenly, buffering went out of the picture, the flow became unstoppable, and the server never once breathed "Error 404".
But in the last decade or so that the world came to be littered with FTTH internet connections with speeds ranging from 100 MBPs to a BajillionPs, I stopped visiting my beloved Palika. But like a messy lover with whom the sex is mind-blowing, I've never been able to get it out of my head. Was it getting any love? Or had it turned into a relic? Finally, I could wait no longer and decided to check it out for myself last week.
It's still going strong – but the business has completely pivoted. The seedie business is no longer profitable, so Palika's bhaiyas have graduated to selling sex toys. Ever the competitive type, they offer these pleasure devices at one-third the price mentioned on some Indian "massage tool" websites. The Indian sex tool market falls within grey territory and most of us are still skittish about leaving a credit card trail online. Palika, where it is easiest to do a quick cash transaction with an unnamed bhaiya, is perfect for this funny business.
Roam around the market long enough and a very efficient system presents itself. As I discovered, if you go around asking for a store that sells sex toys, everyone will immediately decline to help the novice that you are. But say the magic word "doll" to the errand boys hanging outside the shops and watch the doors open. They will immediately take you to an intermediator who takes you to different stores fronting as sellers of replica football jerseys, second-hand PlayStation games, and iPhone cases.
I was offered the seven-tool vajeena by the first guy for ₹17,000 and by the time I was done negotiating with everyone, I could procure one for ₹4,000.
These folks make the astronomically high rent at Palika by selling illegal sex toys. And the hottest-selling pleasure device of this underground sex market? A seven-tool fleshlight.
I am taken first to a middle-aged shopkeeper whose store fronts as an iPhone cover shop. "Bhaiya, it's remote-controlled, it sucks and fucks based on where you position it," he tells me disinterestedly, scratching himself all the while. "If you are stuck in traffic, a doll won't help you but just take the electronic vajeena out of your laptop bag and let it work." He proceeds to show me his prized asset which, I must admit, seems surprisingly efficient. The whole ensemble stands on top of a black cylinder about 10 inches long, with the vagina head at the top. The head is baby pink, enclosing the lips of a stronger pink hue. It is very soft to the touch, and I am told it is made of upgraded silicon. All the products are "imported from Amreeka".
Another store, projecting itself as a tattoo parlour manned by a late-20s salesdude, is famed for its competitive pricing and diverse product range. He shows me a variety of "vajeenas", heads, and dolls – the latter are in low demand because they're difficult to hide. "The black vajeena runs on two Duracell batteries for about two hours and comes with a wireless option for ₹7,000 only," he tells me helpfully, completing his sales pitch.
The one thing to remember is that the price of the toys depends on a complex matrix of factors: whom you buy from, at what time, and really, how little you are willing to spend. I was offered the seven-tool vajeena by the first guy for ₹17,000 and by the time I was done negotiating with everyone, I could procure one for ₹4,000. This is, after all, a runaway success. The profits are also channelled in from more obscure products such as the "vibrating duckling" (a woman's best friend in a shower), "lucky ball masturbation cup" (a single-use-only cup with a hole for penises of all sizes and intense vibrations) and the "pleasure tunnel" (no idea what this is and I was too afraid to ask.)
But the real "revelation", according to my salesbro, was not that the market now sold sex toys. It was the role Delhi University's women were playing in the sexual revolution. "A lot of college girls buy black dildos from us bhaiya," he informs me conspiratorially.
This is information that makes me truly happy. In a sexually regressive culture like ours, the market has grown from a sweaty sausage fest, the air thick with testosterone, to a more inclusive space where women are welcome. Palika, I find, has truly grown up. Now if only the rest of Delhi would follow.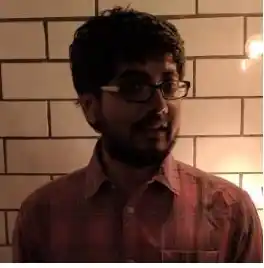 Lover of baby animals, Arsene Wenger, Damien Rice, Peggy Olsen and overly long podcasts. Tweets at @parthsarora.
Confused about most stuff. Writes things.