When you love your city, you fight for its well-being, demand accountability from its administrators. Like Mumbai takes pride in its spirit, I'm hoping there will come a time when the residents of Gurgaon will say, "Yeh Gaon hamara hai." That's the only way to save our cities from imminent decay.
It was in the spring of 2012 when someone at the HUDA city centre metro station baggage belt walked off with my handbag, which had my house keys, phone, cash, credit, and ID cards in it. In apna Gurgaon or Gurugram as the authorities like to call it. Nobody helped me. Not the metro personnel who could have shared the CCTV footage, not the police, not the CISF that manages the metro's security. Rather I was accused of stealing my own handbag, because apparently this is how hags like me conjure up spice in their dull, uneventful lives.
As I sat in the police station arguing with the bored constable to file my complaint, I noticed him staring dreamily at my cleavage. For the first time I was filled with hate for Gurgaon, its police, its apathetic system that lets its citizens down almost every time.
I heaved a sigh of relief when we left for Brisbane which was to be our home the next few years. Brisbane was everything that Gurgaon was not – a city so clean, you were tempted to do dandi march bare-feet. Public transport was ridiculously efficient; I would often embarrass my Indian hosts by arriving on time for gatherings. I had not been pushed, elbowed at, stepped on in such a long time, my reflexes and sharp tongue decided to go on vacation. I could gaze at a shimmering river from my writing table in our apartment in between tapping furiously on the keyboard.
For the first time I experienced true freedom – I could wear anything without having to worry about the gaze of a police officer, walk back home all alone, well past midnight without an iota of fear. (When you've grown up in Delhi, you don't know what that means.)
When I came back to Gurgaon, I finally realised this is the only city that has made me feel like I belonged here – unlike Delhi, the city of my birth, whose "kitne mein liya" culture always made me feel like an interloper.
But my romance with Brisbane was short-lived. Pretty soon I started missing everything I used to find annoying about Gurgaon – the chaos and unpredictability of life in India: The noise, the unbearably rude people, and the adrenaline which is always in a heightened sense of frenzy. In Gurgaon, you are always walking a tightrope between fits of rage and "iss desh ka kuchh nahin hoga" refrain. Your middle finger is permanently raised. In your battle for survival, your cuss vocabulary reaches such legendary levels that even truck drivers are left in awe.
In Brisbane, I started yearning for the charged atmosphere just before Diwali and Durga Puja where everything seemed brighter, nicer, and much more exciting. Damn, I was even missing my forever-horny pigeons who loved carpet bombing my balconies with their shit.
I was bored with my sterile existence, where you knew exactly how your day would pan out. A life lived like robots where everyone was in bed by 9 pm and had a social life only on Fridays and Saturdays with the same set of friends. Even the Brisbane baarish that triggered cravings for pakoras, chai, and long drives, was reduced to a mundane weather event on TV just after the traffic update from a helicopter.
When I came back to Gurgaon, I finally realised this is the only city that has made me feel like I belonged here – unlike Delhi, the city of my birth, whose "kitne mein liya" culture always made me feel like an interloper.  
But unlike me, my friends who live in Gurgaon never miss a chance to whine about the bad traffic, dust-laden toxic air, dull skies and roads that turn into rivers when it rains. Agree, the city doesn't exactly have the best reputation when it comes to safety or people-friendly infrastructure. The air becomes so toxic in winter, it turns Gurgaon into Gasgaon. In fact, I love joking that Gurgaon is a millennium city… seventh floor up.
So, what makes you love or hate a city? Let's start with the attributes that make a city great. On the surface, it's the people, the food choices, robust public spaces, and transit systems, art and architecture. According to noted urban planner Alex Garvin, a great city is not an exquisite, completed artefact. It is a dynamic, constantly changing place that its residents and leaders can reshape to satisfy their demands.
Gurgaon has evolved from a nondescript town where Dilliwalas used to go for picnics during winters in the '80s to a shiny, glitzy modern city it is today. Several Fortune 500 companies have their corporate offices here and they have fashioned the ethos of this city that is now home to swank dining precincts, high-rise complexes with top amenities, underpasses, and flyovers. It has a Metro that connects us to most parts of Delhi NCR. Granted, we have to rely on generators for electricity, hire private security to feel safe, and draw water from the depleting water tables for our daily needs. But that's where Gurgaon's woke population steps in.
On good days it is cosmopolitan, buzzy, offering tons of things to do. On bad days it is maddening, hostile, and fills you with an intense craving to flee to the mountains or become a drug lord's sidekick.
Then why is it that some of us like this city so much while others consider living here a punishment and are forever gnashing their teeth?
Once you make up your mind that you don't like this city, you choose to focus only on its failures and turn into a grouch-bag. Let's call it confirmation bias. The less you like it, the more you'll fixate on its flaws, the less you'll choose to step out, the less you'll interact with its people, explore its hidden nooks and crannies and be surprised, and the more you'll wallow in misery.
It is our experiences that shape our views about people and places. Not all of us will have the same experiences. Like any typical city in India, there exist many cities within a city: an amalgamation of the ugly and the beautiful, shrill and soothing, the passionate and the disenchanted, the articulate and the ignorant, the liberal and the bigoted. We've all had different upbringings, faced a different set of hardships (read parents and relatives), to be what we are today. While some of us choose to rebel, some us are happy to conform. So, do we choose to see only the ugly, the shrill?
Of course not.
A city is what it is because of its people – it is shaped from what we want it to be. Because of Gurgaon's compact size, cosmopolitan outlook, I see more communities on the rise that bring cycling enthusiasts, long-distance runners, trekkers, book lovers, ardent foodies together. So, it's much easier to make friends here. Living in a high-rise complex where over 700 families share the same park, tennis courts, club, and celebrate festivals together definitely helps. The feeling of community is much stronger here. That's why we fight harder for our Aravallis under threat from greedy developers, we raise our voices against natural water reservoirs turning dry because of administrative apathy, and potholes that are rarely repaired. Many of us are stuck here forever and feel responsible for its future, so we segregate our garbage, do rainwater harvesting, and are slowly moving toward solar panels.
As for women's safety, it is a catch-22 situation. The more we let fear guide us, the less we step out, the more we make public spaces unsafe for the few bold ones who choose to step out. That is tragedy of being a woman in India. You have to be fearless to claim the life you desire to live.
When you love your city, you fight for its well-being, demand accountability from its administrators. Isn't this why the revered spirit of Mumbai helps its inhabitants overcome deluges, brave the daily commute to work in local trains, sing songs about the corrupt BMC, and still say "Aamchi Mumbai" with pride?
I'm hoping there will come a time when we, the residents of Gurgaon, will say with pride – Yeh Gaon Hamara Hai. That's the only way we can save it from imminent decay.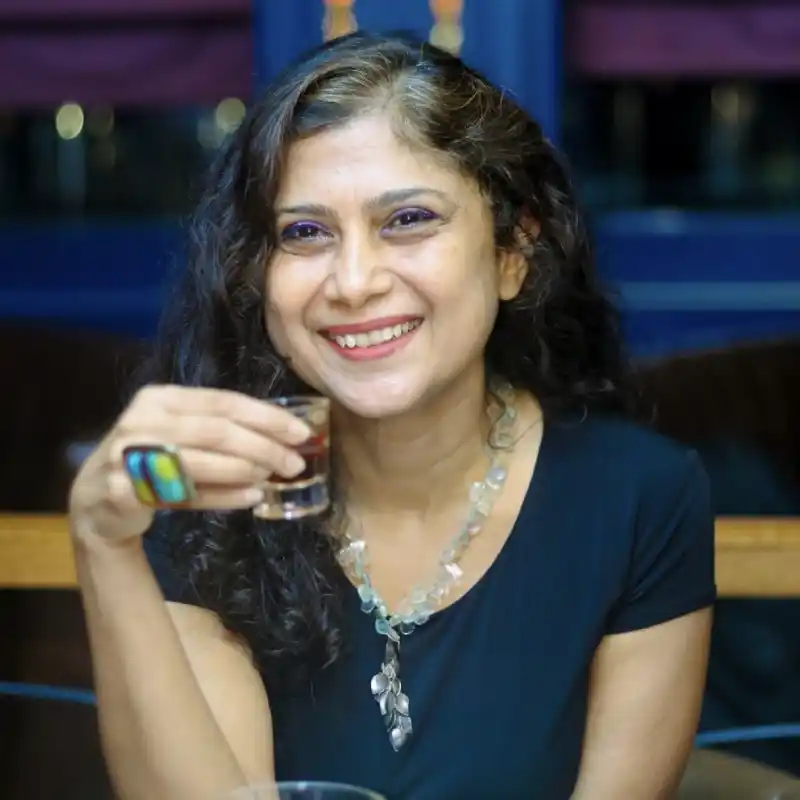 Nearly funny, almost liberal, rarely serious, Purba likes to keep a safe distance from perfection. Unfortunately she has an opinion on everything, fact or fiction, beginnings or ends, light or heavy, long and short.