In response to a query, the Election Commission stated that the finances of political parties were outside the purview of the RTI. It's a bit duplicitous for a country with a laissez-faire attitude to privacy. It's as if everyone's privacy is to be jealously protected – except that of Indian citizens, of course.
If I had to pick four words that scare seven shades of shit out of me, they would be "The velociraptors are loose!", closely followed by "You are being watched." Unless you're an exhibitionist, nobody likes the feeling of being monitored, having their privacy invaded, and, worst of all, being unable to dance like nobody's watching. It's such a universal sentiment that even India's political parties can manage to put their endless bickering aside to agree on one thing: that their dealings and transactions should be exempt from Right to Information queries from activists.
There are only a few things that can unite our feuding politicians. After resisting the implementation of a stricter Lokpal, fighting to remain out of RTI's purview comes a close second. This rare instance of unity has come to our attention once again because of the actions of the Election Commission, which rejected an application from Pune citizen Vihar Dhurve that asked for details of the donations conducted by six national parties. The reason offered by the EC, which must have delighted politicians from across the spectrum, was that "requisite information is not available in the commission," and that the parties were "out of the purview of the RTI."
Let that sink in for a moment. This is basically all Indian political parties banding together to say – paraphrasing Daisy Shah here – "Our privacy is our business, and none of your business."
The EC, a body that oversees parties' conduct during polls and ensures the functioning of a free and fair democracy, now believes that the very parties it's meant to regulate should be allowed to manage their finances privately – away from the prying eyes of the very public they are supposed to serve. This response flies in the face of a 2013 order by the Central Information Commission that stated the six national parties – BJP, Congress, BSP, NCP, CPI, and CPI (M) – as well as the Samajwadi Party are most certainly covered under the RTI Act.
But let's leave aside the fact that the EC and CIC are squabbling like a mathematician and physicist who can't agree on how to solve an equation, and do what millennials do best: Let's focus on ourselves for a moment.
Meanwhile, the same government is hard at work prepping for the 2019 Lok Sabha polls, safe in the knowledge that for now, the EC has their back.
We are a generation that believes sharing is caring. We share statuses and locations, memes and feels – each one a window into what used to be our private lives. Even so, even after letting every one of our 3,000 Facebook friends know what we had for breakfast, we don't like it when third parties get access to our information and data. For proof, look to the eruption of global glee in the form of memes and jokes when Facebook's Mark Zuckerberg was grilled by the US Senate over violating users' privacy rights.
It's not just a First World problem, either. Facebook and Cambridge Analytica might have led to the rise of the Mirinda President in the USA, but back home in India, the UIDAI is putting together the largest biometric database of private citizens in history in the form of the Aadhaar card – which we are now expected to link to our private bank accounts and cell phone numbers. Except, the security of that database is about as stringent as that of Mumbai buildings being guarded by sleepy watchmen… which is to say not at all.  
Naturally, there's been some worrying. As has been proven in the past, all this biometric information is available for as little as 500 bucks, or the cost of two cups of coffee at an organic Bandra/Hauz Khas cafe. However, like a dominatrix who doesn't know the meaning of "safe word", the UIDAI and the government continues in its misguided quest to tag every Indian citizen while ignoring the warning signs.
In this data gold rush, the I&B Ministry recently invited bids from developers to create a tool that allows for the creation of a 360-degree profile of a person's online presence. The goal is to track users' activity across media channels and platforms, compiling it into a singular, exhaustive profile. Yes, all your drunken selfies on Instagram, ill-advised political rants on Facebook, and regrettable sexts on Snapchat will be monitored by the government in the near future.
Meanwhile, the same government is hard at work prepping for the 2019 Lok Sabha polls, safe in the knowledge that for now, the EC has their back.
It's a rude shock for those who thought the EC was our "bros 4 lyf". There were days when Election Commissioners like TN Seshan and JM Lyngdoh stood for impartiality and transparency. The post of Election Commissioner demanded an incorruptible hero like Aaron Eckhart's upright Harvey Dent in The Dark Knight. Unfortunately, just like the movie, where even the infallible Dent proves to be human, the EC too seems to have capitulated on its principles of holding political parties responsible to the public.
At the moment, it seems like "You are being watched" are four words that our politicians don't need to worry about. Meanwhile, here's five more for us to chew on: "Yeh bik gayi hai gormint."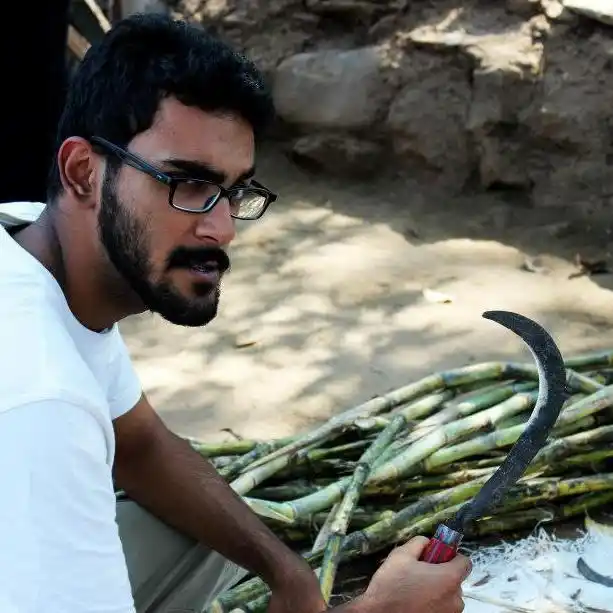 Dushyant Shekhawat really likes his mustache. He grew it himself. You can find him on Twitter at @SeriousDushyant.