After beating up SLB, threatening to cut off Deepika Padukone's nose and burn down theatres, the Rajput Karni Sena has hit a new low. It has now vandalised a school event in Madhya Pradesh for daring to play the "Ghoomar" song from Padmaavat.
What does it mean to be a Rajput? For centuries, the term Rajput has comes bundled with much more than membership to a warrior caste: It is coded with the qualities of bravery, chivalry, and nobility. To be a member of the Shri Rajput Karni Sena, however, connotes a different set of attributes. One must be brutish, thuggish, and unhealthily obsessed with Bollywood, especially Sanjay Leela Bhansali's films, whether they're called Padmaavat or Padmavati.
The state of Rajasthan was formed by amalgamating the 22 princely kingdoms of Rajputana (with histories dating back to medieval times) into the Indian union at the time of Independence. But it was only in 2006 that it became evident to the founders of the Karni Sena that a caste organisation was needed to protect Rajput interests. The jury is still out on how individuals from the famously fierce, independent community feel about having misinformed malcontents claiming to speak up for them.
Of late, the Rajput Karni Sena has being doing more than just speak up for the community they claim to represent. After beating up SLB, threatening to cut off Deepika Padukone's nose, and holding innumerable protests, the body, which has wings across the country, has hit a new low. The Karni Sena has now vandalised a school event in Madhya Pradesh for daring to play the song "Ghoomar" during a stage show. The Rajput Karni Sena, presumably descendants of noble warriors of ancient clans, chose to wreak havoc upon an enemy force made up of school kids and teachers. After making an example of Chotu, Monu, and Sunita Ma'am, they've issued a statement that should Padmaavat be released on January 25, they will hang everyone associated with the film from the gates of Chittorgarh Fort. Joining the party at the fort will be the kshatriya women of the Chittor Sarvasamaj, who have announced they will commit jauhar themselves if the film is released. And here we thought only Sajid Khan movies make you want to set yourself on fire.
For a body that claims to be against "corruption" and "caste-based positive discrimination" by way of reservation, the Karni Sena sure seems to spend a lot of time distracted by Bollywood and TV. Currently, the Sena is locked in battle to protect Rajput sentiments from the corrupting influence of Padmaavat, no doubt fashioning themselves as modern-day Maharana Prataps fighting Mughal forces in their own version of the Haldighati. Don't blame them, seeing as how they're probably trained to believe that the Maharana won the battle. However, they also issued the decidedly unheroic and un-Rajput death threats to the Padmaavat actors, and have promised to burn down cinema halls. The last reminds me of Mahmud of Ghazni's temple-destroying sprees rather than the glorious traditions of Rajput culture.
This is not the first time the Karni Sena has forgotten its stated goals to go after the easiest target: artists. Soon after their founding, they got their first brush with national notoriety in 2008 when they decided to protest Ashutosh Gowariker's Jodhaa Akbar. Things don't change much in the Sena universe, because even nine years ago, they were getting triggered by actresses playing Rajput queens appearing on screen alongside actors playing Muslim kings, than actual on-ground political issues. Between today's Padmaavat and 2008's Jodhaa Akbar, the Karni Sena has objected to the Jodhaa Akbar TV serial and the Salman Khan-starrer Veer, all in the name of protecting Rajput culture. Apparently, the greatest threat to this centuries-old institution is showbiz. The only difference between 2006 and now is the seriousness with which we are now being forced to regard the Sena.
Now it's possible for the Karni Sena and its members to gain political mileage out of these dramatics, so they continue their campaign of intimidation.
Nine years after they emerged on the national stage, the Karni Sena, spearheaded by Lokendra Singh Kalvi, have become India's most rabid movie critics. Where Gowariker brushed off the intimidation, going ahead with his film's release and refusing to pander to these hoodlums by offering an apology, Padmaavat's director, Sanjay Leela Bhansali, had to indefinitely postpone his project's release, before finally being cleared for January 25. Mumbai Police had to arrest 132 Rajput Karni Sena members for protesting outside the CBFC office over this decision, in addition to providing extra security cover for Deepika Padukone because of the bewildering eagerness with which the Rajput Karni Sena called for her head. Of course, they're helped along by BJP leaders offering bounties worth lakhs of rupees for her pretty dome. This in turn emboldened the Karni Sena to carry out displays of well-intentioned but idiotic "badassery" such as forwarding a misappropriated clip from Inglorious Basterds (the burning cinema climax scene, what else?) and pulling out a sword during a newsroom debate on live TV.
Local BJP leaders have also supported the Karni Sena in their public protests against the film. In a smooth move, they not only got the attention of the Rajput community, but also linked opposing the movie to their political ideology. Now it's possible for the Karni Sena and its members to gain political mileage out of these dramatics, so they continue their campaign of intimidation.
I'm certain there are Rajputs like me out there who are disheartened to see the glorious legacies of Maharana Pratap, Prithviraj Chauhan, and Rana Sanga be co-opted by an organisation that is obviously trying to get noticed in the current communally charged political climate. They'd do well to remember the Ranas as great patrons of the arts, whose majestic, regal architecture and vibrant, colourful frescoes became oases of brightness in the arid Thar Desert. Maybe then, they'll stop worrying about which movie is releasing next and start focussing on issues that actually matter.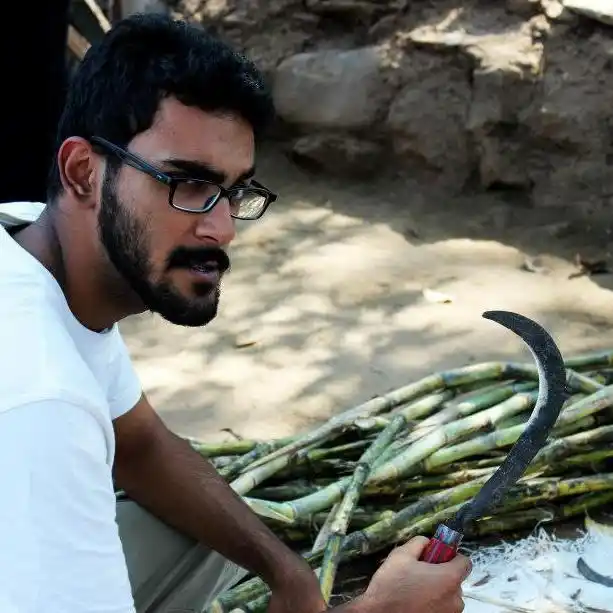 Dushyant Shekhawat really likes his mustache. He grew it himself. You can find him on Twitter at @SeriousDushyant.