Against a backdrop of Rafale Jet scams and CBI Justice deaths, is Padmavati really the most burning issue in the country?
Ever since she smiled her way into the nation's (and my) heart in her first Colgate ad in 2004, I never thought that I'd tire of seeing Deepika Padukone. But here we are, standing amid the wreckage of our media landscape after a months-long protracted war between Hindutva fringe elements and Padmavati's makers, and I'm howling in a corner, just wanting it to stop. Deepika might be one of the most beautiful women in the country, but the next time I see her face on a film poster, I'm going to throw a fit and scream like a banshee.
At its heart, the Padmavati row is a tussle between artistic expression and draconian conservatism, which is no doubt important. But can we please move on from this shitshow and go back to some real news? For weeks now, Padmavati has ruled the airwaves as THE burning issue of the hour – it's as if Chandrachur Singh, not SRK, became the lead man in Josh.
It makes me wonder whether the fracas around Padmavati is intended as a ruse to take our attention away from other, more pressing issues. What is it meant to be a smokescreen for? What have we missed while we've been surrounded by the noise around a medieval queen who probably didn't exist?
The very wise Terry Pratchett once said, "May you live in interesting times." It sounds like a blessing, but it's meant as a curse; and India is living in very interesting times indeed.
For starters, there's an alarming sense of quiet around an explosive story. While BJP ministers offer ₹10 lakh bounties for beheading Deepika and Sanjay Leela Bhansali (no word on whether it's GST-inclusive or not), another shocker of a case has come to light – the death of CBI Justice Loya under dubious circumstances. Justice Loya was overseeing the Sohrabuddin encounter case, where India's most powerful man, Amit Shah, was named among the accused. After Loya's death, his replacement, Justice Gosavi, dropped all charges against Shah. This is a case of perversion of justice, and perhaps even murder most foul, but there's no Shree Judge Karni Sena to call for a nationwide bandh. At any other point, news channels would have leapt to be the first to discuss the exposé – now, it has taken three full days for any channel to pick the story. Interesting times.
While we were thinking of Padmavati, thousands of farmers staged heart-breaking protests in the capital, and rapes and crimes against women continued unabated
Then, almost ten days ago, the Opposition claimed that PM Modi's deal to procure 36 fighter jets from France was shrouded in dubious circumstances, bypassing the required democratic channels, and overstepping the original scope of Modi's visit to France. Both the erstwhile defence minister Manohar Parrikar and foreign secretary S Jaishanker were apparently left in the dark regarding the deal, until all had been decided. Even better, while the government's own Hindustan Aeronautics Limited (HAL) was excluded from the new deal, private industries like Reliance Defence and others were signing up as joint-venture partners. This Rafale Jet scam not only compromises national security, it reeks of crony capitalism – but there are no medieval queens whose honour must be protected, so we speak of Padmavati. Interesting times.
Going back a little further to October, another earth-shaking scoop was dug out by the website, The Wire, which published a detailed report on the absurd jump in revenue seen by Temple Enterprises, the company owned by Amit Shah's son, Jay Shah. The news organisation raised important questions, such as, how could a company go from ₹18,728 profit in one fiscal year (2014-15) to ₹80.5 crore turnover in the next? And also, do the Shahs think we're idiots? It's a story that involves corruption, black money, and abuse of political clout, but it has no medieval Muslim kings to demonise, so the focus remains on Padmavati. Interesting times.
While we were thinking of Padmavati, thousands of farmers staged heart-breaking protests in the capital, rapes and crimes against women continued unabated, the Paradise Papers came and went, a gruesome retread of the Alwar lynching took place, and the Winter Session of Parliament will be convened soon. But all the nation wants to know is which state will allow Padmavati to be released.
It's the most stereotypically Indian thing, but even when it comes to matters of national import, Bollywood always comes first. Padmavati isn't the headline we need, but it sure is the headline we deserve.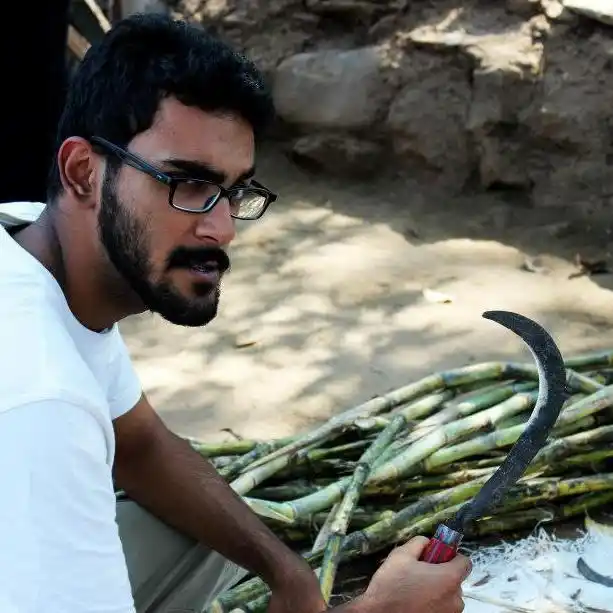 Dushyant Shekhawat really likes his mustache. He grew it himself. You can find him on Twitter at @SeriousDushyant.