The Burning Man festival and Ganesh Utsav have more similarities than you'd expect. Both feature some scandalous moments.
The last two weeks have seen two major celebrations on either side of the globe go by. On one side, a haven of neo-spirituality (drugs and alcohol included). On the other, a haven of traditional spirituality (drugs and alcohol included). In Nevada, at the Burning Man festival, a number of half-naked women took selfies in a desert, and in Mumbai, at the Ganesh Utsav, a number of overclothed men perspired all over the streets leading up to the beach.
At Burning Man, the community set up impromptu art installations over a week, in an attempt to "change the paradigm of art from a commodified object to shared experience of creative expression". Meanwhile in Mumbai, labourers from across the country put up haphazard pandals overnight (and left the spare bamboo sticks lying around), in an attempt to inspire the city's builders to create even more unaffordable, illegal, poorly designed structures.
The dry lake bed that Burning Man was held on is also known as a "playa". The streets that Ganesh Utsav was celeberated on in Mumbai are also known as "traffuck". Clearly one sounds better than the other. But game recognise game, and playa gotta hand it to playa, both events have more similarities than you'd expect.
The Ganesh festival began with a drumroll that lasted a whole 10 days. It featured speakers as big as baby blue whales and created vibrations that made lamps fall off tables. Similarly, Burning Man had its fair share of vibes going around, accompanied by annoying thumping dance music that lasted all week.
Both festivals featured scandalous moments. During Ganpati immersions, obviously drunk men refused to dance within the roped-off section, traffuck reached new heights (even for Mumbai), and children were dangerously thrown into the air and caught at the last minute. At Burning Man, more drugs were passed around than on the sets of that Flying Jatt movie. If that excites you, imagine how awkward it'll be to accidentally walk into a group masturbation or naked-foam session, after you've smoked a few. You'll probably never be able to look Ganpati in the face again.
In light of these glaring similarities, my personal feeling is that it doesn't matter whether you're celebrating an age-old tradition, or a new-age tradition, you're bound to ruin something.
Burning Man has a fair share of hype surrounding it. It's known for being a place where "experience" is a word that's thrown about a lot, one where it is completely acceptable for a shirtless jock in a cap to ask girls to take their tops off. During Ganesh Utsav, the hype is in the form of men who enthusiastically gyrate at processions, violently chuck coloured powder in people's  faces, and yell into the ears of the already deaf dholak man. Both sets of people speak a kind of indecipherable alien language.
The more conscientious men of Burning Man give gifts and advocate self-reliance. Our most conscientious men will always take time out of their busy schedules of kicking stray dogs, to pretend to direct traffic, and let annoyed travellers pass by. They often accompany this with a cocky smile and a little jig, to indicate they care about your predicament, just not enough to stop doing that weird dance in front of your car.
Which brings us to the final spectacles – the reason both these festivals are known world over. The American festival's week of debauchery culminated in a grand extravaganza – the burning of the metaphorical man. It is done to signify new beginnings. Meanwhile, as you know, the Indian festival culminated in a grand show of its own – the sinking of the God.
Now here's where the similarities start to get a little creepy…
The community of about 70,000 people who attend Burning Man claim to be respectful of the environment. The man is burned at the end to ensure that no trace of the wild party is left behind. Apparently, participants throw around terms such as MOOP (matter out of place) to claim that they have do their best to leave their camps cleaner than before they arrived. But if only they would get the paint and glitter off their eyes, they'd realise that the event is actually terrible for the environment.
In 2007, a website called Cooling Man said Burning Man generated about 27,000 tonnes of greenhouse gas emmissions, which was at the time 0.7 tonnes per person, twice the weekly average per person in a country not necessarily known for its low carbon footprint. But in 2015, an article estimated that the event had released about 49,000 tonnes of greenhouse gases.
Meanwhile in India, Prime Minister Narendra Modi too showed concern about the environment and Swachh Bharat during a Maan Ki Baat last month. He urged those celebrating to care for the ecological damage it causes, by asking why we shouldn't have clay idols instead of the Plaster of Paris ones that are usually worshipped. But it was too late, and too expensive to bother about organic paint and the environment.
So, once again, thousands of statues made of PoP, decorated with flowers, coconuts, incense sticks, and the sweat of a thousand people were immersed into the sea. Once the festivities die down, tens of thousands of idols will wash up on shore, fish doctors will have a lot more work than they've bargained for, and our beaches will be populated by chappals, leftovers of those damn rassi bombs, and plastic packets that once had food in them.
Every. Single. Year.
In light of these glaring similarities, my personal feeling is that it doesn't matter whether you're celebrating an age-old tradition, or a new-age tradition, you're bound to ruin something.
So much for new beginnings.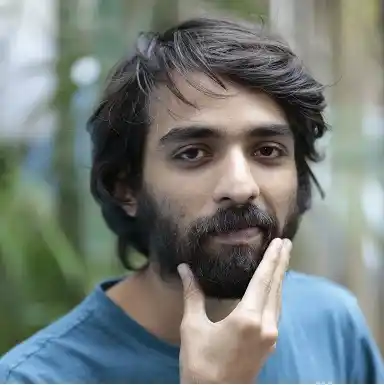 Sagar has lived in Mumbai for most of his life. You can often find him complaining about potholes and local trains when he isn't out having a mediocre time.