Aditya and Michael are blessed to have become parents, before the government banned surrogacy for gay couples. But the new Surrogacy Bill has crushed the dreams of many others.
 I
meet Aditya and Michael at their home in New Delhi around bedtime.
The scene is chaotic. Their toddlers are running around the house, peering at me curiously, as Michael runs behind them, asking them to pick up their toys and get ready for bath time. Michael shoots me a tired look that says bedtime is always harried, and asks if I want a glass of wine. I laugh and tell him to finish. There'll be time for wine later.
It's an everyday domestic tableau, one filled with love, gratitude, and yes, exhaustion – no different from what is unfolding in countless cosy, brightly lit homes across India at this very hour. But Michael and Aditya's home is different. A new legislation calls for an end to families like theirs. No more will gay parents be allowed the privilege of raising a child.
Thanks to the draft of the new Surrogacy (Regulation) Bill, 2016, the gay parenting club in India, already a small one, is now approaching closure. There will be no new members.
***
In 1993, Aditya's family priest Swami Bodhananda officiated his wedding ceremony, dedicating it to Ayyappa, who is believed to be the son born out the union between Lord Shiva and Mohini, an avatar of Lord Vishnu. The grooms wore cream Lucknowi kurta-churidars and exchanged garlands, as friends and family showered them with rose petals. Aditya's mother wore her pink-and-silver wedding sari and gave a speech.
Aditya could not believe his luck. He was openly gay and getting married to the love of his life, his Californian partner Michael, right in his parent's room in Delhi in the 1990s. Homosexuality was illegal in India, but Aditya and Michael lived in California at that time. When they decided to raise a family, they moved back to India.
Aditya always wanted to be a parent. It was the first question he asked Michael on their second date. By the time they became fathers, more than two decades later, they had both crossed fifty. The idea of having a child was vetoed by Aditya's mother, not on the grounds of sexuality, but age. "My mother first said no. 'You are too old and you'll regret it,'" laughs Aditya. "Then she said, 'You'll also regret it if you don't have children. You'll regret it either way. So better to do it in that case.'" She then tracked down the IVF specialist, who guided them through the surrogacy, and the result is these twins. This month, they just started kindergarten with their matching Superstar bags. And they have been joined at home by a pair of kittens, Chuklu and Puklu, who share a birthday with the twins.
Michael and Aditya have always maintained that their decision to move back to India and raise a family is not a "political" one. Aditya just wanted to raise his children around family. But the Government of India has just inserted politics into their family in the name of "protecting surrogates". And External Affairs Minister Sushma Swaraj's comment that surrogacy for homosexual couples is "against our ethos" reflects the Centre's regressive outlook.
The draft of the new Surrogacy Bill, 2016, approved by the Union Cabinet on Wednesday, has put an end to the hopes of thousands of gay couples like Aditya and Michael, who have always dreamed of having their own families. The Bill claims to protect the rights of surrogate mothers and decrees that only married couples will be allowed to opt for surrogacy, not gay couples, or singles, or live-in couples. The connection is breathtakingly tenuous: How is a surrogate in danger if the parent is homosexual, single, or blue in colour? Isn't the idea simply to give a child to loving human being, asks Aditya.
The issue of surrogate protection is a real one. The documentary Made in India by Vaishali Sinha and Rebecca Haimowitz shows the perils of the rent-a-womb business. One woman only received Rs 5,000 when she miscarried in the sixth month. The realities out there are horrifying, but Aditya is flummoxed at why the Bill singles out gay parents like him.
"Surrogacy was the only avenue available for gay couples, who want to have children. Now they can neither adopt, nor are they allowed surrogacy. It makes me really wonder if this government's only role is to play the nanny state," says Aditya, angrily. "It's an outrageously biased, prejudiced law."
The anger is justified. With Article 377 and now the Surrogacy Bill, India seems to be sending a message, loud and clear, that homosexuals are not welcome here. The cultural prejudices were bad enough, and now the state seems to be backing them.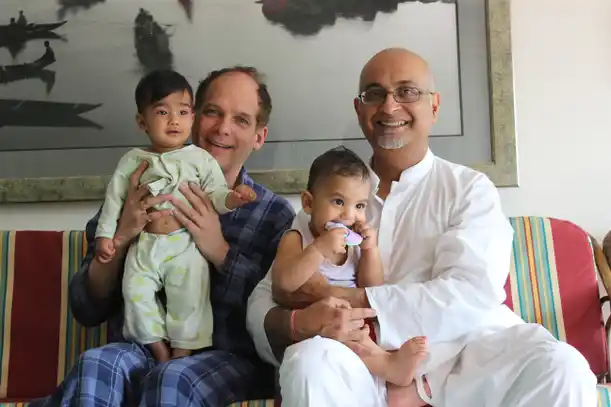 Michael and Aditya lived in California, but moved to India when they decided to raise a family.
In 2004, Fulbright scholar David Gere and his partner Peter Carley spent almost a year in India with their little children. The very candid documentary Out in India tells that story. It shows that despite the insulation that money and status provide, even those who seem to "accept" the family – caregivers, schoolteachers, neighbours – have their qualms. They wonder if it is fair on the children. Were they pushing their little boy into "gayness" by letting him wear bangles? The dance teacher twists her hands and says reluctantly it would be better if there were a father and a mother. "When we saw the footage, we were really shocked," says Gere. "We honestly didn't know how people felt about our family."
Michael, finally done with his bedtime duties, joins us for a quiet glass of wine. He says their experience has been a little better than Gere's. When they went to enrol the children in playschool, they told the principal they were a gay couple. "She said the kids must be very sweet," laughs Michael. He says the first time they tried to hire a cook and a nanny they brought up the gay issue. "After that we stopped. No one seemed to express any discomfort. People are pretty pragmatic," adds Michael.
But there are still issues. Michael has to leave India every six months because in the eyes of the government he's a tourist. The law does not acknowledge him as the spouse of an Indian resident even though he's a hands-on dad.
While the society around them seems to be changing, the laws have only become worse.  The Surrogacy Bill is the latest nail in the coffin and there is no gay lobby in India to press their case. There are, of course, LGBT groups and pool parties and club nights, and Rainbow Parades that will mark their protest, but the irony is that Aditya and Michael have little time for any of that anymore. At the end of the last raucous pride march in Delhi, as other rally-goers debated going to Dunkin' Donuts or going out dancing, Aditya and Michael headed home. It was close to bedtime for the kids.
Aditya and Michael are lucky. They had their children before the law turned against them. But there are countless other homosexual Indians who have that same dream – of telling bedtime stories to their own children, of worrying about those little things like what is going to go in the tiffin box. Their dreams just receded further.
Tonight, Aditya and Michael can count their blessings. Their children are surrounded with love and family. More importantly, bedtime has been a success. Tomorrow is another day.
Sandip Roy is an author and journalist currently living in Kolkata. His work has appeared in NPR, BBC, The New York Times, Firstpost, The Guardian, and The Economic Times. His first novel is Don't Let Him Know.