There are a slew of Instagram accounts run by media professionals dedicated to irritants and inside jokes of their job and industry. Lately, the conversation has slowly moved from the likes of "This client said this silly thing" to "My agency promotes mental health as long as it involves a yoga class, not reasonable work hours or manageable workloads. Haha. Fun." This shift from LOLs and low-key whining to simmering aggression about toxic work culture during the pandemic is an eye-opener.
Pick a company, any company, and head to its LinkedIn page. Odds are you'll see shiny happy content about its culture, compassion for employees, and exciting new work in the pipeline. Head to the same company's Glassdoor, and the facade starts shifting. Now talk to an ex-employee who quit because of acute burnout, and the disillusionment really starts setting in. Then head to Instagram where a small cat sardonically talks about the same woes of corporate life while looking all kinds of cute.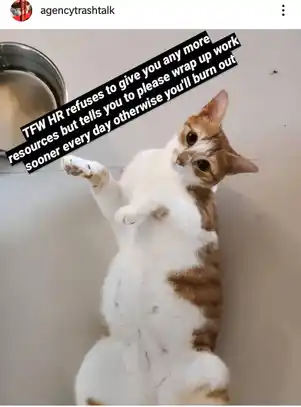 It's funny 'cos it's true
I run a modest Instagram account called AgencyTrashTalk which gently takes a dig at the profession I work in – advertising. Initially it served as a harmless way to vent about work while sharing way too many cat pictures at the same time, but along the way it gathered 2,000-odd followers who related to the content more than I expected them to. A cat crying about short deadlines? 50 people sympathise because that was their Tuesday. A cat dismayed about delayed appraisals? So many likes because as they say on Instagram, "it me".
Mine is just one of a slew of meme accounts that have popped up over the past few years, dedicated to dissing different professions. For consultants, there's Consulting Comedy and Consulting Humor. For designers, you have Designers Humour and makethelogobigger.psd (a truly delightful account name) and for advertising chaps, there's my little account as well as the more popular Your Desi Ad Agency, Agency Gandu, and my favourite – Incumbent Agency.
These accounts (and I'm sure several others) are dedicated to raising an eyebrow at the specific irritants and inside jokes of their industries and roles. Lately however, the conversation has slowly been moving from the likes of "This client said this silly thing" to "That boss asked for this unrealistic thing" to "My agency promotes mental health as long as it involves a yoga class, not reasonable work hours or manageable workloads. Haha. Fun." It doesn't seem like a coincidence that this shift from LOLs and low-key whining to simmering aggression about a toxic work culture has come during the COVID-19 pandemic.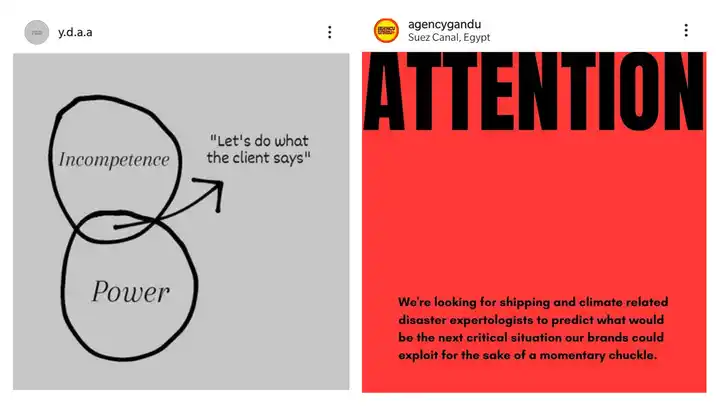 The tide turned in 2020 with the account Incumbent Agency, a longtime stalwart of advertising humour. Previously dedicated to memes and merch (including a fantastic T-shirt that says, "No Budget No Talk"), they started featuring user stories of complete breakdowns in work-life boundaries and outright workplace aggression. This spawned another account – Agency Insider, which amplifies messages that are much less amusing than what we started off with. The best case is employees being asked for incredibly stupid things (print this gif for me) to plain horror stories (flouting pandemic rules, gender discrimination, sexual harassment). Toxic culture went from an open secret to just being out in the open.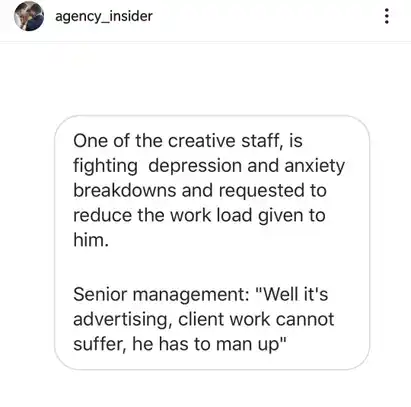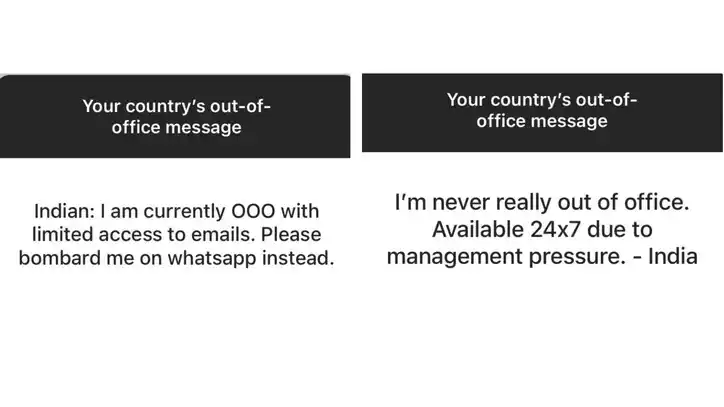 (From Incumbent Agency's OOO Highlight)
Closer to home, Indian Instagram counterparts started spilling the beans on the toxic work culture in ad agencies.The pandemic and the ensuing remote work started taking a toll on employees, and these accounts started serving as an outlet for the resentment that followed. Hours of back-to-back calls and unrelenting pressure to keep performing and delivering communication campaigns during a time of personal, political, and global unrest is taking a toll on an industry that is for the most part composed of millenials and GenZ cohorts.
Always online and required to be tuned in to the steadily worsening crisis for going about their daily tasks, they're questioning the efforts companies are making to make sure business not only continues as usual but is amped up. I dipped a toe into the rather disturbed waters and posted an Insta story on Agency Trash Talk asking for people's experience at work. I got a barrage of unhappy answers. "We're forced to do extra and unnecessary work to make clients feel they're getting their money's worth," said one advertising professional. "This includes coming into office for brainstorming amid the lockdown, making detailed presentations for the most basic tasks, and even pitching ideas we know for a fact the clients cannot execute."
This cloud of resentment intensified after a recent incident in which two employees of a large Gurgaon agency passed away due to COVID-19 complications. The agency had allegedly been insisting that employees continue working from office, despite lockdown and pandemic rules. "People dying because they have to sell shampoo? That's dark," said a message in our inbox. The meme pages paused their sarcasm, and put up heartfelt posts mourning good people that the industry had lost. An ex-employee who recently left the same agency reports being pressured to come to work during the pandemic despite pre-existing health issues that put him at a high risk.
He was told to "get used to it". He put his foot down, handed in his notice, and is now in a workplace that offers him reasonable hours and valuable support. Someone else wrote in saying she's looking to get out of her current toxic workplace at the first opportunity, and leave advertising altogether if she could swing it. She used to love what she did at one point but enough is enough; her mental health needs more. This sentiment seems to be echoed globally. Microsoft ran a survey this year that showed 54 per cent of employees feeling overworked, 39 per cent feeling exhausted, and 40 per cent of them considering quitting. A large portion of these are Gen Z employees – early in their career, single, isolated, and struggling with the pressures of insensitive employers.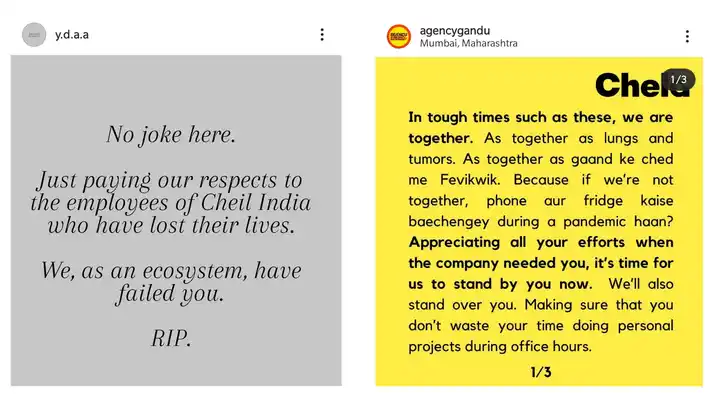 For now, some workplaces seem to be listening, and trying to respond. Smaller agencies seem to be more empathetic from the get go. Some bigger outfits like Swiggy, Edelman India, MullenLowe Lintas, DDB Mudra Group and Expedia have announced a four-day work week in May to focus on health and emotional well being, with some others like Wunderman Thompson having long-term health and wellness helplines and resources in place. Tanishka D'lyma, a long-time freelancer who has worked with agencies for several years, spoke to me about seeing a lot more sensitivity recently. "Now that COVID is not a distant threat any more but is getting closer every day, people are being more flexible with deadlines and respecting boundaries a lot more," she says.
These are some rare happy stories sprinkled among the sea of sad face emojis that I got in response to my question on Instagram. I spoke to Manikantan Kumar, founder of The MindClan, a company focusing on helping organisations care for their employees' mental health through policy consultations and webinars. Cautioning against what may be a temporary uptick in good intentions, he says that the biggest mistake he's seen organisations make is to implement surface-level reactionary measures as a band-aid on deep-rooted culture problems.
"For those [organisations] approaching us for workshops during the pandemic, we ask questions like 'how many people are working overtime' and 'have there been pay cuts' and we often see them getting uncomfortable. They'd prefer a couple of online sessions instead of revamping processes to benefit employees. We propose coping, they ask for positivity. We talk about instilling hope, they ask for optimism."
The questions from here on are…What now? Will this sensitivity last? Is all this just for short- term PR? Are these a stopgap measure meant to placate people in a time of unrest? Will it go right back to normal after a couple of months? Will this signify a long-term change towards prioritising employees' wellness and mental health? One can't be sure but having seen the ups and downs thus far, I am wont to say that things will go right back to how they used to be at the first opportunity. Even though all signs point to the desperate need for this long-term change.
Agency Insider has a whole section of stories dedicated to quitting toxic workplaces and moving to different organisations that are better for the employees mental and physical health, places which offer support and peace of mind in addition to competitive salaries and satisfying work. With remote and hybrid work likely to stay the norm for the considerable future, and remote job postings increasing five-fold during the last year, this opens up a whole new world of opportunities for employees in search of work that allows you to disconnect.
A 2021 LinkedIn survey says that GenZ is 17 per cent more likely to choose remote work, favouring work-life balance and autonomy over designations or success of the employing company. Some freelancers I spoke to said they would settle for a smaller paycheck in exchange for more control over their time. Not only would it reduce their anxiety, but would give them more time and space to explore other work that is meaningful and could potentially be an extra source of income. Some have spent the past year building a financial cushion for themselves due to a considerable reduction in recreational spending, and are willing to use this opportunity to shift fields, work for themselves, and maybe even start a new venture of their own.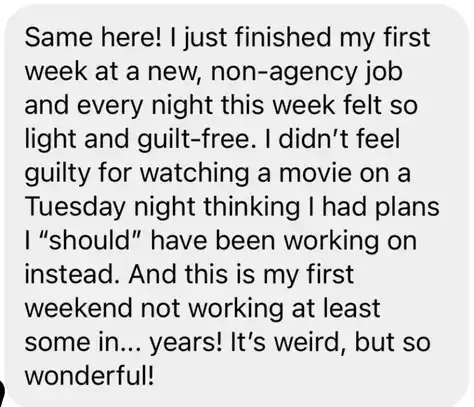 (from Agency Insider's Thank You Highlight)

As evidenced by the messages featured on the bigger accounts, all this isn't just idle whining. These pages have come to represent the exhausted ad employee, and give people a platform to whistleblow, vent, or seek out stories of redemption. And as one generous commenter told AgencyTrashTalk, the account serves as an outlet when his loved ones can't grasp his specific dilemmas. It shows folks like him that they aren't alone, that his woes are shared and understood by industry juniors and veterans alike.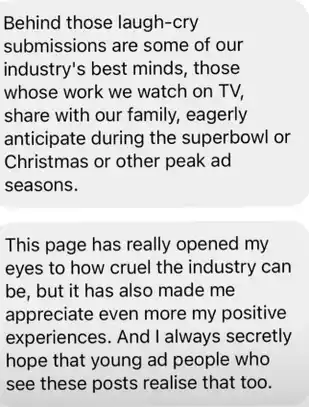 Can these accounts lead to more than camaraderie? One hopes that they will help create awareness about workplace practices and the availability of better options out there, and that we'll see a drop in collective corporate anger because of change – either by the organisations or the employees that they currently house. And the dream… we'll actually see a changed system, a well adjusted and happy sea of talent with satisfied and empathetic management, and then we can go right back to making silly puns and pretend that cats said them.
Until that adland utopia arrives, we continue to be a good old misery-loves-company community.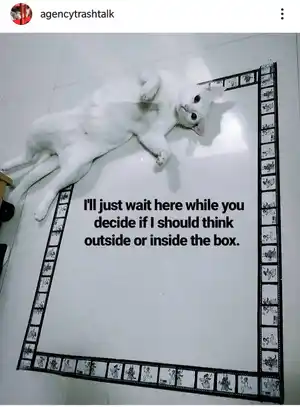 It me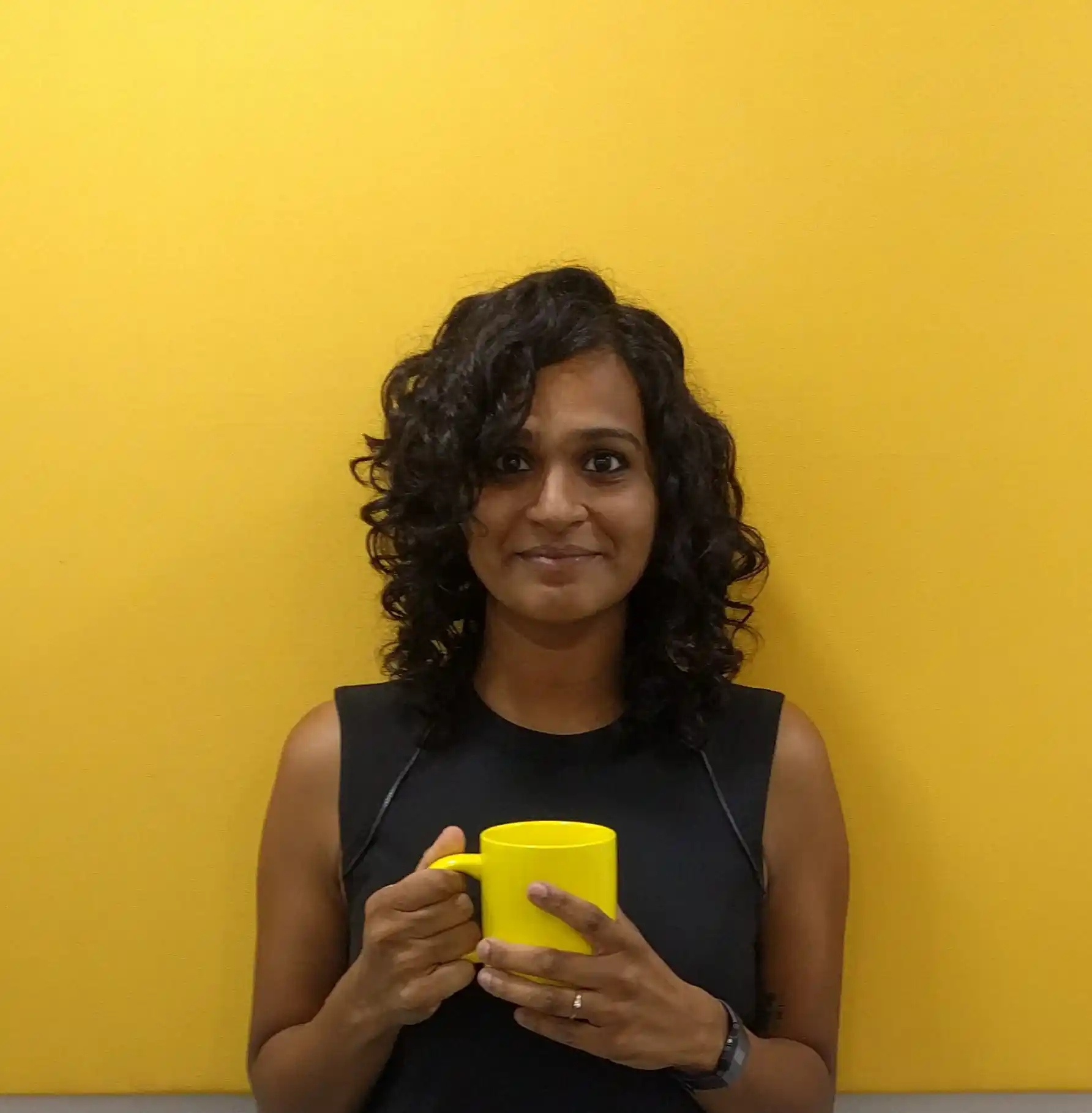 Divya is a freelance marketing consultant, and a full-time worrier.