Kuldeep Sengar, the BJP MLA from Unnao, Uttar Pradesh, has been accused of rape by a minor girl. But he continues to smile because he knows something that his accuser or her family don't – that no matter how serious the allegation, he will get away with it. Unscathed. His good name, unsullied.
Kuldeep Singh Sengar is smiling a lot.
He is a man accused of rape by a minor girl from a "lower caste". But Kuldeep Sengar only smiles. The beleaguered girl's father died in custody two days ago, attempting to get justice for his daughter. But Kuldeep Sengar continues to smile. Atul Singh Sengar, his brother, was arrested in connection with the death. And yet, Kuldeep Sengar smiles.
Kuldeep Sengar smiles because he knows something that the minor girl or her family don't – that no matter how serious the allegation, he will get away with it. Unscathed. His good name, unsullied.     
The BJP MLA from Unnao, a tiny town in Uttar Pradesh came into the national spotlight when a minor girl tried to immolate herself outside the Chief Minister's residence in Lucknow on April 8. The reason behind her attempted suicide was the authorities' failure to register an FIR against Sengar after she accused him of raping her last year. Sengar, a member of the ruling party and the most influential man in Unnao, has denied all allegations. Even after his brother was named as one of the culprits who thrashed the victim's father before his death in police custody, Sengar continued to claim he was wrongfully accused.
But even with the national media hounding him, and evidence mounting in a scandal of epic proportions, Kuldeep Singh Sengar still hasn't lost his smile.
His unflappable grin is in place because no one from his party has demanded that he step down from his MLA's post. Because in Uttar Pradesh, when you're someone like Kuldeep Singh Sengar and all the power resides with you, the notion of consequences is unfathomable. "Just because my name is being taken, should I resign? These allegations are all totally false. The family is trying to malign me," he told NDTV when asked if he would be giving up his position.
Being so secure in your position that even rape and murder accusations can't shake your self-confidence is certainly reason to smile.
Or perhaps he can smile because in UP, political clout is the most effective armour. For the past year, the scales have been hideously tipped in his favour, while his accuser's family runs from pillar to post in their attempt to get a measly FIR registered. (Even now, when media attention is almost at the zenith of what a young, lower-caste girl in this country can hope for, the FIR remains unlodged.) His brother Atul is also a beneficiary of this power, when his name was left off the FIR filed after the victim's father died, allegedly succumbing to injuries received at the hands of him and his thugs. Even though Atul Sengar was eventually arrested, Kuldeep Sengar continues to walk free. He continues to smile.
It's a system of embedded violence that allows men like Kuldeep Sengar to wear that smile.
Even when the minor girl attempted self-immolation before chief minister Yogi Adityanath's home, the CM chose to meet with Sengar rather than the victim. Of course Adityanath has given Sengar something to smile about: Just yesterday, the CM withdrew the rape and abduction case against another BJP UP minister Swami Chinmayanand.
When your boss is more than willing to sweep your crimes under the rug, what reason could you have to not smile? Why will an MLA who has won four straight terms worry about the fallout of being associated with such foul activities?
We've come a long way from being the country that poured out into the streets to protest the horrific 2012 Delhi gangrape. Sadly, we can muster neither that level of sympathy nor outrage for a lower-caste minor girl from the back of beyond. Because the India of 2018 is very different from the India of 2012.
Today, we hold protest marches in support of rapists and murderers, rather than to condemn them. In Rajasthan, convicted murderer Shambhu Lal Regar was celebrated in Ram Navami tableaux last month. Meanwhile in Jammu, sitting MPs from the ruling coalition rallied to form the Hindu Ekta Manch in a march to protest the arrest of men who plotted the heinous rape and murder of an eight-year-old girl. If you guessed that those MPs belonged to the BJP, congratulations on your ability to spot a pattern.
Another pattern that is depressingly easy to spot is the mishandling of rape cases in the country. Rampant victim-blaming, corrupt police, and the prevailing attitude of ignorance makes life hell for anyone seeking justice for sexual assault.
It's a system of embedded violence that allows men like Kuldeep Sengar to wear that smile. And it's a system that is asking to be dismantled. Maybe one day we'll live in a country where monsters don't get away scot-free for sexual assault and for taking someone's life.
Maybe then, the rest of us will find a reason to smile.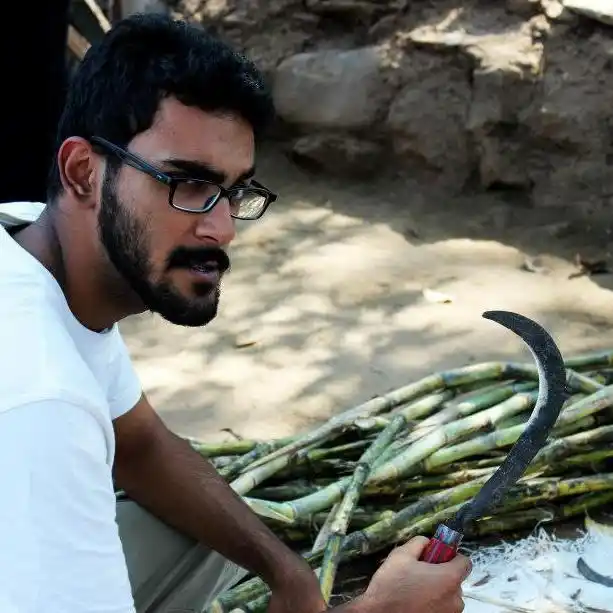 Dushyant Shekhawat really likes his mustache. He grew it himself. You can find him on Twitter at @SeriousDushyant.