Violence, of the kind done to Hafiz Junaid, is our reality now. The normalisation of a warring approach to settle imaginary debts we believe are owed to us by history... this is us.
On June 22, 16-year-old Hafiz Junaid, boarded a train bound for Mathura along with his two cousins. Junaid had just shopped for Eid in Tughlakabad, and his journey home would turn out to be his last. On the train Junaid and his cousins were attacked by a mob of men, whose argument ostensibly began with a quibble over seats, and then escalated to the account of religion and faith.
Junaid was stabbed to death, while his cousins, and brother Fakir who boarded the train later in an attempt to rescue the three, suffered stab wounds as well. No one saw a thing.
But this is a story we are now familiar with. Mute spectators and active participants in a bizarre spectacle of death. In going from a petty argument about seats to publicly lynching a 16-year-old boy, all within the matter of a small train journey, the India of today has somersaulted into a phase, where it has become near impossible to argue against the veracity of what Winston Churchill said about India.
They are a beastly people with a beastly religion.
Seventy years after Independence, how do we fare in the mirror of Churchill, himself a racist imperialist who was an advocate of violence against "natives" everywhere? Pretty badly. The average newspaper today, is a kept diary of bloodletting. From one page to the other a wire of narrative violence and systematised hatred cuts over the tears of those who have lost someone. By the same wire, we are asked to hang hope and faith, wish for a future and invest in visions that have begun to depart from reality — just the way we have excised humanity from our conscience.
But this is us now.
We knew this was coming. This terrorism of rhetoric, which is now taking the shape of physical assault and murder, is a worryingly familiar outing.
This queer anger and thirst for violence that has become more common than fatigue — this is us. This unchecked feeling of hatred toward minorities – this is us. And this normalisation of a confrontational, warring approach to settle an imaginary debt that we believe is owed to us by history or by the system — this is us. This is our new normal.
This is no more about beef; this is the generalisation of a militant obsession to exact vengeance upon those you do not agree with. The normalisation of this violence by a mad few — whether it is or #NotInMyName — indicates a people thoroughly reliant on rhetoric rather than reason. And what mad rhetoric it is.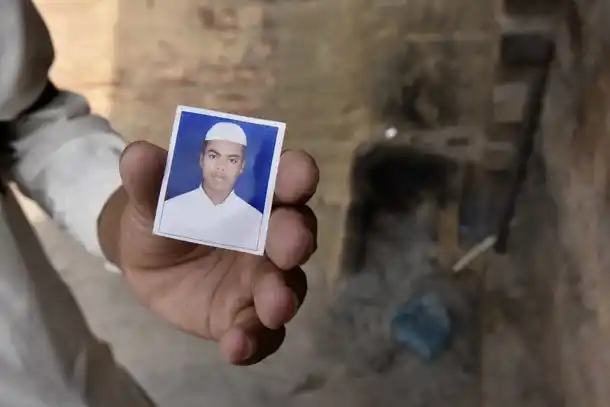 On the train Junaid and his cousins were attacked by a mob of men, whose argument ostensibly began with a quibble over seats, and then escalated to the account of religion and faith.

Hindustan Times / Getty Images
But even an extremist's estimate of an outing wouldn't come close to the bloodlust we have showcased of late.
The blood-letters, people who have come to embody both jury and executioner at once, take on new euphemisms every day. "Gaurakshaks" or "vigilantes" or any other sterile identifier that gives them a redeeming cushion to sleep on. Everything except "murderers" or "hate groups" or the "hatekeepers of the country".
Language can conceal a lot. A gaurakshak does not love the cow any more than he hates the Muslim standing next to it. The cow is purely circumstantial, a buzzer that a lunatic can press to free himself from the encumbrances of law and human decency. There is an open license at the window, and more and more people seem inclined on borrowing it.
Mourn Saira, mother of Junaid, mourns at her house on the occasion of Eid-Ul-Fitr.

Hindustan Times / Getty Images
I've been accused of overreacting, but the rise of these lynch mobs is reminiscent of the endemic rise of the Ku Klux Klan in the United States. A vicious and violent hate group, the Klan's rise was paired with a co-opted right-wing government, militant Catholicism, and White supremacism, that was willing to look the other way with the Klan's violent treatment of Blacks and Jews.
What makes India worse than the States of the 1920s, is that the Klan was at least, a franchise, a member-initiative. It had a uniform. Our hatred, on the other hand, has taken on an amorphous shape — and the target could be anyone: African folks in malls, Dalit women, a Kashmiri cop.
On account of the government, the police, the administration, there is silence. On the Prime Minister's Mann Ki Baat, there is noise about everything — but over our turning into Lynchistan, there is a deafening brutal silence.
What is worse than a majority group that feels victimised by history, and seems vengefully inclined on claiming the future for itself ? A chaotic, vile, and violent present. The one that we live in now, and the one that we will leave for our children. The one that Churchill, perhaps accurately, saw us through. Because who is to now say, we weren't always beasts, if we have somehow managed to live like humans all along?
Manik Sharma writes on Arts and Culture.