Narendra Modi and Smriti Irani can't seem to agree on what to do about fake news. But in the battle of fact vs fiction, it might already be too late.
In a sequence of words nobody – not on the Indian Right, not on the Left – thought they'd ever write, Indian liberals greeted an announcement from the PM's office with unmasked joy. Before you start checking the sky for flying pigs or weather reports for Hell freezing over, it is worth knowing that Mr Modi was working against his own government, ordering the Ministry of Information to recall its threat of stripping journalists accused of spreading fake news of their accreditation.
That was a masterstroke, Modiji, a much-needed and welcome intervention from the man in charge of India's highest office. But it is also a sobering confirmation of the fact that even those at the highest levels of government are in a bit of a quandary, because the fake news behemoth is a many-headed hydra.
In 2016, "post-truth" was chosen as the Word of the Year by Oxford Dictionary, proving that in today's world, feelings supersede facts. During the US Presidential election, it became Donald Trump's third-favourite thing to say, after "yuge" and "My hands are normal, strong, good-size, great, fine." Headlines and images are now easily shared by pressing a button, so clickbait has become the norm while journalism takes a dive. It might sound disturbing, but it's starting to look like fake news is the future of information.
Forget 24-hour news cycles, fake news stories have the propensity to flare up out of the blue and vanish just as quickly. Barely ten days ago, a fake news story went through its entire life cycle in the span of half a day. That morning, Twitter caught fire over a tweet criticising BR Ambedkar supposedly from Indian cricketer Hardik Pandya. The controversy trended on Google and leading news outlets like The Times of India covered it online. It got so out of hand that a court-ordered FIR was filed against Pandya in Jodhpur. However, by afternoon, the mountain had turned into a molehill when it was revealed that the tweet had been sent out by a parody account and not the real Pandya.
Instances like this are proof of fake news' destructive power. In January this year, Dalits called for a Maharashtra bandh and protested on the streets of Mumbai. While there were no incidents of violence reported in the city, it did not stop the circulation of unauthenticated videos showing unruly mobs causing property damage and firing bullets, which created an atmosphere of fear around the largely peaceful protest.
The spectre of fake news has made its presence felt especially strongly on the internet. Four days ago, Mahesh Vikram Hegde, the editor of website Postcard News, was arrested by police for spreading communally sensitive and fake news when he published an article about Muslims attacking a Jain monk. The truth is that the monk was injured in a road accident, and action had to be taken against the irresponsible reporting.
This week, Information & Broadcasting minister, Smriti Irani, as well as 13 other union ministers, exhorted us on Twitter to, "Raise your voice against fake news." Err, the same coordinated tweet. Of course, this resulted in the draconian suggestion to withdraw accreditation, sparking off outrage over how this was just a smokescreen to curb the freedom of press.
But maybe we should save our breath.
Today, in this post-truth world, a news story is judged not by its accuracy, but by how viral it is and how it can be used to manipulate popular opinion.
In the battle of facts vs fake news, the contest has been won decisively by fake news. The flow of information is the fastest it's ever been, and our faculties of critical thinking haven't been able to keep up. On Facebook, news stories appear in an infinite vertical scroll that has been tailored to agree with your personal views. It's a tactic intended to shamelessly exploit everyone's inherent confirmation bias, and it's responsible for opening the floodgates of fake news.
There was a time we presumed that social media would be an agent of positive change. In 2011, at the height of the Arab Spring, Facebook and Twitter became repositories for eye-opening videos documenting the struggle at the grassroots level. The Arab Spring was also a watershed moment for crowd-sourced, citizen-led reporting. News stories were no longer the sole domain of journalists.
With the balance of power and responsibility shifting from professionals to amateurs, journalistic standards went into an inevitable downward spiral. Things went from bad to worse with the rise of clickbait, and you won't believe what happened next!!! The decade that began with Arab Spring is drawing to a close with the demon of fake news.
For some, this is not entirely a lost cause. Websites like Alt News, for instance, whose tagline is "Alternative News and Views in the Post-Truth World", slay fake news and are a beacon of hope. Another website, The True Picture, was set up last year with a similar mission statement. Since then however, it's run into controversy by refuting stories by Indian Express, for which the latter was able to provide proof. A report by Indian Express later revealed that The True Picture had links to the same company that partnered on PM Modi's book Exam Warriors. When the political links of a website intended to root out politically motivated fake news are exposed, you know the shit has hit the fan.
Today, in this post-truth world, a news story is judged not by its accuracy, but by how viral it is and how it can be used to manipulate popular opinion. The words of Maya Angelou have never rung truer than they do today – "I've learned that people will forget what you said, people will forget what you did, but people will never forget how you made them feel." For the peddlers of fake news, being unbound by honesty's constraints is a useful advantage while toying with the public's feelings.
Bringing evidence to an emotional fight is a surefire way to lose. And so it has been in the battle of facts vs fake news. Thank you, Mr Prime Minister, but we might already be too late.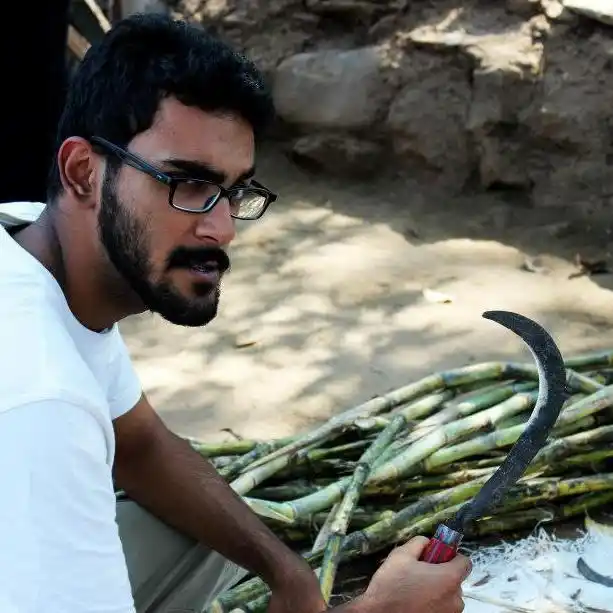 Dushyant Shekhawat really likes his mustache. He grew it himself. You can find him on Twitter at @SeriousDushyant.