Faiz Ahmed Faiz's "Hum Dekhenge" was written in 1979 against Zia-ul-Haq's dictatorial rule in Pakistan. To strip the poem of this crucial context, is essentially an act in unlearning what is sacred about art. A complaint filed in IIT-Kanpur against the narration of the nazm reeks of prejudice.
In 1985, renowned Pakistani singer Iqbal Bano took to a stage in Lahore in front of a crowd of 50,000 men and women. From there, she sang a nazm to raucous applause and approval. Chants of "Inquilab Zindabad" echoed through the crowd. Soon, however, the lights dimmed, and the microphone muted. Bano would in years to come be banned from appearing on television and singing at events sponsored by the ruling military government. The nazm was Faiz Ahmed Faiz's "Hum Dekhenge". From Bano to Coke Studio's recent rendition, Faiz's poem has held the heart of millions and has become symbolic of protest and dissent. It was after all written in 1979 against Zia-ul-Haq's dictatorial rule in Pakistan.
Forty years later, "Hum Dekhenge" has become an anthem of the anti-CAA protests across the border. It was recited on December 17 on the IIT-Kanpur campus to express solidarity with the students of Jamia Millia Islamia who were lathi-charged for demonstrating against the controversial act. A complaint was filed by Dr Vashimant Sharma, a temporary faculty member, and 16 others including teachers and students, that the poem was "anti-Hindu" and now a committee has been formed to look into it. The fact that a debate has erupted on whether "Hum Dekhenge is communal, is only another example of its irksome relevance, shared by two countries that don't, according to the doubters of its motif, share much else.
Literature, poetry especially, can be interpreted in a number of ways. None of which should though be done without learning the context it was written in. It reeks of prejudice and naivety to feel threatened by a piece of literature. That an IIT has set up a committee to analyse Faiz's nazm is as much an exercise in absurdity as it is an open admission of holding a communal lens.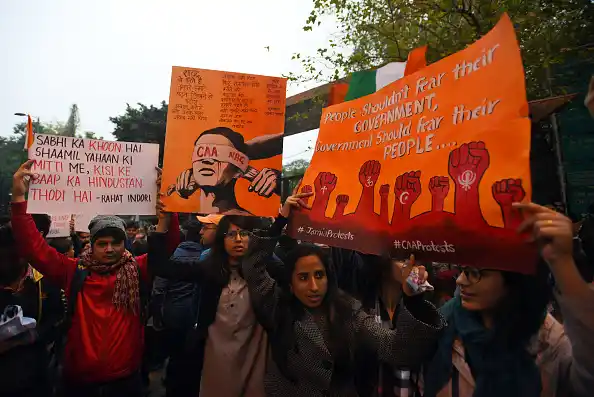 Protesters outside the main Jamia Millia Islamia gate with placards as they continue their protest against the Citizenship Amendment Act (CAA) and National Register of Citizens (NRC) on December 17, 2019 in New Delhi, India.

Photo by Amal KS/Hindustan Times via Getty Images
Let me first try and grasp the coat-tail of this latest projectile launched to the salute of gunning opinionists and chest-beating experts in cultural history. An institution associated with excellence in engineering wants to dissect a poem and has set up a "committee" to do so. Notwithstanding the countless institutions, historians and critics who have already read and analysed Faiz's work his life, through various scopes and lenses. The religious symbolism of the poem, which was written in 1979 must be considered within the context of Zia-ul-Haq's military coup to usurp Zulfikar Bhutto to establish a regime that gradually became religious and communal. Faiz declared Zia a worshiper of power, rather than faith, a tool he used to suppress and control the public. For example, in the lines "Jab arz-e-Khuda ke Ka'abe se, sab buutt uthwaae jaayenge / Hum ahl-e-safa mardood-e-haram, masnad pe bithaaye jaayenge /." Faiz says 'From the abode of God, when the icons of falsehood will be removed / When we, the faithful, who have been barred from sacred places, will be seated on a high pedestal."  In essence, Faiz's poem is a refrain against the oppressive applications of religion, rather than an adjudication of any one.
To strip the poem of this crucial context, is essentially an act in unlearning what is sacred about art, its context. To reduce a piece, to its medium, to derive from it, its most municipal implications, is inane. It is like judging a book by its cover, its name, its price and everything that is incidental to the eventual value. Ironically, the power of Faiz's poem, and the shivers it sends down submissive spines, is confirmation perhaps of the institutionalisation of the poem itself.
Unfortunately, IIT, true to its advertised zeal for "engineering" has conjured a well-oiled machine in suspicion and ignorance. Might I also ask at this opportune moment that did the IIT consider the film 3 Idiots anti-IIT and open an investigation into that nightmare for the famed techie factory? Furthermore, what is the natural progression to this process? Convict a poem of something it isn't and then ban it? Can you really stop an anthem from spreading, if not on paper, then through memory? 
Nobody should adjudge IITs and their students as people incapable of tackling literature and the arts. The hard research, though, the exhaustive study of the numerous variables in culture should best be left to mathematicians of art than machines and numbers. That is, unless, their honest findings do not suit the narratives you want to disseminate. Faiz's poem doesn't mention Hinduism, but rather a popular Hindu belief that the "Creator and the creation are one". Entering a detailed analysis of the poem at this point would be succumbing to the stupidity of this passive-aggressive stance. The brouhaha is beside the point, as it crassly, wants to reduce a famous anthem, a glorious nazm, to the religion of its writer, and the language it was written in. 
After communalising history, and commissioning hyper-nationalism through cinema, it seems, a war on literature has now being announced.
After communalising history, and commissioning hyper-nationalism through cinema, it seems, a war on literature has now being announced, from behind the walls of an engineering college no less. When religion is the colour splattered across your eyes, it matters not how and where the clouds gather. It rains all the same.
Faiz Ahmed Faiz was avowedly secular, pained by the partition of India, and was hounded for speaking out against successive exploitative regimes in Pakistan. His poetry was banned in Pakistan but its longevity and legacy travelled well beyond the girth of Faiz's own voice and reach. It is absurd to have to justify Faiz's politics for the legitimacy or potential of his work.
There is however, a bittersweet lesson in all of this. Not only does jostling for manufactured truths undermine the currency respected institutions like the IIT command amongst the populace, it foregrounds the need to have trained, free-thinking scholars and historians to separate fact from garbage, to separate bile from beauty. It shows, the lack of perspective in the eyes of men who want to rub their eyes, not with the hands of truth, but of favour, just how communal their powers of comprehension have become. It further confirms the rot, this government has overseen in India's institutions and is an early sign of perhaps its next target – literature.
Manik Sharma writes on Arts and Culture.
He tweets at @Manik1Sharma