There has been a sharp rise in domestic violence since the lockdown was imposed, not just in India but across the world. This has hamstrung people like Divya Taneja, a social worker who answers domestic abuse distress calls on a helpline, and has been unable to make house calls.
Before the lockdown was announced, Divya Taneja's life was busy enough. Having to shuffle between various Mumbai police stations, where she is tasked with answering distress calls, and shelters set up for domestic abuse victims, from where she must follow up on all the reports, is no job for the faint-hearted.But since the lockdown was imposed over the coronavirus pandemic, Divya's life has suddenly become a whole lot tougher. The 50-year-old social worker now must work a 24-hour shift from the confines of her Mulund home, having to answer distress calls that pour in at all times of the day and night.
Divya has been a violence against women interventionist for the last 20 years. She is currently a regional coordinator — part of a network of 200-plus women tasked by the Special Cell for Women and Children across Maharashtra to answer distress helplines. 
The number of calls made to these helplines has increased over the last summer. Divya says this was in part due to a massive awareness campaign that was recently launched by the NGO, Akshara Centre, in tandem with the Special Cell for Women and Children, the Mumbai Police, and the state government. The campaign urged domestic abuse survivors and bystanders to report cases on the police helpline number, 100.
Some of the calls come in from elderly folk, who live alone and have no access to food and medicine, others are made by women who just need someone to talk to. But most, sadly, deal with cases of domestic violence and abuse.
"The calls to the helpline have increased because of increased awareness," Divya says.
There has been a sharp rise in domestic violence since the lockdown was imposed, not just in India but across the world. The National Commission for Women recently estimated that the number of cases had almost doubled in the first two weeks alone.
No one is more aware of this fact than Divya and her colleagues.
Despite having been a social worker for two decades, and hence very familiar with the constraints of her job, even she must admit that the lockdown period has truly been a staggering challenge in terms of domestic abuse.
"The calls to the helpline have increased because of increased awareness," she says. "But the resources at our disposal have been severely affected. It is all new for us."
One particularly disturbing call that Divya received was proof of this. The call came in from a Mumbai-based woman, who said her husband had been getting increasingly violent since the lockdown came into effect.
Usually in situations like this, Divya makes detailed plans with the woman to ensure her safety. These plans could include anything from opening a window in the middle of the day and shouting for help, or keeping anything that could potentially be used as a weapon out of reach. In extreme cases, the woman is moved to a shelter home.
This call, Divya could tell, required immediate intervention. Since no one was permitted to leave their homes, the police were requested to visit the woman's house twice in the following week. But the violence, and the calls didn't stop.
So Divya tried contacting a shelter home, run by an NGO, before running into yet another roadblock. The shelter said it would need a Covid-19-free certification before it could allow the woman to enter. Considering the tests were notoriously hard to procure, and the woman didn't want to risk exposing her child to the virus, she was left with no choice but to wait it out at home with her abusive partner.
Eventually, only once the lockdown restrictions began to ease, was the woman able to move back to her parents' home. Still, the situation had been far from ideal.
Social workers, who are tasked with answering helplines, usually maintain a directory of numbers. This includes contact details of hospitals, NGOs, and shelter homes across the country that can be contacted in case of emergencies. But even with this document at hand, doing their job was tough for the first few weeks — especially in hotspots like Mumbai, where the lockdown was implemented more strictly.
The police knocking on the family's door is not always the best way to resolve a toxic situation
There was some interference from a few police officers as well, who at first didn't understand the essential nature of social work. "It slowly changed once we spoke to them," Divya says.
This understanding was seen in action when another call came in from Mumbai's Dadar. The woman on the other end of the line said she had been driven out of her home by her abusive husband, who had claimed custody of their child. She was left with nowhere to go in the middle of a very harsh lockdown.
Eventually, the woman managed to get back to her parents' home thanks to the police and Divya's intervention. Weeks later, after the police paid her husband a visit, the couple said they had managed to reach a consensus, and the woman moved back to Dadar. Divya still follows up with her every few days to make sure she's okay.
But the police knocking on the family's door is not always the best way to resolve a toxic situation. In cases where the husband is an alcoholic, or likely to turn more abusive after a visit by the police, Divya says, the best case is that a neighbour, or a family member, steps in. The woman is also asked if she has an alternate number, on which it is safer to make follow-up calls, or a safe space from where she can speak in private.
In one such situation, where a Pune-based woman said she was being mistreated at her in-laws' house, denied food, and subject to a great deal of emotional abuse, Divya decided to handle things slightly differently.
Rather than confront the in-laws head-on, Divya asked the police to surreptitiously correspond with the woman — whose neighbours were gracious enough to take her in and provide her with home-cooked meals. Weeks later, during which a number of follow-up calls were made, the woman was able to leave her in-laws and the abusive home for good and move back to her parents' home.
All through the lockdown, Divya has received dozens of such calls, from women as young as 19 to some well in their 80s. The callers had either no way to get access to medication and food, or had suddenly fallen ill, or had been victims of violence in their homes.
It's always a question, she says, on how they should react. "We have several strategies to deal with these calls. While some need serious intervention, some callers are just looking for someone to vent to. We need to take a call on what to do immediately."
Divya tries to treat each call as a separate challenge. "These are not just 'cases' for me. I need to empathise with each person, and offer them solutions that work best for them. Otherwise there's no point in me doing this job," she says.
With the lockdown now close to seeing an end, Divya hopes that things may return to normal soon
Luckily, she adds, she has a family who is very supportive and understands the nature of her job, and hence don't put much pressure on her to juggle home responsibilities. "I live in a joint family with both children and elderly folk. Since everybody is at home, I need my own personal space to take these calls, and help these women."
With the lockdown now close to seeing an end, Divya hopes that things may return to normal soon, and social workers will be able to once again make house calls, and escort women to police stations, where they will be safe. And can hope for a new beginning.
(There has been a spike in domestic abuse cases during the lockdown. If you are a survivor, or know someone who is, please call the 100 helpline.)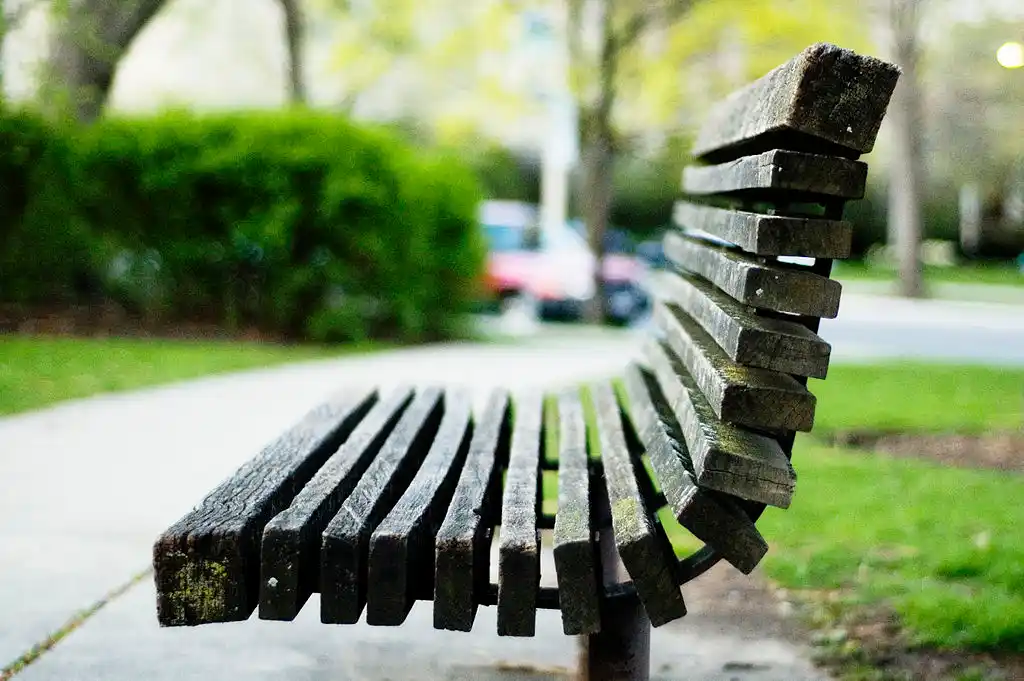 The Arré bench delivers stories that mattress. It hasn't achieved much sofar. But it's getting bedder.