There are heroes to be found in Delhi, even as parts of the capital burn. Holy texts were set on fire in Ashok Nagar, where Hindus and Muslims gathered and picked up the scorched pieces. Gurduwaras opened their doors to those fleeing from the violence.
Blood, violence, and hate sums up the last few days in Delhi. The capital has been gripped by violence for four days and counting, and its citizens, along with the rest of the country, can only helplessly look on in horror. The visuals have been so graphic, they make you want to shut out the disturbing imagery and news headlines making their way onto your screen. But despite the flood of negativity, there remain glimmers of hope. Even as rioters and hateful, communal bigots give us a glimpse of India's ugliest underlying tendencies, there are still those residing in Delhi who can restore your faith in humanity. There are still heroes to be found, even as the city burns.
These heroes are people who have chosen to put their humanity first, at a time that demands that religion be prioritised. They are people who stuck up for their neighbours and fellow citizens, even while state machinery failed to contain the bloodshed. They are those who, after the destruction had passed, were there to pick up the pieces, hand-in-hand with their neighbours and friends. Their actions are a soothing balm in these tumultuous times, a reminder that India and her children still remember and honour the spirit of the Constitution – a Constitution that promises to secure for its citizens Justice, Liberty, Equality, and Fraternity.
After almost four days of unabated violence, over 20 deaths, institutions can no longer afford to appear inactive.
A mosque in Delhi's Ashok Nagar was vandalised by mobs on Tuesday. A video of the incident became the centre of a fake news controversy, when some right-wing outlets claimed it was an older video and not from Delhi. However, that theory was soon debunked, and it was proved that the place of worship had, in fact, been burned by the rioters. Holy texts were set on fire to send a message, but Ashok Nagar's residents had a message of their own to send. They gathered at the site of the arson, and calmly began gathering the scorched pages. The most heart-warming facet of this act of defiant endurance was that members of all faiths were seen gathering the pages and clearing the area.
In instances like these, India's vaunted unity in diversity comes to the fore. Another such interaction between members of different faiths was seen in a neighbourhood where both Hindus and Muslims reside. Here, the local Hanuman temple became a spot to shelter those fearful for their safety. In a video clip of the incident on Twitter, residents reassure each other of their safety, saying, "Tumhara hi mohalla hai, don't worry."
Some of Delhi's communities have been looking out for one another in ways that go beyond simple neighbourly cooperation. Even as the riots engulfed Northeast Delhi, news emerged of gurdwaras in other parts of the city opening their doors to people who were fleeing from the carnage and bloodshed. In Ashok Nagar, Sikhs also patrolled the area to make sure that no further damage is caused. In Seelampur, which was at the centre of violence in December, the residents seemed to have learnt their lesson. They took it upon themselves to deny the mobs entry and prevent the execution of targeted attacks.
Ensuring that the rioters do not have the whole run of Delhi's streets has also been important at a time when its citizens are afraid to step out of their own homes. To this end, a mixed-faith group of Hindu and Muslim residents of Brijpuri took out a peace march, parading on the streets while raising slogans of unity. The courage of these ordinary citizens is nothing short of extraordinary, especially considering how Brijpuri falls within the violence-hit region of Northeast Delhi.
The city's citizens have also fought to ensure that daily life continues, despite the upheaval. A video, reportedly from Yamuna Vihar in Delhi, shows a group of adults forming a human chain to escort schoolchildren to safety. Little things like these have shown that politics may have gotten dirtier and more vitiated, but people remain sympathetic to those standing next to them.
After almost four days of unabated violence, over 20 deaths, and hundreds lying injured in hospitals, institutions can no longer afford to appear inactive. Delhi's Chief Minister Arvind Kejriwal visited the affected areas on Wednesday night, the Delhi High Court has stated that the city cannot afford a repeat of the 1984 pogrom, and ordered the police to ensure the safety of every citizen. Hopefully these measures lead to a de-escalation of the chaos unfolding in the national capital, and are not a case of too little, too late. Were it not for Delhi's heroes, the worst-case scenario might have already come to pass.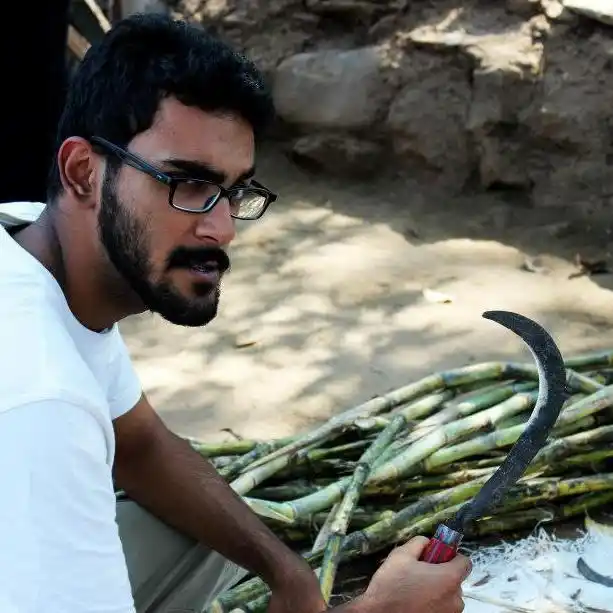 Dushyant Shekhawat really likes his mustache. He grew it himself. You can find him on Twitter at @SeriousDushyant.