The Delhi violence threw up a bunch of brutal videos and photographs, but one that continues to haunt us is that of injured men being forced to sing the national anthem. That perpetrators are unafraid their inhuman acts are being captured on camera says a lot about us as a society.
On Tuesday, a chilling video began circulating on social media where five to six men lie, indisposed, injured, almost unconscious on the road, being forced to sing the national anthem and shout "Vande Mataram". Some of them appear uniformed. This blood-curdling showcase of inhuman brutality and lack of amnesty by policemen is so discomforting it is impossible to watch more than once.
When the protector turns perpetrator, where do we go?!
Shame on @DelhiPolice for disrespecting the value of human life. Is this how the Delhi Police fulfills its Constitutional duty to show respect to our National Anthem?
(Maujpur, 24 Feb)#ShameOnDelhiPolice #DelhiBurning pic.twitter.com/QVaxpfNyp5

— Shaheen Bagh Official (@Shaheenbaghoff1) February 25, 2020
There are other videos, too – armed mobs breaking into homes or setting households on fire as the police stand by and watch. The police refusing to help a scared, bleeding man who had just been beaten up by a mob. If ever a nightmare needed a visual description, the last 48 hours in Delhi have provided an apt representation of one. Alarmingly, even if it has slowed down a little, the embers continue to burn.
If you, like me, live in Delhi-NCR, chances are you have come to a point where you try to identify your neighbourhood, your office, or some place you've visited recently in the videos of brutality that are now regular fare. Sometimes it is out of curiosity, but mostly it is to establish a safe distance from wherever the violence is taking place. Are the water cannons being used near Jamia? Is the mob pelting stones in North-East Delhi? Police crackdowns and murderous open calls like "Goli maaro saalon ko" have become commonplace, a persistent twitch of this beating nerve of sadistic rage.
But even this violence that seems so chaotically random at first, it has exhibited a graph, a gradual movement from the fringes to the heart of national discourse. Cruelty has become an alternative to resolving matters related to law and justice – that photograph of policemen lathi-charging an unarmed protestor in Jamia in December; the Reuters picture of a mob surrounding a helpless Muslim man who was out on the street not to protest, but pick up halwa for his children will haunt us forever. That perpetrators are unafraid their inhuman acts are being captured on camera says a lot about how far the situation has deteriorated.
It is the easiest thing to look away from your Twitter timeline or put your phone down when videos or images of mob brutality appear. My privilege — my relatively safe socio-economic distance from the heart of such reprehensible acts — insures me to an extent. But it is because we have looked away in the last couple of years that people have become emboldened enough to abandon the capacity to hesitate before taking a life.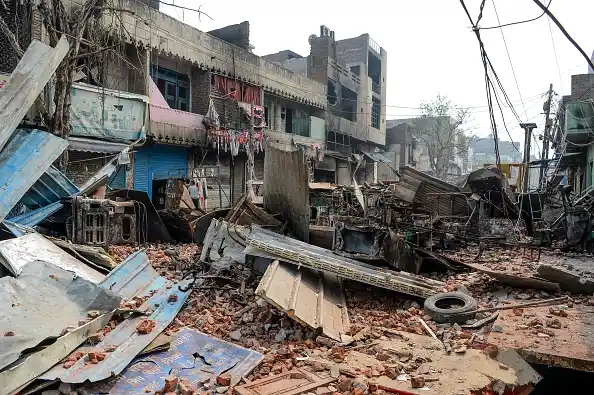 If ever a nightmare needed a visual description, the last 48 hours in Delhi have provided an apt representation of one.

SAJJAD HUSSAIN/AFP via Getty Images
As deaths and injuries mount, so do the questions. When did teenagers get brainwashed to go on a rampage and loot a bakery? Just why has it become so easy for someone like BJP's Kapil Mishra to threaten peaceful protestors, under the nose of the law and walk away without repercussion? How is it that hateful dog-whistles are not only being allowed but, so enthusiastically responded to by listeners? Have we no barriers of sin and evil, even the slightest moral hesitation? What was that tipping point that turned us into a nation of people who fantasise about violence, nonchalantly enact it, record it, and parade it as achievement?
When it isn't CAA-related violence, it is your garden-variety violence against any group we deem worthy of being brutalised. A few days ago, a video surfaced of a Dalit man, alleged to have stolen from a shop-owner, tied to a pole. Beaten blue and bloody, this man was surrounded by men who would then proceed to insert a screwdriver dipped in petrol into his anus. This is not mere conjecture, but the contents of a viral video that has since been confirmed by several on-ground reports from Rajasthan's Nagaur. In yet another video that went viral earlier this month, a Dalit man in Tamil Nadu is seen being lynched by locals for deficating in the open.
To most corners in this country, caste-related violence isn't new but what has changed over the last couple of years is the impunity, the sheer inhumanity of the manner in which mobs exact what they believe is a form of justice. Alarmingly, this depravity and galling neglect for dignity has infected people on all sides of the law.
Cruelty has become an alternative to resolving matters related to law and justice.
The fear, the paranoia felt by the average person walking on the street, stoked further by the complicit, spineless behaviour of custodians of law – like the Delhi police – is perhaps part of the spoils of war. A war that people have, for some reason or the other, unleashed on their own neighbours, people they have lived and walked past all their lives.
Cruelty and murderous mobs have arrived in the nation's capital, at a time when the American President Donald Trump was visiting, no less. If the centre of the world's attention can spontaneously combust in a manner so horrifying, one can only imagine how such violence plays out in other parts of the country where the law is thin and media attention non-existent. CAA is perhaps only a trigger here, an excuse to let those claws out and tear into someone. All over the country, be it the incident in Nagaur or the lynching of two individuals in Assam over a suspected abduction in the last couple of years, mobs have lynched and murdered men in the name of justice. And they have recorded their acts for posterity.
What is too brutal, too nasty for a man holding a cameraphone? It's a question we must ask ourselves, for the sake of not just our own lives and future, but those who have already lost theirs.
Manik Sharma writes on Arts and Culture.