Spare the children the deadening routine of school. Sleep late, play hard, and study at home. The kids will be all right.
The alarm shrieks. It's 5 am. Leila Alvares resists the urge to sink a little deeper under the covers, and yells, "Kieran, you have to revise for your chemistry test today." The predawn silence is accusing, as she stumbles to her 10-year-old son's bed and prepares to shake him awake.
"Get started on the periodic table," she says brusquely, quelling the instinct to go back to bed, wearily heading to the kitchen.
Kiara, fortunately, is still fast asleep. She will bounce out of bed at 7.30 am — all quicksilver three-year-old chatter — eager to go off to her playschool next door. Kieran used to be the same — a delight in class, a fast learner, an impeccable writer, his teachers would say.
Leila allows herself a small smug smile, remembers the fruitful three hours spent after school every day to ensure his classwork is flawless. Prizes for academic excellence stand proudly on the shelf behind his bed. He's still not up. She returns to his room and yanks off the covers.
The day hasn't fully begun, but the 38-year-old single mum of two is already exhausted. "We still have eight subjects to deal with, tests are next week," she thinks. "There's Hindi tuition plus a project that he must turn in by Friday. I don't think we can make it to that birthday party this evening."
The kids leave and Leila flips through the newspaper. A tiny paragraph catches her eye, "10-year-old girl commits suicide due to poor grades". She was as old as Kieran. His resigned expression this morning, as he left for school, returns to haunt Leila.
The news snippet stays with her all day. She picks him up from school; he is withdrawn, answering in monosyllables. "How was the test," Leila asks. He shrugs indifferently. Is this how it's going to be for the rest of the year; or five, she wonders? She has cancelled the birthday party in favour of tuition and the unfinished project.
That night, Leila sets the alarm for 5 am again. She dozes fitfully, and as the shrill sound breaks the silence, she comes to a decision. She switches off the alarm, turns over and goes back to bed.
She wakes up to find Kieran frantically packing for school. "Why didn't you wake me," he yells, "I've missed assembly and I will get detention." She smiles nervously and says, "It is okay honey. We're moving to Coorg."
***
I catch up with Leila on a sunny Tuesday afternoon at Captain K's Getaway, a resort set in their 75-acre coffee estate in Coorg. Kieran, now 15, and Kiara, nine, are sunning themselves on loungers by an infinity pool. The elder Alvares sibling, gangly, solemn, growing awkwardly into his adolescent frame contrasts sharply with his effervescent sister.
The two kids on loungers are not on vacation, but at "school". They are taking a short break from their morning lessons. The Alvares children follow the CBSE system, using guidebooks and worksheets. The time allotted to homework is now spent on a learning session. The family is free to travel, or take time off for family emergencies. (Kieran recently spent two weeks taking care of his grandpa in Bengaluru).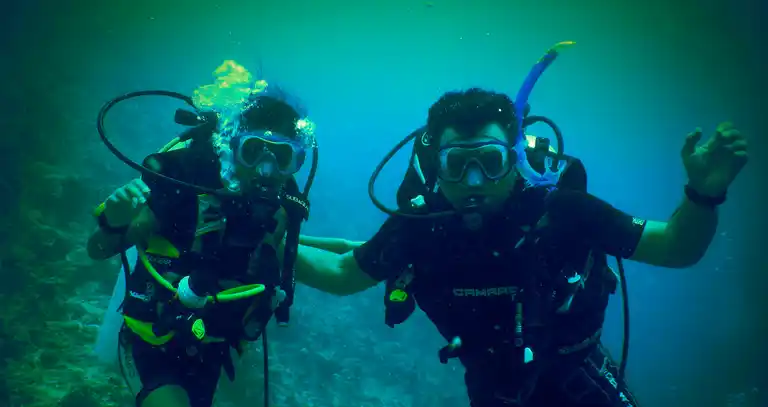 The Parmar family studied marine biology by diving into the sea in Goa, and learned about environmental issues by trekking through the Western Ghats.

Courtesy: Parmars
Their classroom is enviable. A sprawling bungalow with a wraparound veranda — filled with bookshelves, a foosball table, and board games — overlooks the pool. In the drying yard, coffee beans are soaking up the sunshine, overlooking tennis, badminton, and basketball courts.
Five years ago, Leila was looking for someone suitable to manage the estate. And then it struck her. "I was living in a crowded, polluted city; my kids were miserable," she says. "The solution was actually simple." But the decision to homeschool her children wasn't easy, even though it happened overnight. "I was plagued by self-doubt, the worry of isolation and the commitment."
There is the niggling reservation about socialisation. Can children who have never gone to school interact with other kids and learn to hold their own? Parents who have lived through this decision, are pretty unequivocal about their view on this. Like Beejal and Yogi Parmar.
Beejal, a 44-year-old British-born engineer-turned-motivational speaker, and his wife Yogi, feel that extracurricular activities that allow for plenty of interaction with other children take care of the teamwork and dynamics that regular schooling allows. Instead of reading about urban development, the Parmar family, including Shivani, 15, and Khushi, 11, took a bus tour in Dubai to see how the city emerged from a desert. Instead of leafing through textbooks about poverty, they visited slums. They studied marine biology by diving into the sea in Goa, and learned about environmental issues by trekking through the Western Ghats.
The result of this immersive approach to education is that Shivani and Khushi have grown into confident girls who wear their personalities with panache, favouring a bohemian mix of caps, scarves, and flashes of bling. Shivani has been given the creative freedom to learn song writing and jam with musicians and graphic artists. Her first music album, written and produced wholly by her, is due in December.
***
Like hundreds of other stressed parents worried sick over their high-strung offspring, Leila and the Parmars decided to reject the Indian education system and take matters into her own hands. Not many however, believe, it is a wise thing. Cathy Hastings, the principal of Frank Anthony's Junior School, regarded as one of Bengaluru's best, insists that it's not a viable alternative. "The chances of the kids ending up spoilt are pretty high," she says. "What's the guarantee that parents will invest time in teaching manners and ethics?"
According to Hastings, not all homeschooled children can enjoy the kind of privilege and exposure the Parmar and Alvares kids have. Some of them may not be as confident or well-rounded and might carry the limitations of their parents, she cautions.
But then Hastings hasn't had the chance to witness the Alvares siblings the way I did. The kids pitch in at the homestay on weekends. Kiara shows guests around, chatting with the staff in a mix of Hindi and Kannada. Both are adept in the kitchen. "I make pasta — tagliatelle and gnocchi — but Kieran makes the best omelettes," Kiara confesses. The highlight of our dinner is an organic salad from her vegetable patch.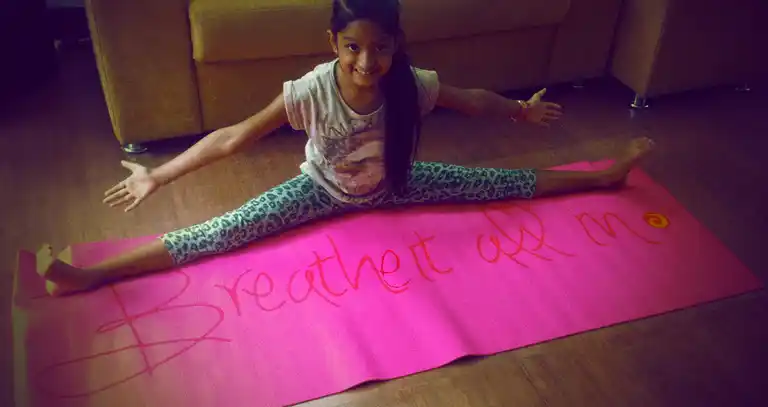 Khushi wears her personality with panache.

Courtesy: Leila Alvares
Isn't the stress of having the kids underfoot 24×7 a bit much, I ask Leila. "Isn't parenting supposed to be about quality time?" she counters. "We have a flexible schedule for yoga, studies, golf, and riding. I take them on cross-country drives to check in on a micro-financing scheme we fund."
That evening, we head off on a 10-km drive through dirt roads, then trek over hills to meet Sheela, a villager who has benefitted from the scheme. "She treks every day carrying water and groceries; she's really strong," Kiara whispers, as Sheela offers fruit from her garden and some strong home-brewed coffee.
On the drive back, Kieran says he always wanted to be a pilot until he heard about some near-death experiences from a guest who had stayed at the resort. "We get lots of career advice. I'm figuring out all the things I don't want to do," he grins.
The day ends with curiosity, bonhomie, and laughter, just like it started. I wonder if I should ask Leila, if she thinks she made the right choice. But as I watch Kieran set the perfect dinner table, and Kiara chat up the CEO of a travel company visiting the resort, I think I already know the answer.
Jackie Pinto is a Bangalore-based lifestyle writer, a self-confessed carnivore, and an intrepid traveller. Her work has been featured in The Deccan Herald and The New Indian Express.