This year is ending much the same way it began: With widespread marches that will go down in history. Their sheer number, variety, and scope has compelled me to call "protest" my word of the year.
This week, I found myself standing amid a crowd of protesters, raising our voices against the Citizenship Amendment Act and expressing solidarity with the students in Jamia Millia Islamia and Aligarh Muslim University, whose own protests were brutally repressed by police. But my fellow protesters and I were not alone; similar demonstrations were taking place on campuses and in public places across the country, ending this year much the same way it began: With widespread marches that will go down in history. Their sheer number, variety, and scope has compelled me to call "protest" my word of the year.
As I write this, there are protests erupting all over India against CAA and a possible pan-India NRC. They started in the North-east where the impact of the contentious Act will be first felt and have now spread to every corner of the country. In Delhi, Bangalore, and several other cities Sec 144 was imposed on Thursday. Historian Ramchandra Guha was detained in Bangalore and Swaraj India leader Yogendra Yadav and Umar Khalid were taken into custody at the Red Fort in Delhi. There has been an internet shutdown and a cellular blackout in the national capital. It feels like a revolution right now.
The mood of at least a part of the country – the one which is angered by the establishment's rather discriminatory policies – has been sombre for the better part of the year. Just a few months ago, there were demonstrations in support of Kashmir's special status being abrogated. And while these made it to the frontpages of newspapers in India and internationally, lying under the main pages were transport strikes for two months in Telangana, nurse strikes, and banking strikes. Even lawyers went on strike in Delhi against police action. And citizens in the infamously apathetic Mumbai came out in droves to protest the axing of the Aarey Forest. In November, thousands of forest dwellers protested in Delhi, fearing eviction.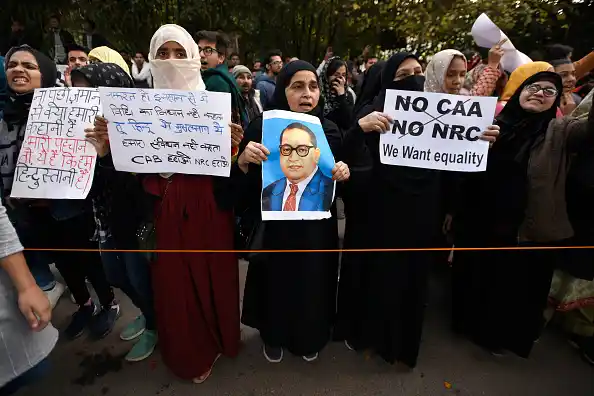 A protestor holds a poster of BR Ambedkar among sudents and local residents holding placards and raising slogans as they take part in a protest against the Citizenship Amandment Act (CAA) and National Register of Citizens (NRC), at Jamia Millia Islamia University, on December 18, 2019 in New Delhi, India.

Photo by Burhaan Kinu/Hindustan Times via Getty Images
Sadly, India was also home to the dark side of protests (and I don't mean police brutality). Every time a person close to those in power is accused of rape, protesters rally around him. In February, the right-wing Hindu Ekta Manch carried out a march in Jammu's Kathua, demanding the release of a special police officer accused of raping and murdering an eight-year old girl. In Kerala, as one section was protesting so that they might be allowed entry inside the temple, a few women are okay following blind faith. And only last month, students of Banaras Hindu University protested a Muslim Sanskrit faculty. Oh, well, it's a free country (conditions apply).
Outside our borders, similar tides of unrest were sweeping across the globe. When I look back and wonder what Silicon Valley's most impactful product over the past year or so has been, it's not a fancy new device nor work on AI that comes to mind. And it's not that stupid Tesla Cybertruck either. In fact, it wasn't a product at all. It was workers standing up against their employers, calling them out for questionable practices.
Late last year, 20,000 Google employees staged a global walk-out over the company's handling of sexual misconduct. This year, that spilled over to other companies. Amazon workers finally had enough of their management's inaction over climate change, and mistreatment of warehouse staff. Facebook saw its first major protest by employees who had enough of their company's complicity in political manipulation. Employees at Microsoft, Salesforce, and Google have protested over projects with the Trump administration, many of which deal with issues such as stopping refugees at the border, and surveillance — out of step with the normally progressive ideals of your average tech employee.
Of course, while discussing protests in 2019, we cannot overlook the biggest of the lot: Hong Kong. At over 180 days (and counting), the Hong Kong citizens' protest against overbearing Chinese influence was monumental in terms of turnout and coverage around the world. At a time where companies from Apple to the NBA are kowtowing to China, it was spectacular to see everyday citizens risk everything to stand up against the bully, and showed a glimmer of hope.
Protests are a significant signal for changing mindsets and hopefully leading to progress, even if it is only for amplification via media.
Other political protests cropped up in several places. Some had results — such as Iraq (PM resigned) and Ecuador (cancellation of austerity package). Thailand saw its biggest protest since the 2014 military coup. We even have a new country (Bougainville) as a result of a protest, and might soon see Catalonia join that list. People are clearly fed up with inaction and corruption; the fight is still on in Chile, Egypt, Lebanon, Iran, Indonesia, Peru, Haiti and more. Even rich economies aren't safe, France's yellow vest movement showed the income disparity in the developed world. The United States was a hotbed of protests this year, for issues ranging from gun abolition to abortion rights to Trump's impeachment. Heck, even the beacon of liberalism, the Netherlands, had its share of protests. But it's heartening that many of the places that did see protests are not places normally associated with freedom of speech. Iraq, for one, saw women raising their voice.
Moving away from politics, the other unmissable protest has been the Greta Thunberg-inspired climate change marches happening around the world. It's estimated that close to eight million people from 150 countries took part in raising awareness, or at least made it clear to their leaders that this is an issue the electorate cares about. While many criticised Greta, it's important to understand she acted as a talisman and the marches would not have happened without her. TIME Magazine seems to agree, declaring her their person of the year.
Moving back to business. If you type in "Uber pro" in Google search, you would normally be autocompleted to "promo code". This year, you'd find "protests". There were global protests by app-cab drivers from the US, to India, to Indonesia, for the same issues. Zomato is unlikely to forget its delivery executive protest and the restaurant #logout movement in a hurry. All these point towards a broken business model that prioritises Excel projections over employee sustainability. Employee/partner protests are another headache for startups who now have to think about profitability after the recent WeWork fiasco. Entrenched companies aren't safe either; traditional shopkeepers in India went up in arms (again) over Amazon and Flipkart, who increased their sales despite a general slowdown.
Phew, that's a lot of protests! And unlike the Arab Spring of the earlier part of this decade, there is no common thread connecting them all, nor can we say one has led to the other (The impoverished Sudanese surely didn't look to Silicon Valley for inspiration before taking to the streets). Perhaps that's what makes this year unique — that so many varied protests would emerge, independently, for a variety of motivations. However, for those searching for trends — especially heartening ones, in a depressing year — can find solace in youth activism. The biggest global protest (climate marches) and the biggest domestic one (Against CAB-NRC) were both initiated by students, underlying a trend that much-maligned millennials are standing up.
Protests are a significant signal for changing mindsets and hopefully leading to progress, even if it is only for amplification via media. Maybe it's also that in this day of the armchair activism and internet trolling, there is actual value in seeing people go out on the streets.
Forward march then, to 2020, where we will hopefully see a different word of the year.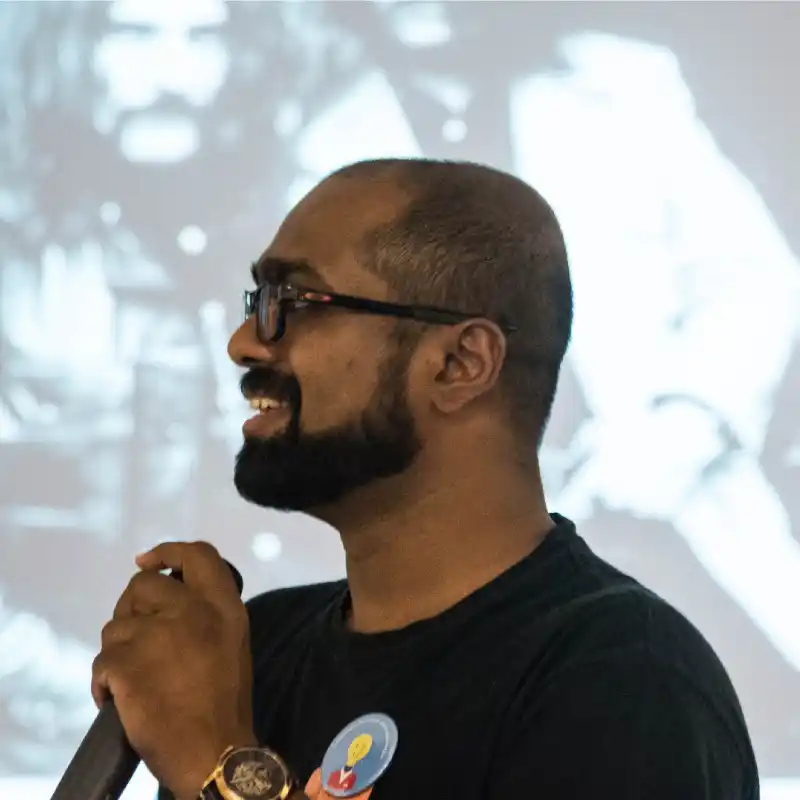 Deepak 'Chuck' Gopalakrishnan is a freelance writer and marketing guy who lives in Mumbai. He runs two podcasts (Simblified, The Origin Of Things) and a satire newsletter (The Third Slip). He used to work in advertising until his soul couldn't take it anymore, and now spends all his time annoying his cats, listening to prog-metal, cycling and writing bios of himself in third person. He has an irrational love for cold water and Tabasco.