The indoor garden has become the bean bag of today – every millennial home has one. We're taking the concrete jungle, and reclaiming it for #MotherNature.
When I first moved out of my parents' house, I was thrilled at the prospect of finally getting a pet. Free from my mom's diktat of "it's either a dog or me," I was ready to bring home a furball and spend the next few years rearing my baby. But, the best-laid plans of mice and men… Parading all over my pet plans were Mumbai's landlords. I quickly discovered many are more averse to dogs and cats than they are to single women or unmarried couples. My dreams were crushed.
But in life, when one doggie-door closes, another swings wide open… and leads you to an indoor garden.
Indoor gardens today have truly flourished. There's more to them than the solitary tulsi or hibiscus that grandma planted for her puja purposes. Creepers, ferns, vines, succulents, flowering plants… the foliage of these rapidly spreading urban jungles is as diverse as the number of loud jackets in Ranveer Singh's closet.
The indoor garden has become the bean bag of today – every millennial home has one. Except, this staid, placid-sounding activity of indoor gardening has been snazzily rebranded as "rewilding". That's right. We're taking the concrete jungle, and reclaiming it for #MotherNature.
The idea to rewild our tiny flat came to my girlfriend, and at first I wasn't too keen on spending my weekends digging the soil and getting rid of weeds. I was still dead-set on getting a pet. How could a money plant ever compare to a mutt? But my girlfriend went ahead with her plans and now, twelve saplings later, I think my lazy self is better off not waking up in the middle of the night to take a Coco or Charlie for a poo, or being worried sick about them all Diwali.  
Plants might not give you the welcome that pooches do when you return home, but they are dynamic in their own way; they are unflappable. My first bougainvillea plant arrived at my house with just two blooming flowers, and stayed that way for the next couple of days while sitting over my AC. A little reading told me that bougainvilleas need abundant sunlight, so a switch in seat and voila, I had lush branches laden with bright pink flowers adorn my balcony. They in turn attracted some beautiful Monarch butterflies to my window.
My house garden isn't technically a zen garden, but for me it serves the same purpose.
Now, I've found my peace with my green-leafed, sunlight-craving beauties. Plus, my plants have shown me how unprepared I am to be responsible for anything that is mobile and sentient in more obvious ways. I've knocked my little cactus off its perch on the mantle more times than I care to admit, frantically putting it back in its pot and wiping away the loose soil before my girlfriend notices. But over the days, I've gotten better.
The cactus has remained undisturbed for nearly a week now. I also remember to water my little green babies every day before I leave the house and move them inside if the sun gets too harsh. My plants are giving me lessons in how to be responsible, in their own little ways. It's like this essay in The New York Times points out, "A plant, then, is fertile ground to act out the trial and error inherent to emerging adulthood, a low-risk investment in discovering the type of person you are."
As we grow older, the weight of responsibilities can start to feel oppressive. There's work deadlines to be met, social obligations to fulfil, and bills to pay, let alone the exhausting amount of effort that goes into not having a meltdown from all these responsibilities. But the plants take you out of your own head, insulating you from some of city life's more stressful aspects. There is a strong grassroots-level permaculture movement as well, where people meet up to learn about what kind of plants to cultivate in an urban centre and attend workshops to turn their black thumbs green.
I'm not a member of the movement yet, but I do see the benefits in having a house filled with greenery. It's soothing on the eye and blocks the view of the neighbour's underwear hanging on the clothesline.
My house garden isn't technically a zen garden, but for me it serves the same purpose. A single yellowed leaf dropping off the vine reminds me not to hold on so tightly to my worries, and the brilliant marigolds finally blooming showed me that good things will happen in their own time. I've learned to let go, and also to let it grow.
It all seems perfect. It feels good to have some oxygen-producing greenery to look at when I get home after riding my bike behind the noxious exhaust pipe of a bus. My bougainvillea corner might not be declared a protected sanctuary anytime soon – but from where I stand, it might as well be.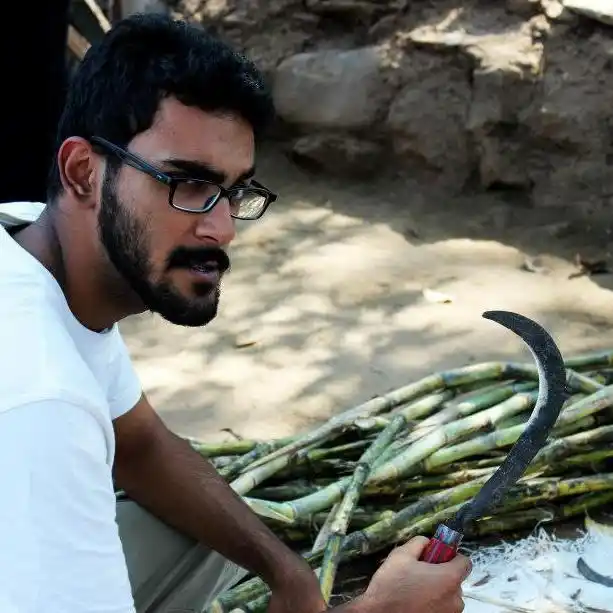 Dushyant Shekhawat really likes his mustache. He grew it himself. You can find him on Twitter at @SeriousDushyant.