Anthony Gonsalves came home from the Gulf and started a business. When that failed, he turned investor. That's when shit hit the roof.
Anthony Gonsalves is your typical, unhappily married average Joe. He's stuck in a dead-end job, making a little over 25 grand a month. His son is a year away from graduating college and entering middle-class serfdom. His wife, a homemaker, is the poster girl of sacrifice, silently craving the creature comforts that media peddles night and day.
That's how you'd write him off in a hurry. But Anthony, pushing 60, has a secret.
There was a time, the early 1990s, when Anthony worked in the Gulf. With his tax-free income, he balled hard. Single malt scotch, King Edward cigars, bespoke clothing, family vacations – the works. The wife was happy, the kid was still just an idea, and life was good.
But being away from home in a strange land had begun to gnaw away at Anthony. He had longed to be with his wife. So against sound advice from friends and his own better judgment, he quit his high-paying job to return home. The only missing ingredient in this heart-warming saga – financial planning.
First came a year of unemployment, which he spent listening to his favourite music, making mix tapes of it, and drinking beer at lunch. Then shit got real. Blue-collar work in the Gulf can buy you lifestyle, but in India, it barely buys you a life.
Anthony's job at an elevator company was a dead end. The scotch gave way to DSP Black and the cigars to chotta Goldflake. The ignominy of this fall exasperated Anthony, and one year on, he decided to take the leap and start his own business. The initial plan was to rent out audio equipment. But that bottomed out before he could say Sennheiser. So Anthony went back to work, more miserable than ever.
That's when City Limousines happened. (If you think this is where the story becomes a happy one, you're wrong.)
City Limousines, floated by two Mumbai-based businessmen, Sayed Mohammed Masood and Chand Kauser Masood, snared the Anthonys of the world by using their frustrated ambition against them.
Anthony went through the classic phases of being scammed – first came the denial, then desperate hope, and finally, anger, directed primarily at his wife.
They devised a simple scheme, that required guys like Anthony, investing a large sum of money, to purchase cars. These cars would then be rented out and the profits shared with the investors at the end of the month. The kicker – the car would be transferred to the investor at the end of five years. It all seemed pretty straightforward, put in x, get y, and then a car at the end of five years.
Anthony had seen the cheques roll in at his neighbour's house, so in a classic case of middle-class monkey-see-monkey-do, he jumped in head first, putting down a principal of ₹5 lakh —  more than half his savings.
Anthony never saw the car, but the cheques of ₹15,000, coming in every month, were enough to make him think everything would be right again. So he put down another ₹3 lakh in his wife's name. The money came out of his savings in fixed deposits, and his son's college fund, but Anthony had stars in his eyes. He dreamed of a house bigger than the 10×10 cubbyhole he lived in, the best medical college for his son, and vacations that weren't in Matheran or Mahabaleshwar.
But, for the second time in this story, shit hit the fan.
The cheques began to bounce, the returns slowed to a trickle, and then stopped. The curtain fell when all the promoters suddenly disappeared. People began pulling out, taking whatever money they could. But Anthony simply had too much riding on this, to quit at the first sign of trouble. So he hung on. Hoping against hope that everything would be fine and the money would start rolling in again.
Then one morning, he opened the newspaper and read, "Masood brothers arrested for cheating investors." Masood had built himself a nest egg of ₹400 crore.
Anthony was fucked.
***
P T Barnum, the American circus icon, once said, "There's a sucker born every minute."
In India, they seem to be born by the second. Ponzi schemes, knock-off designer wear, and adulterated booze shops flourish in every corner. The average Indian investor, desperate to break the monotony of his middle-class existence, has always had an incredible weakness for anything that can help him short-circuit the ride. Like the proverbial suicidal moth who can't help but be attracted to the seductive flame, middle- class India regularly crashes and burns to a heap of ashes, some even going for it more than once. The PACL scam that managed to hoodwink 55 million investors to the tune of ₹45,000 crore still seethes in public memory as does the mighty ₹36,000 crore Sahara scam. What people miss in these big numbers are stories of the small investors like Anthony who never recover from the blow.
Anthony went through the classic phases of being scammed – first came the denial, then desperate hope, and finally, anger, directed primarily at his wife. (To this day, he blames her for allowing him to gamble away his hard-earned money.) Gradually, the feeling of acceptance began to creep in, with Anthony coming to terms with the fact that he had lost. Frequent trips to the police and lawyers slowly faded away to an occasional phone call because they were cutting into valuable working hours.
***
Five years later, Anthony is working at Mahape, an industrial area in Navi Mumbai that's a three-hour bus ride from his house. At 6 am, when most people his age are taking a morning stroll, Anthony leaves for work with his bag slung over his shoulder. He treats everyone with suspicion, even his family. A shadow of his former self, he is now just another rat in the race. An older, weaker rat. Last he heard, a few depositors had been awarded their money plus compensation by a consumer protection forum. He plans to file an appeal. And he is looking more positive. Positive enough to merit another drink of Blenders Pride.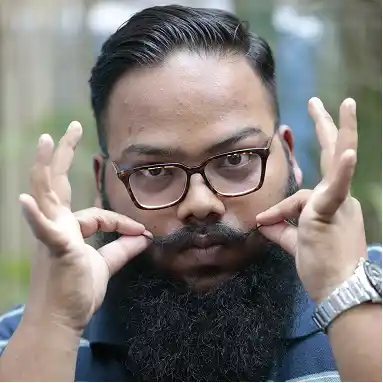 Damian loves playing videogames. If all the bounties he collected slaying zombies were tangible, he wouldn't need to write such bios. Seriously though, Damian used to be a cook who wrote, now he's just a writer who cooks.