The true story of a paedophile baba who exploited desperate families, promising a "paiso ki baarish". Arré tracks down the events that led to his arrest.
"I'll give you ten grand to set it up," Gopal said, trying to convince Janki Hindale.
Janki looked at the diamond jeweller's assistant dressed in a sharp white shirt, a well-fitting pair of trousers and shiny black shoes. She could certainly milk him for more. He looked desperate. His seth had run into massive losses recently – his diamond business was floundering. But Janki had to be chary. She wanted to get the asking price right: Too little and she would lose the chance to squeeze this obviously loaded party, but if she quoted too much, the deal would go to Razia. Her arch-rival was also trying to set up a puja for Gopal.
"Alim has told me only you can do this," Gopal continued pleading.
"Maybe," Janki said cagily, still deliberating on the monies, knowing fully well that she could set up the meeting whenever she wanted. She was, after all, one of Baba's most proficient fixers. She had persuaded more than 10 parties to seek his help, many more than Razia had managed. "But you know that Baba will need a girl to perform the puja along with all the puja samaan."
"Yes, yes, I know. So ten thousand?" he asked hopefully, his eyes begging her to give in.
"Twenty thousand," she blurted, her heart hammering. She'd never quoted such a big price.
"Ok," Gopal said. "But you get the girl. And make doubly sure she is a virgin. And now, no more delays. My seth is after my life."
"Ok, ok," she drawled, making it sound like she was doing him a favour. "I'll call you soon for an advance."
As soon as an elated Janki hung up, Gopal dialled another number.
***
When Inspector Madan Bhallard of the crime branch in Thane, on the outskirts of Mumbai, heard about the conversation, he cautioned himself against raising his hopes. The crime branch's child protection unit had received a tip-off on Baba three months ago, but until now the chase had always hit a dead end.
Bhallard was itching to get his hands on this self-styled godman. He sometimes dreamed of thrashing him. Baba's scam was woefully simple and yet unutterably wicked. He would use go-betweens like Janki and Razia to promise salvation to families on the edge of desperation. Salvation would come in the form of a veritable "paiso ki baarish" if, and only if, he performed a "special" puja during intercourse with young virgins. During this contact, a djinn would enter his body and grant all their wishes. What made Bhallard's blood boil was that these girls were rarely over 14 years of age.
Gopal, Bhallard knew, was good at undercover operations. His NGO had rescued scores of minor girls from the clutches of flesh traders and conmen. But he'd never used an innocent girl as bait before.
Gopal was terrified that if the arrest operation went south it would put the girl at risk. Bhallard didn't like the idea either, but they had to catch the Baba red-handed to book him under the Protection of Children from Sexual Offences Act. They couldn't do it without a minor girl.
Janki called Gopal two days after their conversation, confirming the puja. "The girl is from Mumbra. Baba is coming to Dombivli, but the girl's family is being difficult," she said. Bhallard was listening on another line and signalled Gopal to offer more money.
"I'll give you 3,000 more. Get her," Gopal said.
Janki rose to the bait. "Okay, let me try. Thankfully, the grandmother is on our side. She's pushing the girl for the sake of her brother. Their father is unemployed. This should make her push harder," Janki said.
When Gopal hung up, his face was ashen. He felt for this girl who was being emotionally blackmailed by her grandmother to take on a burden that was not hers. He had met many such families. He knew the grandmother would eventually have her way. In a family with no source of income, three grand was too big an amount to turn away. Even if it involved sleeping with a paedophile tantric.
The girl will be fine, Gopal promised himself, even as his heart hammered at the responsibility of her safety.
***
Mumbra railway station, not far from Mumbai, was picked as the meeting point. Janki had asked Gopal to be there sharp at 11 am. He had reached before time in anxiety, pacing the platform nervously as he double-checked his button camera, the train pass, and the charge on his cell phone. All was in order. Bhallard and the team were stationed outside in an unidentified van. Gopal kept checking the station clock every few minutes: 11:15, 11:25, 11:40, 11:50. Time seemed to crawl but there was no sign of Janki.
Gopal's heart sank at the thought that she had bailed on him.
"Twenty two girls have come to me until now and the djinn has always showed up. The first time around, the djinn showers you with ₹400 to ₹500."
Just as he was about to message Bhallard admitting failure, he saw Janki hurriedly climbing up the stairs leading to the platform. She was dragging a thin-faced, dark-skinned girl, who looked no more than 15. On spotting Gopal, Janki signalled him to get onto the train arriving on Platform 3. It was a fast train to Dombivli. Gopal gave Bhallard the go-ahead.
As the three of them held on to the handles of the moving train, the girl started sobbing. "I don't want to do this," she whimpered in Hindi. "Chup ho jaa, Sanam," said Janki sharply. "You're being selfish. Remember what your grandmother said. Your brother needs the money if he has to continue his studies." Gopal looked away, feeling wholly responsible for the innocent girl's tears. He wished he could put Sanam at ease, assure her that nothing would happen. But he didn't dare say a word.
Outside Dombivli station, they hailed an autorickshaw and instructed the driver to take them to Manpada Road where they entered the grounds of a lower-middle-class residential settlement with squat buildings. The facade of most of the yellowish buildings was splotched with water and twisted electrical wires hung between them as grim decorations.
Janki instructed Gopal to wait in the compound with Sanam for a confirmation call. He pretended to play on his phone, as he messaged Bhallard the address. After 20 minutes, the two were summoned upstairs.
The man who opened the door was wearing a checked lungi and a Rupa sando. Swarthy-faced with a thick beard, his stomach protruded heavily over the white cotton. He looked like he was in his mid-forties. Without saying much, he instructed the trio to sit on the floor where incense sticks, betel leaves, and vermillion were set up for the puja. Gopal immediately resumed the role of the desperate diamond owner's assistant and began asking Baba if the ploy would indeed work.
"What do you mean?" Baba bristled. "Twenty-two girls have come to me until now and the djinn has always showed up. The first time around, the djinn showers you with ₹400 to ₹500. It might sound low but it indicates how much money you will be rewarded with in the future. Four to five lakh. Paisa chappar se aata hai," he said, pointing to the ceiling indicating that it will rain money. "But, the girl has to come back, again and again. That is my only condition."
Janki, keen on justifying her commission, chimed in, "Yes, I've seen it myself. Paiso ki baarish."
Gopal didn't acknowledge her. His head was still ringing with the figure 22. This man had raped 22 minors. He fought the impulse to beat the Baba to a pulp.
Baba got down to business. He lit an agarbatti and pretended to go into some sort of a trance, instructing all present to close their eyes. Gopal peeped from under hooded eyes. Baba was looking right at him. "Shut your eyes," he snapped, and this time Gopal complied. The chanting began and Sanam started weeping, louder than before.
Gopal was petrified that she would back out. He needed her to play her part. They would never get this chance again now that Baba had seen his face. Gopal tried to calm her down. "Kuch nahi hoga, nothing will happen," he whispered, but there was no stopping her tears.
Baba didn't have patience for this melodrama. "You're going to do it anyway in a year or two. All girls behave like this. By the time they are in Class X all of them are gone."
Gopal was seething by now. He got up abruptly.
"We will wait outside. You do your business inside," he said. Taking the cue, Baba picked the snivelling teen by her elbow and took her into the next room. Gopal watched her go with a sinking heart. His eyes fell on his digital watch. It was 2:10 pm.
The timing of the raid was critical. He had to judge it with precision. If he stepped in before Baba touched her sexually, it would be difficult to invoke POCSO and the whole operation would collapse. But at the same time, the consequences of being late were too terrifying to even think of. He figured he had anywhere between five to seven minutes. Six minutes, he decided, was the sweet spot.
His eyes were glued to the watch as the seconds ticked by. The crack team was waiting right outside the door, itching to break in. They had clear instructions not to knock or ring the bell. As soon as the digits on his watch changed to 2:16, Gopal rushed to the front door and swung it open. A dozen men barged into the small space – eight policemen led by Bhallard and six volunteers from the NGO, accompanied by a female social worker. Janki was stunned.
Gopal pointed to the bedroom door and Bhallard rushed to break it down. The sadhu was in his lungi, lying over Sanam, with his hands under her kurta. Before he could get a sense of what was happening, Bhallard pulled him up by his baniyan, and slapped him hard. "I'm a bhakt," Baba shouted, "Swami Samarthan ka bhakt," he said, pointing desperately to the photos on his mantelpiece. Bhallard whacked him again, this time bringing the tantric down to his knees.
Gopal gently led a cowering Sanam out of this chaos and closed the door behind him. She was shaking, her eyes wide with terror. He took her to the kitchen where a gentle-faced social worker waited with a bagful of sweets.
He watched from the door as the social worker tried to calm her down. Sanam, he knew, would be taken for counselling and she would soon be back with her family. He didn't want to think about what would happen after that. Maybe her grandmother would push her into another such racket soon, or maybe, next time her parents would resist harder. All he knew was that at least today, no harm had come to her. But Gopal waited.
Behind him, Bhallard and his boys were rounding up Baba and Janki, and beginning the process of formally charging them. Gopal would be called in to give evidence against Janki and Razia at some point and the rest would be paperwork. Baba and his cohorts would be gone for good.
In the kitchen, Sanam stopped crying and reached for a piece of Cadbury chocolate. She looked up at Gopal with a tentative smile. He smiled back and slipped out of the flat, making his way into the bright sunshine outside.
His job for the day was done. Tomorrow, another story would unfold. And maybe, another Sanam to rescue.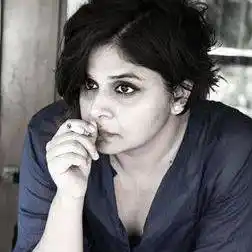 Sharan Saikumar is the Creative Director at Arré.