Moin is a gangster from Mumbai's Sewri neighbourhood, who worked for Chota Shakeel. The sharpshooter told us about his first hit and how people peed their pants when faced with a gun.
Moin* was always around when I was growing up. He was the "bhai of the illaka" and we turned to him every time we smelt trouble. If the tap ran dry, we called out to him; if the car broke down, he came and repaired it. And in case of an emergency, it was always Moin to the rescue. I remember the day my grandmother suffered a paralytic stroke. Moin was the one who carried her 90-kilo frame to the ambulance. That's a memory from 13 years ago. A year on, Moin disappeared.
Rumour had it that he had fled the country to escape from the cops, some said he was killed in a gang violence. His family left the neighbourhood and soon Moin bhai faded from our memory.  
He surfaced eight months ago. He looked wiry as ever, but I couldn't recognise him. His arms bore scars as if he had been in a battle. His cropped hair was now an untidy ponytail, his eyes were lifeless and hollow.
Moin wasn't on the run, in fact he had spent the last 12 years in prison. What had turned a do-gooder into a gunda? I sat with him over a quarter of Old Monk and asked him everything you've always wanted to ask a real-life bandookbaz.
Tell us the story of your first crime.
During summer, I would visit my village in Satara with my grandmother and brother. My brother would stealthily pick wallets of fellow passengers to and fro, and my grandma would ask me to observe silently. When I was 10, she told me that I was ready for the job. I picked my first wallet on a train to the village. I was even better than my brother.
From there how do you go on to become a gang member?
I'd felt like a superhero each time I picked pockets and would not get caught. Soon, I thought I could get away with anything. During galli cricket games, if my friends and I did not have our way, we'd pick up the stumps and beat up people without hesitation. Over the years, I earned a reputation of a hard-ass. I came to be known as someone who shouldn't be messed with and that worked as my application to the underworld.
Who was your first boss in the underworld?
One April morning, this was in 1999, I was having my morning chai at the neighbourhood tapri, when a taxi pulled up next to me and two men demanded that I get in. They took me to a chawl in Lalbaug and Daddy himself asked me, "Kaam karega kya?"
I refused because I didn't want to work with a Hindu boss. I was beaten with iron rods and bamboo sticks, had beer bottles lobbed at my head and was kicked by his goons until I passed out. They dropped me home in the same taxi and my family sent me to live with my relatives in Mumbra, as they feared for my life. There I befriended members of Chhota Shakeel's gang and they recruited me. If I hadn't joined Shakeel, Daddy's men wouldn't have spared me. What choice did I have?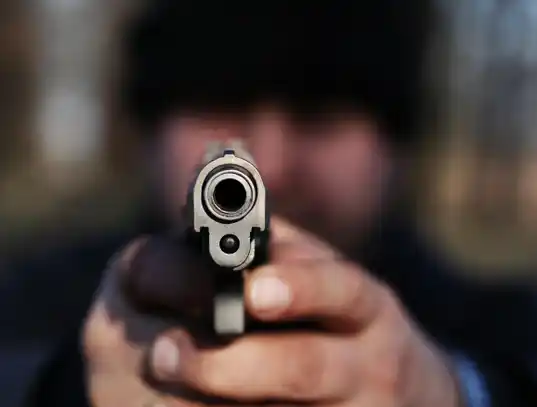 I had just wielded a gun before, never fired it, but that day I pressed the trigger. The bullet pierced his back, he spun around, and collapsed. He lay there motionless, bleeding under the yellow glow of streetlights. That day a part of me died.

Julie Mcinnes / Getty Images
What's a regular work day like for a member of an underworld gang?
We'd hang out at the adda playing cards or carom until we got a call from the bosses. In my six-year stint as a gang member, I did odd jobs that mostly involved being a bagman – moving money from one place to another. Seeing how I never had sticky fingers and kept my head down and did what was told, I moved up the ranks as a bodyguard, guarding one of the gang's senior members. Over the years, I became a trusted aide. I would drive hitmen around the city and ferry them to their targets. I was given the task of waving a gun, which was sometimes not even loaded, to scare the targets during extortion runs. But I had no practice in firing weapons.
Tell us about the first time you actually shot someone.
Pointing a pistol for the first time at someone tells you everything you need to know about a person. Some scream, some are too terrified to speak. Peshab nikal jaati hai kisi kisi ki. (Some people pee in their pants.) A lot of work is simply brandishing the gun, seldom using it.
I've actually shot only one person. A hit was planned in Ghatkopar and the target was a shooter from a rival gang. I drove Salim* to the bar and was waiting outside. A few minutes later, I heard shots being fired. The target stumbled out of the bar clenching his bleeding belly. I had a kattha which would scream like a banshee if I fired it. But I didn't want him to escape. I had just wielded a gun before, never fired it, but that day I pressed the trigger. The bullet pierced his back, he spun around, and collapsed. He lay there motionless, bleeding under the yellow glow of streetlights. That day a part of me died.
Do you like what you do?
No. There's no peace of mind. And lots of anxiety. To take my mind off the violence, I took to charas. After the Ghatkopar shoot-out, I would call in sick everytime there was a job to be done. But that didn't work. I was threatened to kill or get killed. 
How much did you make as a sharpshooter?
I made anything from 10k to 50k depending on the commission and work – less if I was a driver, more if I pulled the trigger. But most of my wants were taken care of by the gang. So the money that was coming in was a bonus.
Have you ever been caught?
On May 9, 2005, I was driving back from Gujarat after picking up a cache of weapons. We crossed all the check points as palms had been greased, but at the Dahisar check naka near Mumbai, the cop on duty was reassigned. Unexpectedly, the car was stopped by the police. My gang members and I instinctively reached for our guns, but we found ourselves surrounded by Mumbai police's encounter specialists with AK-47s within seconds. That day I thought was the end of me. I thought I'd be shredded to ribbons. But we surrendered peacefully and I spent the next 12 years shuttling between Yerwada Prison and Arthur Road jail.
Tell us about your first day in jail.
I was taken to a secluded room at a secret location and was tortured for information for three days straight. The police beat me until I passed out, brought me back to my senses with an ammonia tablet under my nose, and then repeated the torture. They made me confess to the crimes I had committed and even to the ones I had not. In the end, I was brought to the TADA court, barely a few kilometres from where I grew up, and was sentenced to 15 years. I was acquitted of murder, which I had committed, and convicted for charges I had not committed. That's the legal system for you.
So now that you've done your time, are you going back to crime?
No. I'm done. I've tried getting a license for a rickshaw as well an Ola, but the verification is my biggest hurdle. Today you need a verification for everything so nobody will give me a job. For now, the Bombay Black is keeping me company.
* Some names have been changed to protect their identities.

Damian loves playing videogames. If all the bounties he collected slaying zombies were tangible, he wouldn't need to write such bios. Seriously though, Damian used to be a cook who wrote, now he's just a writer who cooks.