This week, the Kerala flood story took on new dimensions. Folks in distress in the state are the only ones having a worse time than Navjot Singh Sidhu and Donald Trump. What else did you miss out on in the past seven days?
Hello and welcome to TL;Dr., the weekly newsletter for the lazy millennial written by two lazy millennials. In fact, we are so lazy that the title of this column is an acronym with no expansion. This week, in pioneering journalism and in a desperate attempt to get some comments from you lazy readers we have done no fact-checking. No wait, that's just mainstream journalism in 2018. But, we are sure your capacity for outrage far exceeds your overall laziness so bring on your comments, boys and girls. Let's go!
India
Dam-cell in Distress: The rain finally abated in Kerala this week and the rescue operations have been completed with over 400 lives lost and a million people ending up in rescue camps. The long-haul rehabilitation is underway with Kerala saying the central government needs to help more and then great drama unfolding with the centre saying it cannot accept the 700 crores offered by the UAE because of its policy and then a debate over whether the offer was made or not. However, the people of Kerala turned out to be the real heroes  with everyone's humanity triumphing artificial divides of religion, caste, and culture. The state celebrated Eid and Onam with temples, mosques, and churches opening up for people of all religions.
The scales are falling from our eyes: Here's a fun story – first you change the GDP calculation scale so that the numbers look better than they used to and cheer about how you're moving the economy forward at a rapid pace. Then when you need to compare with data from the previous regime by applying the same scale and find out that the GDP growth was actually higher during the non-Achhe Din phase, you call the report a Work In Progress and remove the report and relegate it to a corner after tagging it unofficial. Pure genius from the people running our nation. Now you know why the synonym for scale is ruler.
Godawful: In a move from the 17th century, Punjab this week decided to bring in a tough law against sacrilege of religious texts punishable with life imprisonment. Lawghable! In unrelated news, we are starting a religion and this series is our holy text. If you leave hateful comments in the comments section the IPC will get you.
In 2018 in India, it seems there is no such thing as a free hug. The latest in the list of hugging offenders, apparently, is Navjot Singh Sidhu.
Hug? Ugh!: In 2018 in India, it seems there is no such thing as a free hug. The latest in the list of hugging offenders, apparently, is Navjot Singh Sidhu. He attended Imran Khan's swearing-in in Islamabad and cordially hugged the Pakistan Army Chief General Qamar Javed Bajwa and ended up with, wait for it, a case of sedition against him.
You da bomb!: In 2018 in India, it seems If you want gau rakshaks to take out a parade in your name, then just plan to bomb public places. That helps. It also helps if you belong to a group whose members were already arrested for the murder of a rationalist.
Around the world
Shampaign managers: It's been one hell of a week for Trump. His former campaign manager (Paul Manafort) was charged with enough tax fraud and connections-to-Russia that could get him 80 years in prison (unless the President pardons him. Which he might very well, but his pals advise him not to, as it'll draw him closer to checkmate in the Mueller investigation). Also! Trump's personal lawyer (Michael Cohen) pleaded guilty to several things – but most importantly, using campaign money to pay off the several women who he slept with during the campaign for silence. This means only one thing: their stellar credentials will interest Indian parties for elections in 2019.
"I'm peach", Impeach?: It gets worse (better?). The CEO of close-to-Trump National Enquirer (who had bought the "rights" to the above hush payment story with the idea of killing it) has been granted immunity by prosecutors. Wait, there's more! The Attorney-General (who Trump hates for not originally taking up Mueller's job, which meant the investigation would have died) told him to fugoff, saying the Justice Department will not be influenced – then he got some love from Democrats, something that's never happened. All this has led to Trump going on air discussing how bad things would be if he were impeached (which is kinda true, Mike Pence as the American president could be even worse).
Putting the goon in Rangoon: Just how bad is Myanmar's reputation over their treatment of their own people, the Rohingyas? One hundred and thirty two MPs from Indonesia (part of which is under Sharia Law), Malaysia (who cracked down on human rights defenders), the Philippines (well…), Singapore (homosexuality illegal), and Timor-Leste (huh?) are trying to take Myanmar to the ICC. No, not that ICC, the International Criminal Court – if rewarding a country with cricket for killing its own people was a thing, India would… Ok, best to end this joke here.
Down Blunder: Something happened in cheerful, beer-guzzling, happy Australia and a conservative who opposes same-sex marriage and immigration is their new Prime Minister. Oh well, given he's the 6th PM in a decade, maybe we won't have to worry that much…
Business
TMI (Trademark Information): Procter & Gamble want to trademark LOL, WTF, NBD, and FML in order to maybe create brands out of them. Now you know what the F in FMCG stands for.
Target Audience #ThisIsNotAnInstruction: Facebook is going to rate users basis how well they flag fake news. This… might not end well. And this week in FB desperately trying to regain trust: Removing 5,000 terms that would help advertisers target by religion / race / culture.
Elon Wolf: "If you have anyone who can do a better job, please let me know. They can have the job," Poor Elon Musk on Tesla. Looks like he is broken, and possibly broke soon.
That's it for this week. Have you discovered the 17 errors in this piece? Or is there anything else you'd like to tell us? Let us know in the comments section. Come on, tell us a joke at least. Fine, be this way. See if we care. Hmph. Until next week, may you receive as much validation as a CAPTCHA code. Bye!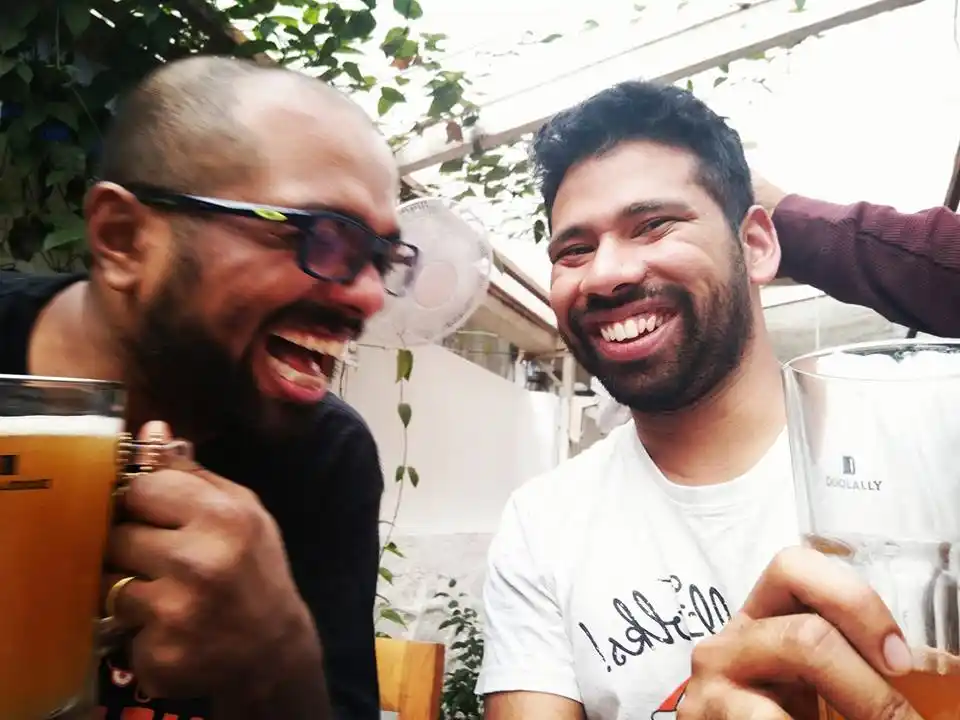 Chuck & Tony - something that sounds like a failed sitcom - are two Mallu boys who do marketingy things in Mumbai. Between them, they are crossword setter, cartoonist, pun-maker, attempted comedian, Kerala Blasters/Kochi Tuskers superfans, prog & metal lover, podcaster, The Bugle superfans, IIMK & MICA grad, and cold water aficionado. Together, they share a belief that the world is so depressing that the only way to survive is to have a laugh and make a pun. They co-author a newsletter called The Third Slip, whose best-of you see above.