When I moved to Singapore, I discovered that people were unaware of the Alphonso and boasted about the Philippine and Thai varieties. I tasted all other Asian mangoes, but guess which one emerged as the winner?
Table for Three was conceived over coffee by the three of us: Saugato Banerjee, Priya Barve, and Aniruddha Ganguly. On Sundays, after we'd be done discussing movies, work, and politics – we'd inevitably start talking about food. And get all misty-eyed and hungry. Then one of us suggested we take this beyond just conversations and share our experiences of our delicious meals and travels.
Picture this: A 70-year-old great-grandfather admonishing his 50-year-old daughter, my grandmother, to stop worrying. What was she worrying about? A four-year-old girl shimmying up the Alphonso mango tree at her great-grandfather's house in Pune because she was mango-crazy for as long as she could remember. Four decades have passed now, and little has changed.
When I was a child, Alphonso mangoes used to arrive in wooden crates at the market, or better still home-delivered by our fruitwallah. The crates would typically hold a couple dozen mangoes and you had to wade through a thick layer of hay to get to the first of them. The wonderful smell of the Alphonso would pervade the dining room and the kitchen of my grandparents' house as soon as the first layers of hay came out of the crate. What a heady aroma it was! Sweet, rich, and inviting – enticing you to come and take a bite.
I missed this smell when I left India. In this smell were all my memories of Alphonso mangoes carefully cut for dessert on still, hot afternoons. Of merry Sunday mornings with ice-cold mango milk and lunches with aamras. Of summer evening trips to Gokul or Natural for fresh mango with malai ice cream.
When I moved to Singapore, it upset me greatly to discover that people outside my homeland had not even heard of the Alphonso, let alone tasted it. The fact that India even had mangoes was unknown and usually came as a big surprise. They knew only of the Philippine and Thai varieties.
It would take an airport security dog, well actually any dog, to detect the smell of a Thai, Philippine, or Australian mango.
I survived meals in Thai restaurants with all my fellow diners fawning over mango and sticky rice. I survived being in elevators in the middle of Shanghai and seeing an animated discussion between my Filipino and Thai colleagues over which country had the better mango. I even had an Australian colleague try to throw their mango into the mix. If you've ever seen an Australian mango, you would probably mistake it for a small rugby ball. It's that huge and has a colour palette that resembles an angry tropical bird. I tried to throw in my two-bit about Indian mangoes, only to be met with incredulous looks.
So I decided to open my mind and put the Alphonso to a fair comparison versus other Asian mangoes. A trip to Mustafa in Singapore helped secure a box of Alphonso and one from Myanmar, while a trip to the neighbourhood supermarket helped secure a Thai Honey Bee, a Philippine mango, and the angry tropical bird mysteriously called the R2E2 mango.
On appearance, the Australian R2E2 dominated in size – it was double the size of the Alphonso. The Thai mango meanwhile was slim and long. My Alphonso was getting an inferiority complex right from the beginning.
On colour, things started looking better. Both the Thai and Philippine mangoes were pale yellow (somewhere between a daffodil and a slab of butter), while the Australian mango couldn't decide what colour it wanted to be. The Myanmar mango was surprisingly very close to the Alphonso in size and colour, a deep golden yellow. So grudgingly, the vote on colour had to be split between the Myanmar variety and the Alphonso.
It would take an airport security dog, well actually any dog, to detect the smell of a Thai, Philippine, or Australian mango. My olfactory nerves detected a faint whiff on the Myanmar one. But bring the heady aromas of a warm Alphonso into the picture and we had a clear winner.
I washed and cut the mangoes and laid them out on a large white plate. The Thai and Philippine mangoes held no surprises with the same pale yellow flesh, but the R2E2 from Australia turned out to have a sunny yellow shade. Even more surprisingly, both the Myanmar and Alphonso variety had a deep, golden reddish-yellow inside.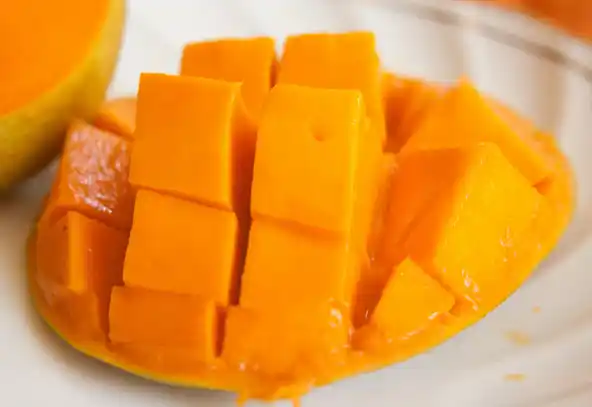 When I was a child, Alphonso mangoes used to arrive in wooden crates at the market, or better still home-delivered by our fruitwallah.
I tasted the Philippine mango first. It had a smooth texture but was fairly tart. It had none of the sweetness I usually look forward to in a mango. The Thai mango was next. Again smooth, with mild sweetness. It reminded me of another variety I have tasted in India but could not recollect. It was a pleasant experience but nothing that would make you jump out of your seat. The R2E2 was sweet but didn't have much depth of flavour. The Myanmar mango surprised me with a nice rich, sweet taste and far more depth than I would have imagined. Alas, it had none of the profoundness that comes with a perfect bite.
At that point, I suspected the Alphonso had won. However good the others looked and tasted, they paled in comparison to the richness and depth of flavour, perfection of tang and tart, and generosity of sweetness offered by the Alphonso. I picked up the slice, bit into it, and closed my eyes.
I was right. It tasted of my childhood all over again.
Childhood meant the joys of home cooked food and Bombay's multi-cultural treats. Two food-obsessed Bengalis, Saugato and Aniruddha, became friends in college and then marrying Aniruddha meant gastronomy would be a firm part of our lives with our cooking, travel, and bringing experiences from our travels back to our kitchen.