At 14, Armaan was considered the school's sex guru. Twenty-five years later, he claims to have slept with over a hundred women.
When I think back to where it all started, I always arrive at Miriam.
Life as I knew it got cleaved cleanly in two halves: Before Miriam and After Miriam. The "Before Miriam" phase is characterised by a horny, obsessive, and very confused young boy with a 24X7 hard on, who'd had one hurried, wholly intimidating sexual experience before being bundled off to an all-boys boarding school at the age of 14. In those cloistered environs, the sexual encounter took on mythical proportions and a crazy obsession with sex began to develop.
Those years of my early exploration were very different from the sexual curiosity that plagues teenage boys. It wasn't a sticky fingered flipping of porn magazines and dirty talk about teachers in boarding school; it was a wholly encompassing, feverish fixation that wouldn't leave me. I could be set on fire just looking at a girl walk down the quadrangle.
In those years, I turned to books to find my answers. I read everything from Freud and Masters and Johnson to Eric Van Lustbader on techniques, philosophy, erogenous zones, positions… everything claimed me, but I knew not why. I had moved from porn to looking at sex in a Freud-like "lyricism for the masses". Surrounded by 14-year-old boys, who had only the most rudimentary idea of sex, I became the school's sex guru, the pervert, the weirdo, alone in my singular obsession.
Until I met Miriam.
Seven years older, Bohemian, black-eyed, and beautiful, Miriam was part of a group of friends going up to the hills on a holiday. She'd heard about my proclivities and the sexual overtness from common friends and sat next to me on the bus. We talked about sex throughout the eight-hour journey and didn't stop for the next five days – psycho-smut babble, philosophy, obsession, nuances, positions, literature, addiction, complexes. We discussed why we were the way we were and came to the conclusion that people like us have one thing in common – we usually start young.
Like me, Miriam was at an age where her first-hand knowledge of sex came much before our understanding of how to deal with it. It didn't come to us as a theoretical construct or an abstract idea, but as a fully formed, unbelievably alive, life-altering experience, and thus embed itself as the central neuron in our psyche, around which the rest of our being developed.
For those five days, we leeched sexual knowledge off each other without having sex even once. Like me, she stood apart from her peers – people who couldn't understand her trip. But I did. After years of being labelled the "pervert", I had found someone who understood what it's like to live and breathe sex.
Miriam helped me embrace who I was openly – not just in terms chalking up the number of exploits but exploring, learning, experimenting, initiating, and encouraging conversations at social gatherings with friends, colleagues, and lovers. I've been labelled for this, and thanks to Miriam, I've learnt not to see that as a rebuff. It's simply who I am.
I still slurp loudly at the sight of a friend's wanton cleavage and shake my hips suggestively at a tight skirt. It's a performance expected of me, and one that I'm happy to give.
Miriam and I, belong to a small community you'll probably write off as sex addicts, but there are no easy, watertight definitions like that. Sex addiction, according to the mighty wiki, is "a state characterised by compulsive participation or engagement in sexual activity, particularly sexual intercourse, despite negative consequences". The first half I'm on board with, but the "negative consequences" bit is where it gets hazy. To me, using this as an attempt to explain one's behaviour, losing streak, or general douchebaggery – the Charlie Sheen cry of "it wasn't me, it was my disease" – seems like the last refuge of the desperate, charming scoundrel and one I'd never use.
Moreover, it has hardly come in the way of anything I've wanted to achieve. I may have slept with over a hundred women, masturbated with another 500 in mind, had sex in barns, altars, lifts, ATMs, and had a constant hard on for as long as I can remember, but I haven't let it come in way of my life. It has not caused my downfall in a dramatic Anthony Weiner-like situation, where his compulsion to sext rocked his career, personal life, political ambition, and credibility.
I've done well in my career and I've had long meaningful relationships with women (though admittedly I've cheated on nearly all of them and I still remain terrified of marriage). I haven't been to therapy but I've self-medicated with will power to take me through a day, and it seems to have worked. I've come to a place where I think of sex as dessert, not main course.
Life is calmer now, 25 years later. I've been in a monogamous relationship for a few years now, my longest thus far (not with Miriam, though she still remains my sex guru). I still wear my overtness on my sleeve and play to the gallery; I still slurp loudly at the sight of a friend's wanton cleavage and shake my hips suggestively at a tight skirt. It's a performance expected of me, and one that I'm happy to give. My girlfriend laughs along with everyone else, but her laughter is shaky. She knows of my daily struggle, my efforts to pin down the beast, although she knows I am winning.
But she also knows, one day, I may lose again.
Armaan's name has been changed because he did not wish to be identified.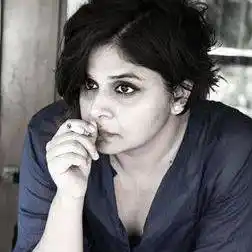 Sharan Saikumar is the Creative Director at Arré.