Amassive cow elephant's forelegs are stuck irretrievably in the churning muddy waters of the raging Wainganga. She is in the prime of her youth; a fine specimen of pachyderm musculature. But the flood waters will soon leave her lifeless.
Forest officials in Gadchiroli's Alapalli jungles know exactly what to do next. They send word to Mumbai. By nightfall, Dr Santosh Gaikwad has rushed to the rain-soaked, Maoist-infested forest. But not to save the elephant – she is long gone. Gaikwad is there to ensure that she "lives another life after death".
The massive elephant head, complete with gargantuan tusks, now occupies a place of pride in a tiny garage-cum-research centre in Mumbai's Sanjay Gandhi National Park, from where Gaikwad operates.
India's sole wildlife taxidermist puts the finishing touches to the majestic six-foot-wide head as I walk into his research centre. He pats the yellow tusks affectionately.
During the Raj, stuffed animal heads often decorated the walls of palaces and havelis. But the art of taxidermy, which had already been on the wane, died with the Wildlife Protection Act, 44 years ago. The Indian government saw little sense in preserving an art that harked back to a savage, British tradition. So in 2003, when Gaikwad was just an enthusiastic veterinarian in his early 30s, he couldn't understand how the stuffed animals at Mumbai's Prince of Wales Museum could look so lifelike. When he asked around, he heard the word "taxidermy" for the first time. He started reading up about the topic, but since there is no college for him in India, his desire to learn the craft was left unfulfilled.
It took a lot of persuasion to convince the old-timers at the museum to help him study the exhibits. Some of them had once assisted British taxidermists. Now they found themselves teaching an eager apprentice "how skin is cut" and "how stitches are forged".
Gaikwad spent days crouched under the huge trophies, studying skin flaps, measuring stitches, and learning about talons and teeth. For three years, he immersed himself in the study, before he began his experiments.
Poultry and pigeon – all dead of course – were his lab rats. He would cure the skin, and preserve the bones, teeth, and feathers. The teeth would sometimes break, other times hair would come off in clumps in his fingers.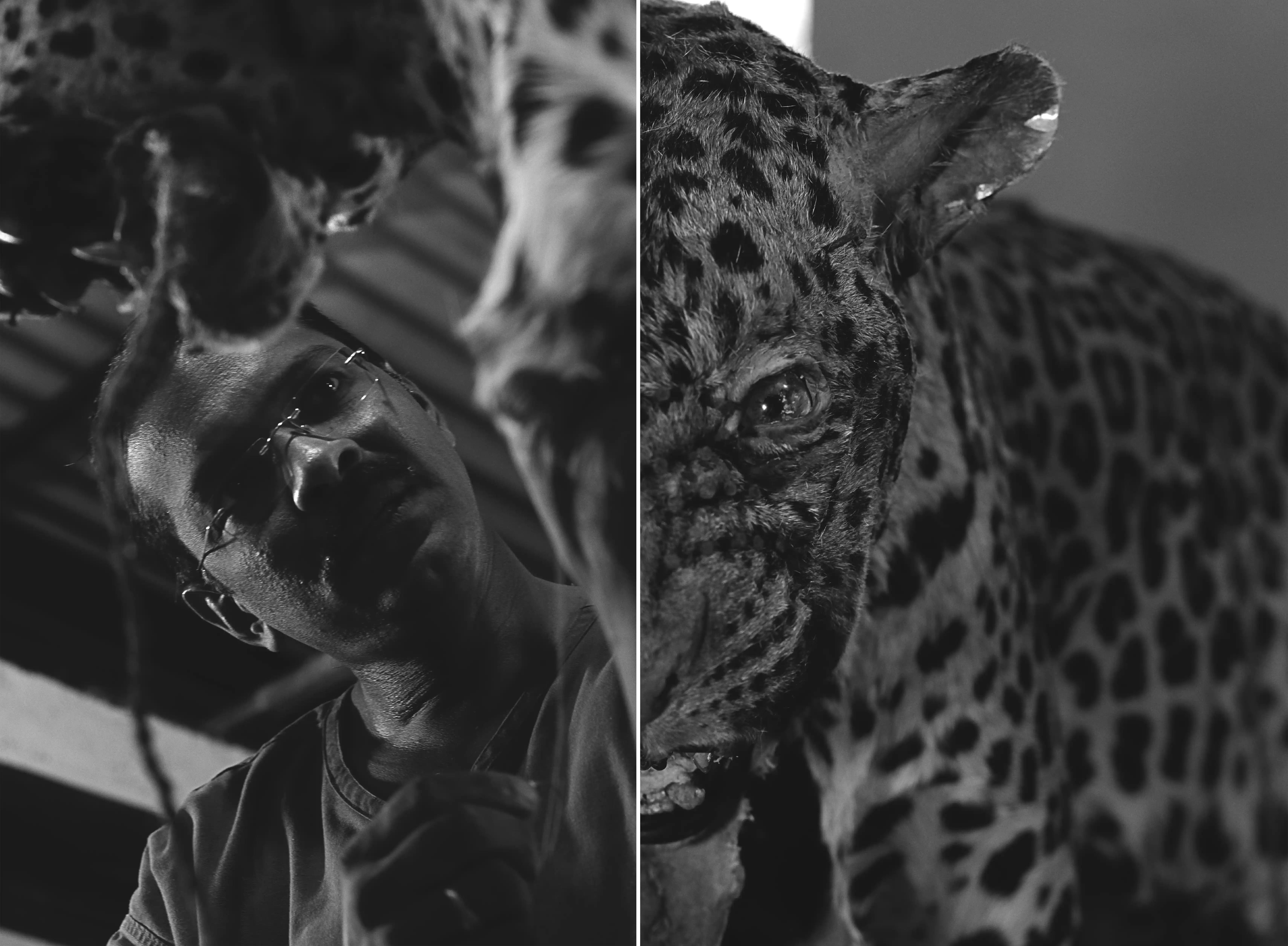 Gaikwad's first professional subject was Deepak, a paralysed leopard who had been euthanised at Mumbai's Byculla Zoo.

Pratik Gupta/ Arré
Gaikwad spent endless hours at the hospital after work. After a while, to the horror of his wife, he started carrying the dead birds home. "I would store them in the refrigerator," he says. "My family was terrified." But soon they realised that this passion was more than a passing fancy.
After three years, Gaikwad was ready to try his hand professionally. His first subject was Deepak, a paralysed leopard who had been euthanised at Mumbai's Byculla Zoo. "It took some bit of convincing to get my hands on it."
Several months later, the magnificent beast was back on his feet again. But Gaikwad wasn't satisfied, "Deepak was not anatomically sound, mostly because the paralysis had worn away the hair on one side of his body."
Since then, Gaikwad has delved into the stomachs of mammoth turtles to gut them, plied reluctant labourers with alcohol to help him skin huge mammals and spent hours painstakingly piecing together the delicate fins of a fish. "Most days, I am covered in blood and skin when working on an animal. But I don't even realise it," he says.
On Sundays, Gaikwad can invariably be found elbow deep in chemical solutions, treating animal skins. The plaster in his research room is peeling off, and two of the walls are in serious danger of collapsing. The air is stale, recycled by a noisy table fan. The dehumidifier has broken down, and one of the three freezers used to store bodies is on the blink.
Skeletons, skins, and clay models clutter his work desk, a lingering smell of dead animal, formaldehyde and assorted chemical concoctions swamp the air. But Gaikwad isn't complaining. In fact, he's delighted that the state government indulges most of his requests for equipment and material. His only grouse — budgets.
An artificial fibre model of a leopard costs ₹70,000. But Gaikwad limits his rates to ₹85,000 for an elephant and ₹25,000 for a small fox, so that the expenses don't put off the forest department. On his to-do list over the weekend is sawing wood to mount the lifelike figures or smoothening the hides with an awl and hammer. Within the national park, he prowls around for dead boughs and shapely branches that can boost the aesthetics of his creations.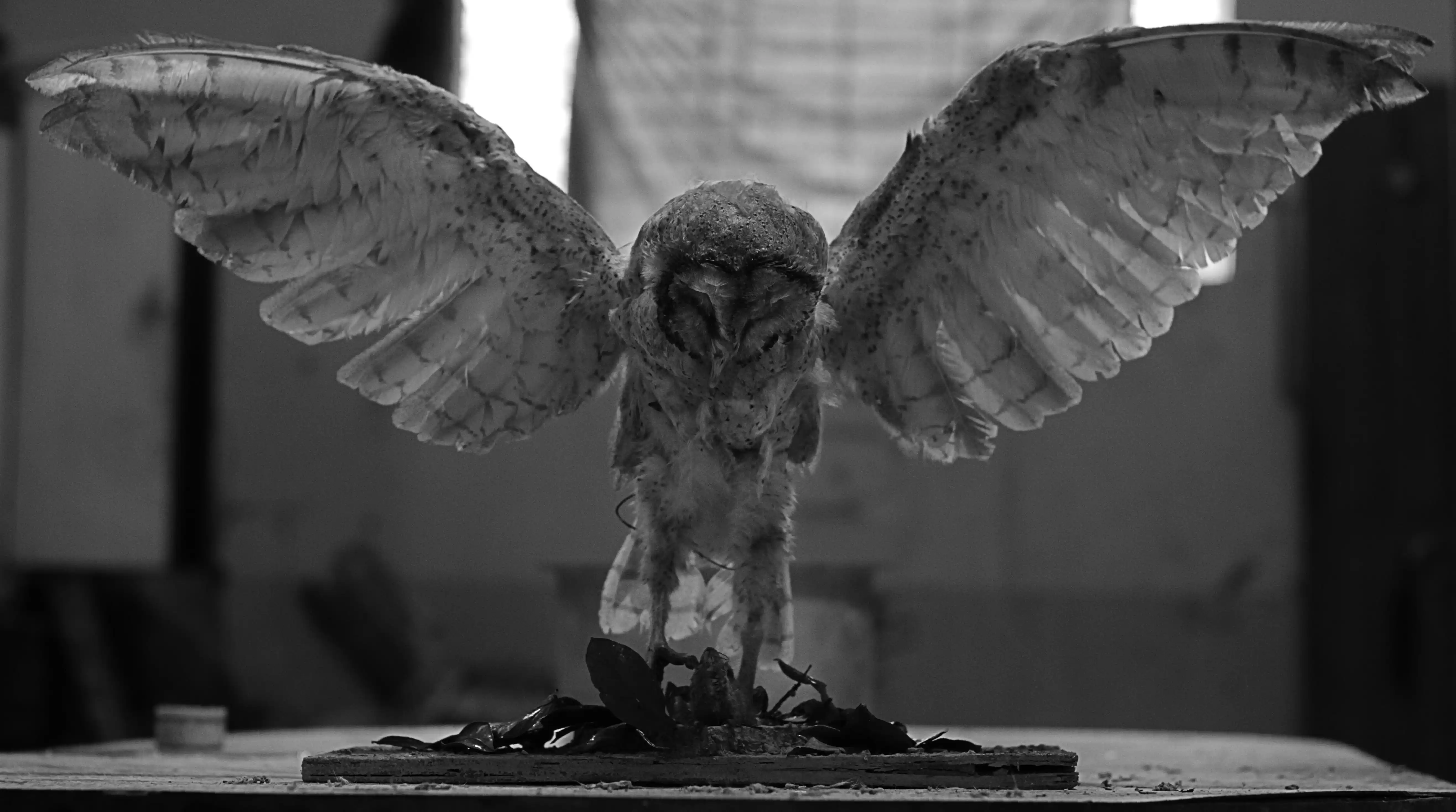 Gaikwad is glad that near-extinct species are getting an "extended life".

Pratik Gupta/ Arré
There's a glint in Gaikwad's eyes as he shows off his latest baby — a Great Indian bustard. It stands proudly among 25 of his creations at the SGNP director's office.
But it isn't easy to land a majestic animal as soon as it dies. When the country's last surviving Siberian tiger died two years ago, Gaikwad air-dashed to Nainital. "Time is crucial, the carcass decomposes quickly."
He skinned the animal, packed its remains and was on his way back to Mumbai, when Delhi airport authorities asked him to explain the "strange cargo". The delay cost him his flight back, but the tiger was resurrected in all its glory within a few months and sent home.
Gaikwad finds himself grappling with a steady stream of requests from across the country – too many to cope with. Last year, he trained 15 enthusiasts, but still remains the only taxidermist in the country. "Perhaps it's the gore that puts aspirants off, or lack of dedication," he says. "Taxidermy needs an amalgamated application of anatomy, skin knowledge, carpentry, sculpture, and cobbler art."
Yet, he is hopeful that the passion that fires him will light a spark in more young vets and zoologists. "We need many more hands," he says.
As the sun goes down, Gaikwad decides to leave the final stitches of the Indian Bustard for another gory but gratifying Sunday. Until then, he will be back at his day job at the anatomy department of the Bombay Veterinary College.