Ravichandran does not remember when caste became an issue in his life. The knowledge only came in retrospect. He was too young to notice when his parents, who both worked as sweepers in the hamlet called Kotagiri in Tamil Nadu, were not allowed into temples like everyone else, why they were never seated on chairs like everyone else or why a certain teacher made sure her hands didn't touch his as he handed over a notebook.
Rohith Vemula and Ravichandran Bhatran are similar in many ways. Both grew up in rural southern India where caste is an omnipresent force, both were the first in their families to go to college, both were beaten up on campus for their "bolshie" views. The difference is that while Rohith died, Ravichandran survived to tell the story. And not just his story, the story of thousands of Rohith Vemulas, who lived and died unnoticed every day. The horror stories are now everywhere: The violent clashes over the Bhima Koregaon battle, the public flogging of four Dalit men by vigilantes in Una, Gujarat last year, the Dalit girl who was held captive and gang-raped for over two months in Kerala, the Dalit minor who was raped and murdered in Bikaner.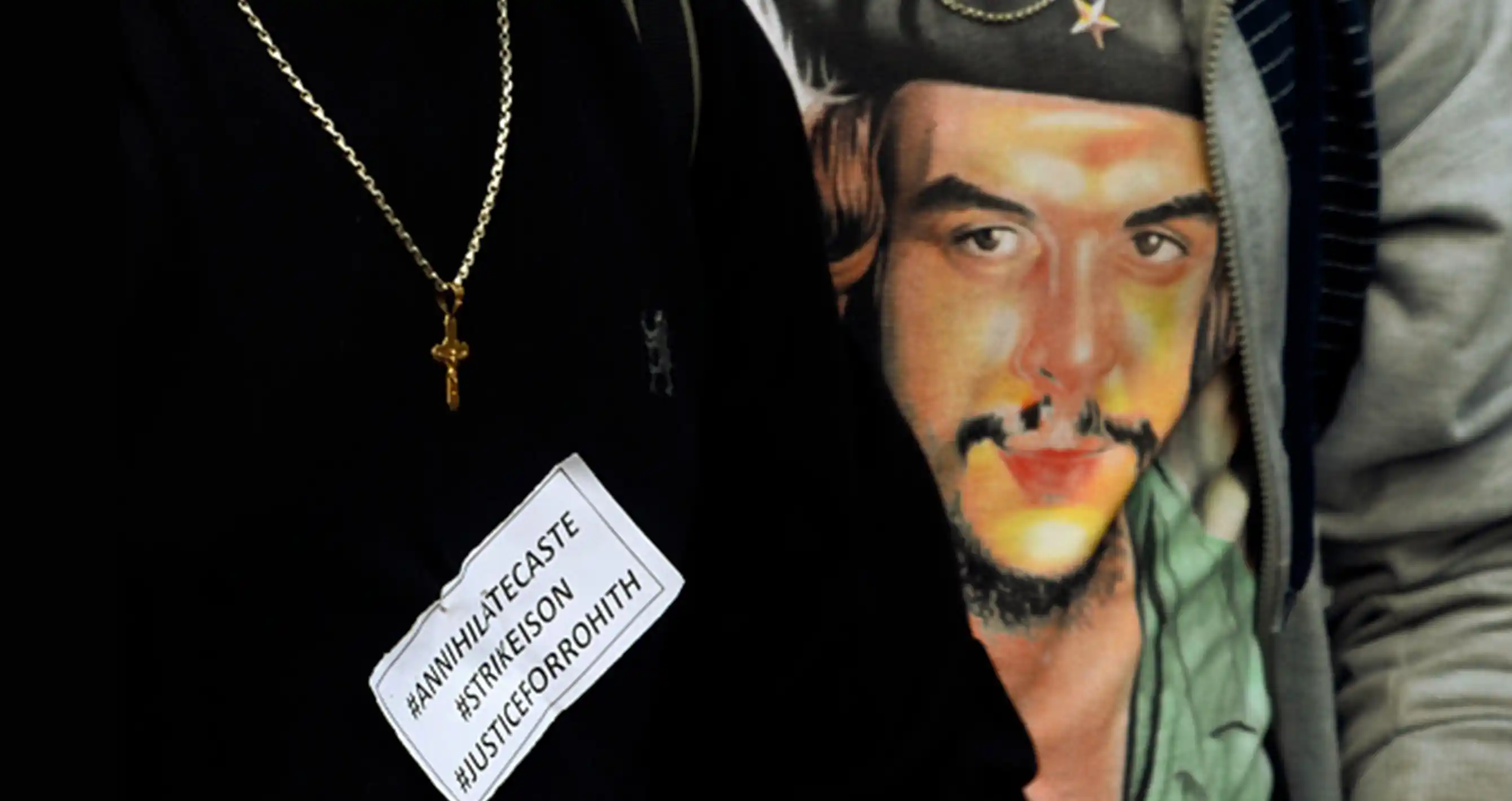 Both Rohith Vemula and Ravichandran Bhatran grew up in rural southern India, were the first in their family to go to college, and were attacked for their "bolshie" views.
Image Credit: Pacific Press/Getty Images
Often, Ravichandran is the only man at the scene of these atrocities. Ravichandran is the founder and creator of the YouTube channel, Dalitcamera Ambedkar. Founded in 2010, it has since become a rallying point for the Dalit community with a large network of volunteers, who work as reporters and camerapersons to tell the truth about the group that middle-class India likes to treat as no more than census trivia. Dalitcamera was among the first to respond to the news of Rohith's death, covering the campus protests before national media deemed it important enough to report.
"I don't want to discuss Rohith Vemula. I don't want to co-opt him for self-promotion," Ravichandran starts with an emotional prelude. It almost sounds like a tribute, this desire for distance from the death, which brought back to public memory a widespread malady that had faded away from our minds and brought the Dalit issue back on the front pages.
Growing up as a Dalit in a country as deeply prejudiced as India, is an obstacle course set with impossible challenges. Which is why, Ravichandran's parents shielded him from his identity as a Dalit for as long as they could. They sent him to a school run by Christian missionaries instead of the local primary school and in the tiny nook of the village where all members of his caste lived, the boy was just one among many. But there came a time when Ravichandran had to step out of the cocoon.
At the University of Hyderabad, the young man soon realised that his name evoked a certain distaste in people. If the name did not make it clear, he was asked where was he from and with these two questions he was judged as the "other".
This realisation didn't sit easy inside Ravichandran. Around this time, the media was telling stories of the rise of the Dalit voting banks and Mayawati was threatening status quos everywhere. Buoyed by this uprising, Ravichandran stood for the college council elections and in doing so, plunged himself into caste-driven politics much to his parent's dismay. The decision almost killed him.
"I was in my hostel room at night when it happened. Twenty people barged into my room and said that being a bolshie will not change who I am. And to make sure that I remembered, they beat me," Ravichandran is brief, almost circumspect as he recalls the incident.
"When others interpret the world for you, can you change it," Ambedkar had once asked.
Image Credit: Hindustan Times/Getty Images
He refuses to be pressed for details of the aftermath except that he was hospitalised. It is what happened next, which is more important. He was still nursing his wounds when news spread on the campus that a Panchayat member in a village close to the campus was assaulted by her peers from the upper caste. Walking was still an exercise in pain for Ravichandran, but he borrowed a handycam from a friend and set out to meet her. He recorded as she spoke of the injustice meted out to her, the first time anyone had cared to listen.
The handycam soon became a constant companion and record keeper. But there were no takers for its contents. Who wanted to hear about the lives of these people? These stories were dime-a-dozen and there were bigger issues at hand. After being rejected by enough local media outlets, in 2010 Ravichandran decided to empty the contents of his handycam onto the most democratic of all mediums, YouTube, and Dalitcamera Ambedkar was born.
***
"Dalit lives don't matter to the media unless violence claims many of them. Otherwise they treat it like it happened in South Africa or something," says the 33-year-old.
At a fundamental level, Ravichandran believes this stems from the fact that there aren't anywhere close to enough Dalits out in the media landscape who are armed with a platform to tell the story of these lives. The importance of Dalits being present in media to shape the Dalit narrative in news is critical. Ambedkar summed it up succinctly when he asked, "When others interpret the world for you, can you change it?"
In 1996 when senior journalist BN Uniyal, prompted by a foreign correspondent's query, looked through the list of 686 accredited Indian journalists, he did not find one Dalit in the group. In 2013, Ajaz Ashraf scoured the country, only to find a mere 21 of the community, working in newsrooms, a ridiculous figure when you consider that there are over 20 crore members of the Scheduled Castes as per the 2011 census. This underrepresentation, Ravichandran believes, is naturally evident in the amount of newsprint and newsreel devoted to the Dalit populace, who are all but invisible in the 24X7 news cycle.
With over 5,000 subscribers and over 16,000 views on one of their most popular videos, Dalitcamera aims to address this skew. One of the most popular videos on the channel is the story of Sulochana. She starts the video by announcing her name and the next 15 minutes, her gaze steady on the camera and her voice calm, she recounts the night her husband was murdered by a mob of upper-caste men in the village of Karamchedu in Andhra Pradesh. It was 30 years ago, but this is the first time she has been asked for her account of the event, which made national headlines as a "landmark in Harijan history".
Sulochana's narrative is one among the hundreds of lives chronicled by the YouTube channel, which boldly goes where mainstream media refuses to tread. Rohith's story may have moved from the front page shrinking column inches to the back pages, but Ravichandran's work has not ceased. He and his network of volunteers continue to tell the never-before-told stories of the Rohiths who have survived to tell their tale.