We all know Sudarshan Shetty, the artistic director of the Kochi Biennale this year. Ever wonder how his most famous artwork, "Love", where a dinosaur humps a Jaguar, was realised?
In 2008, a slightly oddball pair moved into Gurgaon's Devi Art Foundation. One of them was a shiny, skeletal dinosaur nearly six feet tall; the other was a pale-coloured antique Jaguar. The young pair, newly coupled, mated in an endless loop: Their movements lumbering and staccato, gauche, metal-on-metal. But none of their neighbours seemed particularly disturbed. No one would have believed that they would end up together, but even years after their first union, the spark has not gone out of their relationship.
The crashing, copulating metal hulks are an installation titled "Love", by artist Sudarshan Shetty and is easily one of the most recognised pieces of India's contemporary art scene, even a decade after it was first exhibited. "Love" is testament to the fact that it takes two to tango, just the way the installation was a product of two minds – Shetty and his trusted aide, fabricator Manish Maheshwari.
A giant wooden replica of the dinosaur peers down from one of the walls of Manish's sunny exposed brick-and-concrete workshop in Vadodara. The T-Rex fossil serves as a reminder of his first brush with the art world in 2006, and is etched in Manish's mind for several reasons. Not only did it pave his entry into art, it was also the first time Manish had spent hours contemplating the workings of a dino's dick.
Manish didn't start out as a fabricator. His ingenuity as a creative visualiser, and his degree in electronics and telecommunications was being wasted on a corporate gifting service. Soon after graduation, he started making bespoke souvenirs made from scrap material from his father's crafting unit and then working with architects on "jobs" fashioning 3-D models of blueprints.
But it was only when Shetty called on Rachaita Creative Solutions that his experiments with art began. However, Shetty and Manish didn't start off working on the dinosaur. Shetty had approached Manish through a Vadodara industrialist in 2005 for another installation from the same show: a set of wooden glass display cabinets, chockfull of bowls overflowing with a milky liquid.
It was during the course of fashioning the wooden cabinets, that Manish found out that Shetty was in a bit of a spot with his magnum opus – the fibreglass Jaguar was a piece of cake, but realising the clunky steel dinosaur was a task. For one, the artist had never worked with something on that scale before. The reptile alone, composed of several fussy bits and bolts, was going to be six feet in height and 16 in length. And then there was the tussle with gravity, in getting something so weighty to stand upright – and later, travel. The constantly thrusting enormous metallic penis, Manish imagined, would be the easiest part of the puzzle.
"Painters are trained to think in two-dimensional terms," said Manish. "It becomes slightly difficult for them if they haven't worked in sculpture before." He put his engineering chops to use right away. The steel skeleton would have to be subjected to laser-cutting, which designers were beginning to use in 2005. Manish's wife Sonal, an interior designer, made the AutoCAD drawings.
Since the beast was destined to travel the world, some part of it would have to be welded together, while the rest could be assembled.
Meanwhile, Shetty showed him the full-sized prototype rendered in medium-density fibreboard, a wooden composite made from sugarcane bagasse. While the wood was easy to cut and work with, it was so flimsy that the dinosaur refused to get erect.
To scale up, the installation required two-inch thick steel pieces for the bones, but any material beyond six mm wasn't of terribly great quality. They agreed to use 5 mm-thick plates, but Manish knew it wouldn't fly. Eventually, he suggested that the thicker material be used in the areas that required strength, such as the dino's thighs and legs, while the rest would be comprised of lighter pieces.
Since the beast was destined to travel the world, some part of it would have to be welded together, while the rest could be assembled. Manish ensured the trunk was fixed and soldered, and the tail and the limbs were bolted together so that they could be taken apart. After that came the deceptively simple mechanism: the dick move. Manish attached the T-Rex's tool with a circular plate that was hitched to a motor at the other end. Each time the plate turned 180 degrees, the dino had ingress and egress into its metallic mate.
Finally the reptile was done. It was first exhibited at the Bodhi Art gallery in Mumbai by the Bengaluru-based GALLERYSKE. Manish didn't make it for that opening. Instead, he received a catalogue congratulating him for being such an important part of the show. But the metal fornicators had ensured that Manish had made his mark.
After the opening, his workshop drew several high-profile collectors and art aficionados such as Preeti Ambani and Gallery Espace owner Renu Modi. "They continued to ask me how I made it," said Manish. "It was a job for me but I didn't know that it would draw so much attention, so I thought this was a field worth exploring."
One of the visitors was Anupam Poddar, who was soon going to buy the installation. Poddar purchased it in 2008 for his private collection, which was later opened up to the public as Devi Art Foundation in Gurgaon. Manish was there to help see things through. The dino and its member were working rather well. Manish breathed a sigh of relief and flew back to Vadodara, thrilled that he had pulled off the iconic installation. For this very adult Lego set, Manish even compiled a manual on how to dismantle the dino for some down time.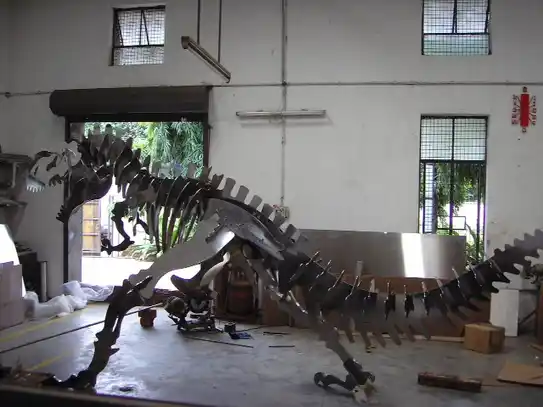 The thicker material was used in the areas that required strength, such as the dino's thighs and legs, while the rest were be comprised of lighter pieces.
But soon after the opening, Manish got a desperate call from the Poddars saying the dino had come to life. It appeared that every time the reptile went to work, he'd start to writhe. It was a rather embarrassing problem and Poddars were at their wits' end. Manish red-eyed to Gurgaon from Vadodara to fix this coitus interruptus – only to discover someone had wound the motor's wire around the giant's foot, causing him to have an earth-shaking climax every time he was turned on.
Thankfully, Manish's other projects haven't posed such awkward moments. He went on to work for names like Baiju Parthan, Riyas Komu, Julius Macwan, and Vasudha Thozhur. He and his brother Piyush, who manages the business, now have a large team of metal workers, mechanics, and machinists who work on commissions for clients as diverse as Oil and Natural Gas Corporation and Centre Georges Pompidou, Paris.
Over the years, he's been asked to fashion a donkey – thankfully, he junked the original idea of stuffing one taxidermically and chose the simpler route of rendering it in fabric – for a Lebanese restaurant in Delhi; a window blind fashioned entirely out of blunted razor blades for artist Anant Joshi; and several of Shetty's installations, including the double-decker winged bus and a weighty sextet of latticed aluminium cages, each measuring 12 feet in height. But Manish has never again had to contend with such a colossal boner – none of his commissions has been as outré as the fossilised reptile that continues to watch over them.

Karanjeet Kaur likes Mughal miniatures, mountains, moot points, and alliteration. She is the Creative Editor at Arré and tweets as @kaju_katri.