The pilot was jittery. This was an operation that needed precision. As he took off, the control tower buzzed in. It had started. He flew over the Parisian skyline and soon the glittering target was in sight. Below, a loud cheer broke out. As Ankit wed Manasi with a swipe of sindoor, the chopper unfurled the Indian tricolour over the Eiffel Tower. The father of the bride, an entrepreneur who had made his millions in Dubai, had tears in his eyes. He looked at the awestruck faces around him, a motley crew of international guests dressed in carats and couture topped with fuchsia turbans, and thought, "This is ₹100 crore well spent."
As the festivities came to an end and tired revellers trooped back to their hotel rooms, Narendra Bhai got to work. As part of the 150-member support staff of dancers, catering help, chefs, lightmen, and Men Friday who had travelled to the City of Light for this splendid wedding, his night had just begun. He had 200 of those pink turbans to collect, iron, and pack before his early morning flight back to Mumbai.
Just a few hours ago, he had wrapped, with a firm grip and practised flick of his fingers, these swirls of fuchsia fabric on the heads of the world's one per cent. It was a skill passed on to him by his father.
That man had never sat in an airplane in his life — Narendra Bhai was now on his third passport.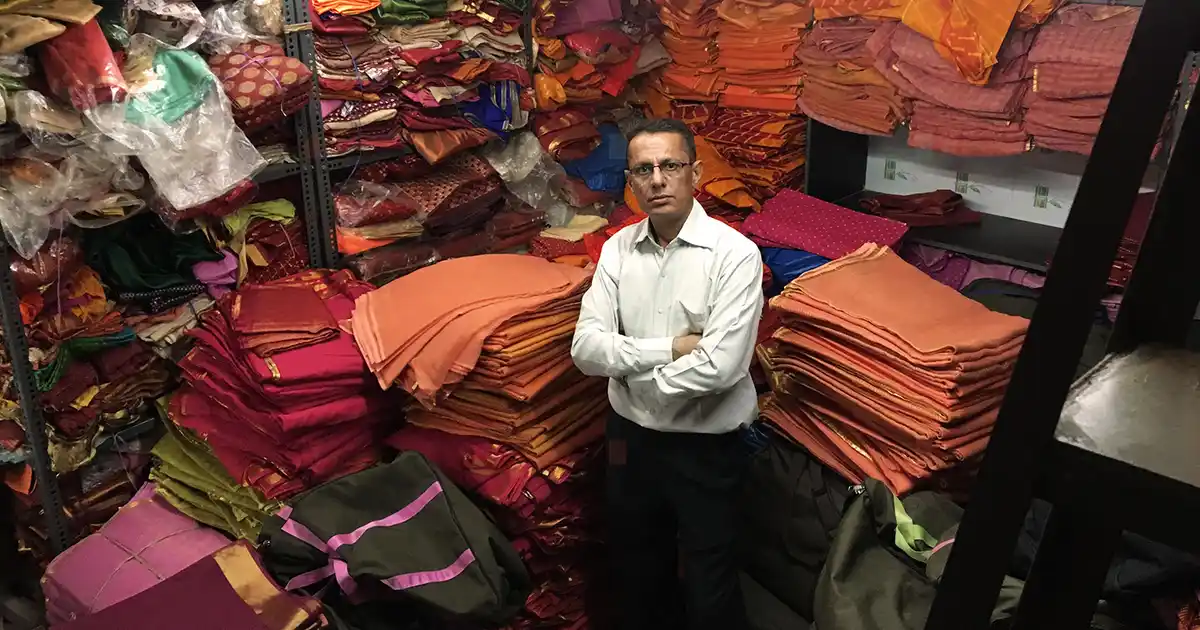 Narendrabhai surrounded by safas at his godown in suburban Mumbai.

Kripa Krishnan/ Arré
Narendra Bhai is a thin, bespectacled man who was once a salesman at a sari shop. His home in suburban Mumbai, which also serves as his office and showroom, is overrun by swathes of cloth which run the gamut of the bridal spectrum, including the rare green he labels "Pakistani hara".
As he talks to me, he is trying to convince a jittery groom that "rust" is the perfect colour for the turban to go with his ornately embroidered sherwani. As he quickly twists and wraps six metres of cloth around his head, the groom wonders, "Main mota toh nahi lag raha?"
Narendra Bhai's journey began with a baraat. The one in Hum Aapke Hain Koun..!, where the groom and his entourage dance to the bride's door in matching saffron safas. Soon, every Prem and his uncle wanted to sport the once déclassé headgear to weddings. And with that Narendra Bhai's business boomed. So, when the Big Fat Indian Wedding moved offshore to exotic locations, he was transported along with it.
"Sab kismet ki baat hai," he says. More than two decades as a safawallah and Narendra Bhai has seen it all: an Alice in Wonderland sangeet complete with dwarves, a mad hatter, and a 10-foot-tall flamingo; the palace from the Bollywood magnum opus Devdas recreated in a field of tulips in Belgium; and a wedding with a guest list that looked like the credit roll of a Karan Johar film.
"Yeh ek God gift hai. Mere pitaji bhi yahi kaam karte the, par unko yeh naseeb nahi hua. Nahi toh kisne socha tha ki saal ke cheh mahine main videsh main rahoonga," he says, pointing to the many souvenirs he has brought back from his travels: a gilded Ganesha on the wall here, a shimmering crystal sitting on the dining table there. The souvenirs are often all that he sees of a destination though, since his glimpses of these exotic lands are usually only on his way to and from the airport.
He gets up to give his client a receipt, ₹8,000 for the safa and a matching kalgi, an ornament for the turban. That is the same amount he charges at a destination wedding too, he says, and not a penny more. He won't overcharge just because the wedding costs as much as a private island. "Yehi mera kaam hai, isi se maine ghar khareeda, apni do betiyon ki shadi karvayi," he says.
Those weddings were far removed from the decadent displays of paisa and power where he peddles his craft. No pachyderm presided over the procession, guests were not handed monogrammed luxury goods as they bid goodbye, and an army of khidmatgars did not stand guard to cater to every whim of the chosen few. But still, those were the happiest nuptials of Narendra Bhai's life. He has been in plenty of big-ticket weddings but nothing, he says, compares to being the father of the bride.